Children's Minnesota hosts election to show kids the importance of voting
Election day in the United States is Nov. 3, 2020, and Americans will have the chance to make their voice heard while voting for the president, senators, representatives and more. Children's Minnesota wanted to host our own election to get our patients, families and staff involved!
Star Studio, our in-house TV station at our Minneapolis and St. Paul hospitals, hosted an election-themed show where our two mascots – Sparkle and Twinkle – competed to win the 2020 Children's Minnesota election. On the show, the mascots' representatives spoke about their ideas and points of view. In addition, kids learned the importance of an election and basic election terms. Patients had the chance to participate in early voting the day before the show, and they were able to call in during the show to cast their votes!
Our mascots both stand up for what they believe in. After all the votes were in, Twinkle won the election! Visit Star Studio's website to watch the full show!
Why should kids learn about the election and voting?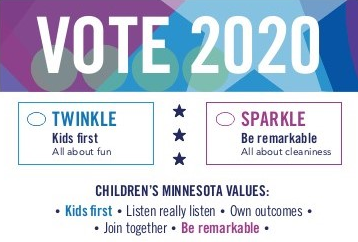 At Children's Minnesota, we champion the health needs of children and families every day. Although kids under 18 can't cast their ballot at the polls this year, we believe they can still be a part of the political process!
Through our special Star Studio election, we hope to show kids that voting doesn't have to be a conversation only between "grown-ups." Instead, it can be an opportunity to spark conversations with kids and educate them on how to let their voice be heard about the issues that are important to them. Kids today are our future voters and it is never too early to engage them in ways that lets them know that they are not too young to participate in the electoral process.
Why is it important to vote?
We believe that voting is a great way to enact positive change for children who are impacted by issues such as: Access and quality of health care, funding related to early childhood opportunities, food resources, school meal programs, adequate housing, and academic and health disparities.
With there being more than 1.3 million kids in Minnesota without the ability to vote, kids are counting on the adults in their lives to keep them at the center of major political decisions. Whether you send in your absentee ballot or show up to the polls on election day, voting allows the opportunity use your voice and remind kids that their success and future is important to us.
Be a voice for children
We invite you to join us in being a voice for children by prioritizing our kids with your vote. Learn more about how you can be an advocate for kids' health here.
Alexandra Rothstein