Epilepsy treatment full of firsts: Skyler's story
Skyler had her first seizure in 2005—it lasted 12 hours. Her life changed that day. She spent two weeks in a coma and had to relearn how to talk and walk. Since then, she has suffered from uncontrollable seizures.
"She was lucky to survive," said Skyler's mom, Angela. "I don't remember our lives from before that day."
One in 26 people will develop epilepsy in the United States at some point in their life. The telltale sign of epilepsy is repeated seizures, which happens when abnormal electrical activity in the brain causes momentary changes in awareness, movement, speech, vision and behavior.
Skyler's new care team
Children's Minnesota and Minnesota Epilepsy Group are designated a Level 4 epilepsy center, which means we offer the highest level of diagnosis and treatment options for children with epilepsy from birth to age 21.
Skyler's family said her epileptologist, Dr. Nitin Agarwal made them feel like someone was finally willing to think outside the box for her care.
"I felt we were on the same page from day one, he was very transparent. Right away he came up with a plan and told us every way it could play out depending on different results. Every time he wanted to try a different medication he would list all the side effects and explain what could happen," Angela explained. "As someone who likes to do a lot of my own research, it was great to have a doctor who had a plan for Skyler's treatment."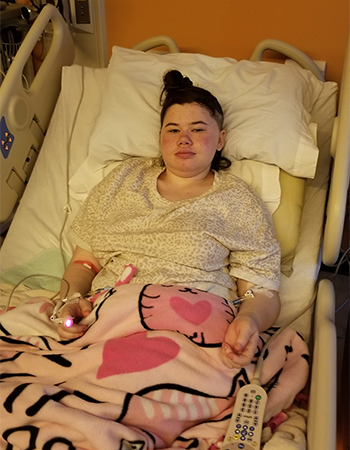 Skyler's treatment plan
Treatment for epilepsy focuses on seizure prevention and can include medication, surgery or a special diet–what works for one person may not work for someone else. Skyler had a previous surgery to implant a vagus nerve stimulator (VNS), a device that works to eliminate or lessen the severity of seizures by sending small pulses of electrical current to the brain. It was unsuccessful at treating her seizures, so her care team decided to remove the device.
During the removal of the VNS, Dr. Joseph Petronio,  pediatric neurosurgeon, provided Skyler's family with continued transparency. Angela said: "We appreciated that he was very realistic. You can tell he is a perfectionist. During her surgeries, he would always have someone check on us to let us know what was happening."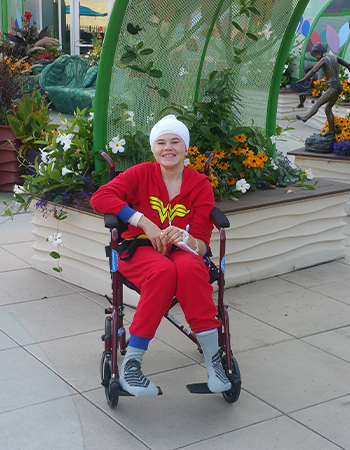 In 2018, Skyler became the first Children's Minnesota patient to undergo a stereoelectroencephalography (SEEG) surgery, and she stayed in the epilepsy center for evaluation for three weeks. They used the SEEG monitoring data to identify the source of her seizures and determine if surgery may be an option to treat them.
A treatment plan full of firsts
Skyler was also the first Children's Minnesota patient to receive responsive neurostimulation (RNS) in May 2019. RNS uses an implanted device to help prevent seizures before they begin.
"It was not scary to learn she was the first for both procedures at Children's Minnesota," said Angela. "Both doctors had experience with RNS and SEEG at other facilities. They were trained and let us know they were consulting with other experts, including the creator of SEEG. They were confident so I was confident. I never felt in the dark and was always told what was going on."
Skyler today
Skyler is experiencing 70 percent fewer seizures. The severity of her seizures has also decreased. It is a huge improvement, and her family is confident there will be more improvement.
Skyler's mom's advice for other epilepsy families: "At the start of your epilepsy journey, don't focus on looking for answers—look for relief. Don't get discouraged. Everything with epilepsy is trial and error. What works for one kid won't work for another. Be prepared to do something new."
"We are still learning about her seizures," says Angela, "But we will not let epilepsy define Skyler's life, we don't want her to miss out on anything."
Learn more about epilepsy
Dr. Meysam Kebriaei, pediatric neurosurgeon at Children's Minnesota, and Dr. Marc Gorelick, president and CEO of Children's Minnesota, talk about epilepsy, Children's Minnesota's pediatric epilepsy center, treatment options and more.
Kaitlyn Kamleiter