Markus has been through a lot in his lifetime but that hasn't stopped him from living life to the fullest. Markus was born with complex medical needs, and when he was only eight hours old, he had his first surgery at Children's Minnesota. Throughout his life, complications continued to arise.
Most babies are born with a trachea and an esophagus that are separated. However, Markus was born with an extremely rare condition where his trachea and esophagus were one continuous tube all the way down through his right lung. This is called type IV laryngotracheoesophageal cleft. Type IV is the most severe form of laryngotracheoesophageal cleft and typically has a high mortality rate. But Markus is remarkable – he's a long-term survivor!
Children's Minnesota became their second home
Due to his condition, Markus spent the first five months of his life in the neonatal intensive care unit (NICU) and infant care center (ICC) at Children's Minnesota.
"Honestly, I have lost count how many weeks and months I have been inpatient at Children's [Minnesota] due to illness or procedures," said Markus. If he had to guess, he was admitted to the hospital at least once a year growing up, but usually more.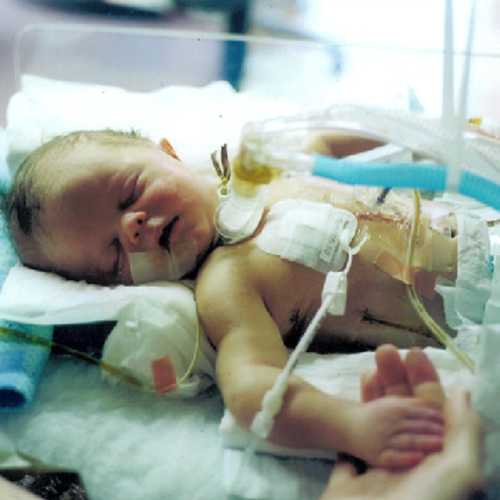 The Children's Minnesota experience
When asked about his Children's Minnesota experience, Markus said, "Wow. This is really hard to answer because I have met so many people at Children's [Minnesota] that have made a huge impact in my life."
He can't say enough about the hospital staff, from the nurses and doctors to our Child Life specialists and respiratory therapists, lab technicians and more! But, he really appreciated the in-house TV studio, Star Studio.
"Watching Star Studio shows were distractions I so looked forward to each day," said Markus. "For me, smiles and laughter are great medicine."
Today, Markus loves to be active – he loves to bowl, listen to music, spend time with family and friends, golf and fish. Right now, he's currently obsessed with the games Risk, Ticket to Ride and cribbage.
At 21 years old, Markus is also now an author of a book!
Embracing reMARKable
Throughout Markus' life, he's experienced ups and downs because of his medical diagnosis – and so has his family. But, they have leaned on each other through all the tough times. And they wanted to share their story.
Markus and his mom, Deb, wrote their book – "Embracing reMARKable."
"It's the true story of me, a medically complex, life-long patient at Children's Minnesota and my family," said Markus.
The book brings in the voice of a mother, father and older sister who have all gone through this experience along with Markus. "My parents and older sister contributed to this book to give a vital first-hand voice to the dad, the mom, and the healthy sibling whose lives were completely altered by my birth and survival," he said.
Alexandra Rothstein