Meet Kprecia Ambers: The artist who brought The Mother Baby Center rebrand to life
Kprecia Ambers is a 27-year-old artist who is passionate about using her creativity to make a positive impact. When she discovered her love for illustration, she was able to do just that!
Finding her way through art and creativity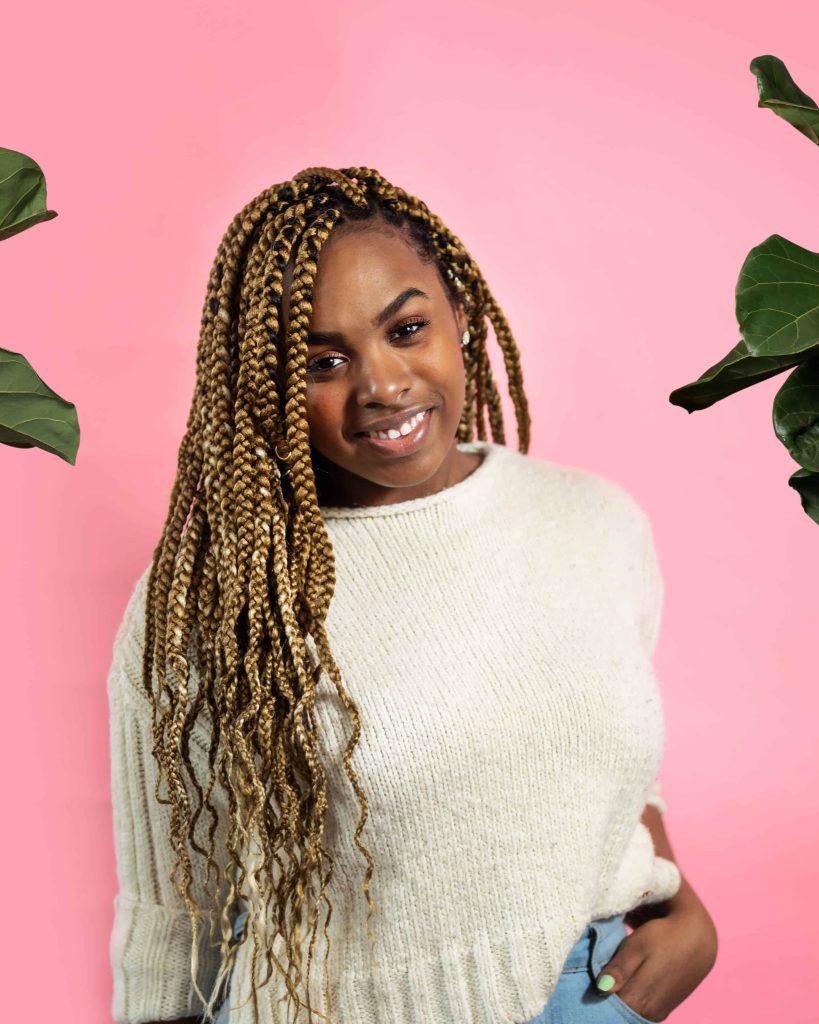 In college, Kprecia explored different ways to use her artistic skills to spread positive energy. She began studying web design, then graphic design. But in each industry, she was disappointed that she didn't see herself represented, whether among faculty at her school, images or professionals in the industry.
"I never felt like it was fulfilling to me," Kprecia said. "I didn't fit in."
She continued to explore new ways to express herself, whether through home décor or other creative outlets. After finishing her degree in graphic design, she wanted to work for a Black-owned company, one where she could see herself represented and drive forward her mission to spread positivity. Kprecia soon found herself in the world of illustration.
"Eventually I merged my desire to connect with viewers with my love of positive energy and began creating what I wanted to see in the world," she said. "I wanted representation and to speak to people's hearts. This led me to start illustrating faceless ethnic women and focus on the way body language communicates a feeling."
Working on The Mother Baby Center rebrand
Soon after graduating, Kprecia was thrilled when she landed a gig at a big consultancy agency, Zeus Jones, in May 2020. Not only that, in her first official year as a freelance illustrator, she landed her first big clients, Allina Health and Children's Minnesota! The two entities were inspired and impressed by Kprecia's talents, which would be perfect for the rebrand of The Mother Baby Center, a collaboration between Allina Health and Children's Minnesota.
The campaign energized Kprecia who felt it reflected her own personal goals, to create images that not only inspire but reflect diversity.
"I'm so proud to be a part of this campaign," Kprecia describes. "It feels good seeing it completed and starting to be implemented. So much work went into creating each scene, getting the style right, using colors, and so much more. I can't wait to see it out in the real world."
Continuing to dream big
As for what's ahead for Kprecia? The possibilities are limitless.
"As an illustrator, I want to keep allowing my career to flourish freely and trust my talents. I don't want to restrict myself in anyway," she said. "My dream is to work with big Black-owned brands within the beauty sector and continue expanding Kp Inspires in anyway my heart desires."
Right now, Kprecia is developing a character line called Pretty Young Queens (P.Y.Q) that focuses on promoting and encouraging self-love to girls during the early stages of development. She'll continue to work on projects that inspire her and make a difference in the community.
Check out Kprecia's website Kp Inspires here and her new illustrations on The Mother Baby Center website!
Dina Elrashidy