Children's Minnesota honors Dr Mitch Einzig: Beloved retired physician and passionate educator passes away
Mitchell Einzig, MD, adored husband, father and grandpa, and retired director of medical education at Children's Minnesota, passed away peacefully at home on February 11, 2021.
Dr. Einzig started his career as a pediatrician at the San Diego Naval Hospital as Lieutenant Commander, followed by a short period in private practice in Los Angeles. He then settled in Minnesota where he first completed a fellowship in pediatric gastroenterology at the University of Minnesota. Dr. Einzig and Terry Hart, MD, founded the Wayzata Children's Clinic and soon after Paul Wernick, MD, joined. In 1972, after 10 years in private practice, Dr. Einzig served in leadership roles for Children's Minnesota professional staff and eventually became the director of medical education on the Minneapolis campus.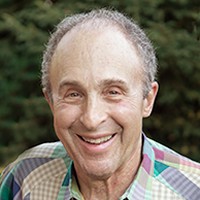 "Mitch was unquestionably the most outstanding physician educator that I have ever known," said former colleague Joseph Sockalosky, MD. "Mitch was a mentor and role model for the medical students and residents.  He got to know them personally and cared deeply about each and every one of them, not just as physicians but most importantly as individuals. And they knew it, and loved him for it."
Because of his endless dedication and passion for medical education, Children's Minnesota created the Mitch Einzig Physician Teaching Award, given each year to a member of the Professional Staff to the most outstanding physician educators within our organization.
"When I first moved to town I was connected to Mitch and he was introduced to me as the 'mentor's mentor,'" said Emily Chapman, MD, chief medical officer and senior vice president of medical affairs at Children's Minnesota. "He mentored so many and raised so many of the pediatricians in Minnesota.  Our care of children in this state is Mitch Einzig's legacy."
Many would agree that beyond Dr. Einzig's extensive professional accomplishments, he was a personal friend to many.
Shortly after his retirement from medical education, Dr Einzig took on a role as Co-Medical Director for Outreach.  He served as an advocate and connection to Children's Minnesota for physicians throughout the region.  Angie Stoltz, director of health professional marketing and relations at Children's Minnesota said: "He provided so many laughs, words of encouragement and insight during our travels. He was beloved by the physicians that we visited and many had stories of pivotal moments with Mitch. They recited back the words of wisdom that he provided them.  He would make every self-doubt turn into strength and confidence."
Read Dr. Einzig's full obituary.
The family has decided that all gifts will be designated to the mental health program at Children's Minnesota. Support for this program will have a profound impact on kids who experience behavioral health challenges and need specialized care and treatment at Children's Minnesota.
To make a memorial gift:
Visit childrensmn.org to make an online donation. After completing your personal and billing information, you will be able to indicate your donation is in memory of Dr. Mitch Einzig.
Check gifts can be mailed to Children's Minnesota Foundation at 5901 Lincoln Drive Edina, MN 55436 and note Dr. Mitch Einzig memorial in the memo line.
For questions about memorial giving at Children's Minnesota, email the Foundation at [email protected].
Stephanie Hoff