"Black Men in White Coats" panel: Why representation in health care and STEM is important
On Feb. 24, 2021, Children's Minnesota teamed up with Black Life Amplified and the B.E.E.N. Employee Resource Group (ERG) to bring a distinguished panel of black male doctors and STEM leaders together, to discuss the development, retention and importance of black male doctors in the medical and engineer fields. More than 90 Children's Minnesota employees and staff joined in to watch the discussion.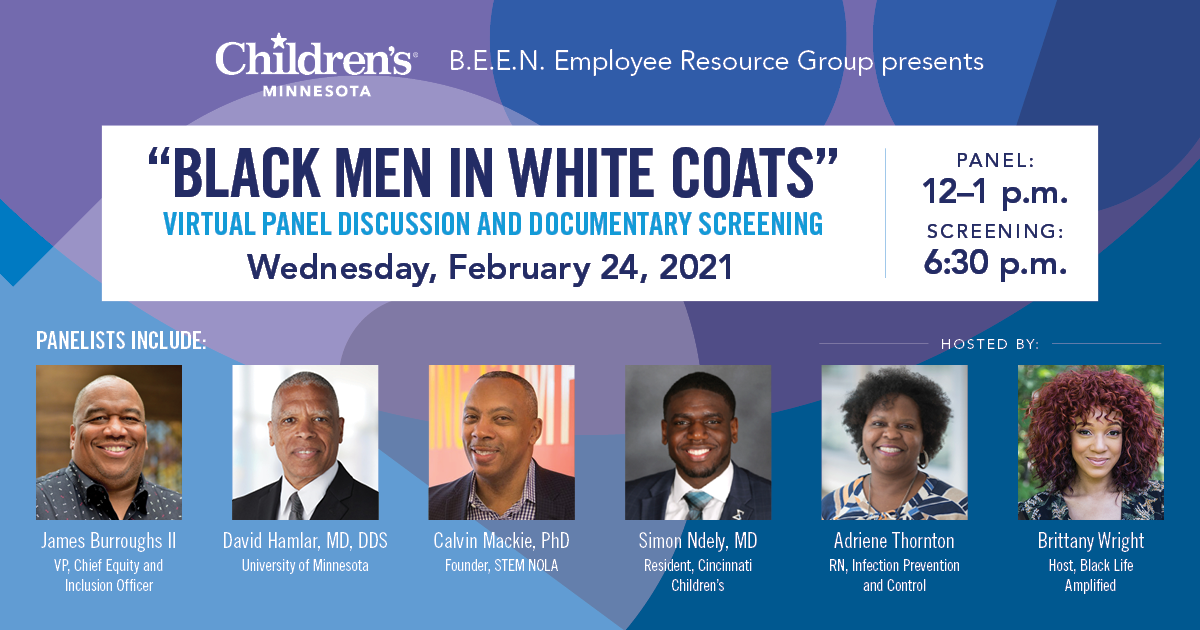 "It's important that as a community we work hard to defeat the monster of low expectations. Most kids in elementary school, regardless of race or background, are equally interested in the same things," said Andrew Kiragu, MD, pediatric critical care, Children's Minnesota. "But unfortunately, somewhere along the way for young black boys, these dreams slowly fade away. And part of that is, lower expectations presented to them and lack of role models. This is why it's important for those of us in medicine, engineering, etc. to reach back and give an example to excite them the possibilities that are ahead of them."
Also, during the discussion, topics such as: Leveraging increased community engagement, how it affects the enrollment numbers of black men in medical schools, addressing systemic barriers that prevent young black males from becoming medical doctors and encouraging young black men to see themselves successfully, were talked about.
When encouraging young men with great potential, David Hamlar, MD, DDS, University of Minnesota, mentioned seeing yourself being successful, and the importance of preparation.
"The responsibility is on us, there are barriers are the types of schools we attend, what the curriculum is and all the things put upon us," said Dr. Hamlar. "We need to find a way to influence, and the only way to do that is be at the table. To be at the table, you have to achieve to get there, and know your worth."
Panelists discuss the importance of community
"The responsibility relies primarily on our community, in making sure institutions value us as human beings, to do the things necessary to put our people in place," said Calvin Mackie, PhD, founder STEM Nola.
Simon Ndely, MD, resident, Cincinnati Children's Hospital Medical Center, discussed the importance of community, "My community is my life source, they are a big part of what keeps pushing us to move forward in the face of a lot of adversity."
Panelists
Andrew Kiragu, MD, pediatric critical care, Children's Minnesota
David Hamlar, MD, DDS, University of Minnesota
Simon Ndely, MD, Resident, Cincinnati Children's Hospital Medical Center
Calvin Mackie, PhD, founder STEM Nola
Co-hosts
Adriene Thornton, RN, infection prevention and control, Children's Minnesota
Brittany Wright, Black Life Amplified
Alexandra Rothstein