Helping more kids live well: Children's Minnesota expanding access to pain program
When your child is in pain, you want fast answers and effective treatment that helps your child feel better. That's why Children's Minnesota is making changes to improve access within the Pediatric Pain, Palliative Care and Integrative Medicine Program.
Thanks to recent operational changes, the program can now see more patients and treat a wider variety of conditions. Kids can also get in for appointments faster and experience shorter, more efficient visits.
Bringing pain expertise to more children
The Pediatric Pain, Palliative Care and Integrative Medicine Program, which is accepting new patients, focuses on improving your child's quality of life. We treat kids of all ages with acute and chronic pain, as well as kids experiencing pain after a procedure or surgery. Our palliative care experts also provide holistic support for children with serious or life-limiting illnesses.
As a Center of Excellence in Pain Management, we use an interdisciplinary treatment approach. That means your child's care will include experts from pediatric pain physicians, physical therapists, psychologists, advanced practice nurses and social workers.
Our program recently made changes to processes and procedures to expand this expert care to more children and improve the patient experience.
The benefits of our changes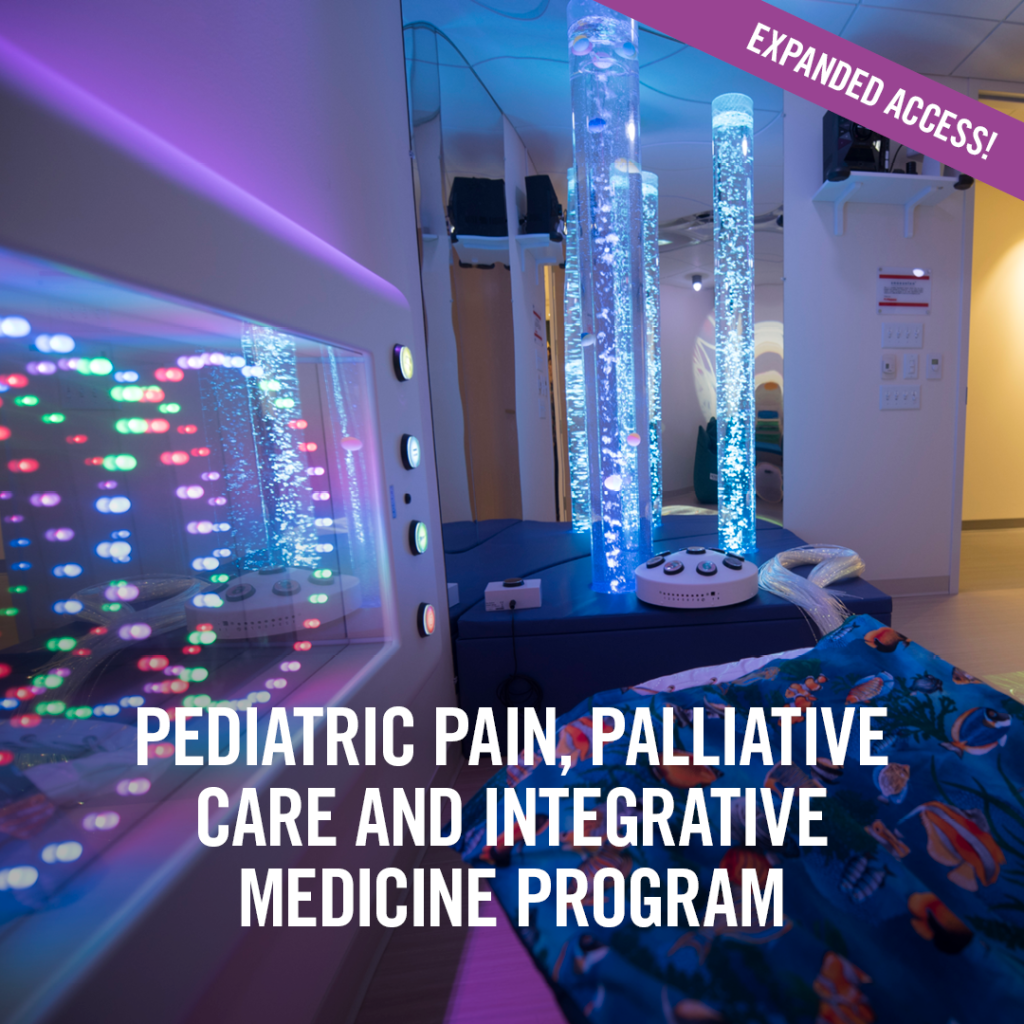 Virtual care options
Although telehealth was already available within the program, the COVID-19 pandemic emphasized the need for virtual care.
Having telehealth options means you don't have to spend as much time traveling to and from our clinic. It also means fewer disruptions to your child's daily schedule.
If you live far away from our clinics, our virtual care options allow you to meet with our team of experts when you can't easily travel for appointments.
More capacity for new patients
We've made some changes that allow our clinic to be more efficient, which means we can see more patients than ever. Our program is now seeing up to six new patients a week, doubling the number of new patients we can see in a month.
The ability to care for new conditions
The program treats children with conditions that cause chronic, debilitating pain and functional impairment, such as postural orthostatic tachycardia syndrome (POTS) and Ehlers Danlos syndromes.
We're now accepting more types of patients in our program, including kids who may not know what's causing their pain. If pain has been affecting your child's quality of life and you haven't received a diagnosis yet, our experienced pain specialists may be a good fit.
Less wait time for appointments
New patients won't have to wait as long to get in to see one of our experts. Thanks to our operational changes, we can usually get new patients in for an appointment within two weeks.
You also don't need a referral for an appointment — families can self-refer by calling the clinic at 612-813-7888.
More efficient appointments
Our process improvements in the clinic will allow for shorter and more efficient appointments. In most cases, your child's visit will last only an hour.
Although the appointments may be shorter, your child will still have access to the program's full, interdisciplinary team.
Improving the care experience for your child
Aside from expanding access to our pain expertise, Children's Minnesota is also creating a positive and seamless care experience.
We know that many of our patients require care from multiple providers, so we want to make sure the treatment process is as smooth as possible. We'll make sure to coordinate care and communicate treatment updates with your child's primary care provider (as much as you prefer). Our team will also help manage any referrals your child may need for pain care outside of our program.
Learn more about the program and its expertise in pain, palliative care and integrative medicine. To schedule an appointment, call the clinic at 612-813-7888.
Alexandra Rothstein