Life-long healing journey: Parsa's story
Looking at Parsa Najmaie today, you would have no idea that she spent much of her early toddlerhood at Children's Minnesota receiving treatment for cancer.
At age 23, she holds a bachelor degree from Barnard College of Columbia University and is applying for PhD programs in neuroscience via a developmental tract this fall. She is also a nationally-ranked drug-free powerlifter with USA Powerlifting and is currently training for potential international recognition at USA Powerlifting Raw Nationals in June. These amazing accomplishments wouldn't have been possible without the life-saving treatment Parsa received at Children's Minnesota.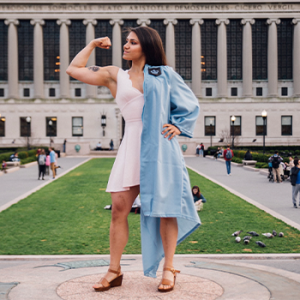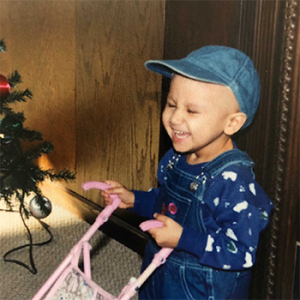 Parsa's Children's Minnesota story
Before Parsa reached her 2nd birthday, her family received devastating news—Parsa had cancer. At just 19 months old, Parsa was diagnosed with acute lymphoblastic leukemia (ALL) at Children's Minnesota. About a year later, she completed her treatment—including chemotherapy—and was given a clean bill of physical health.
However, like many who undergo scary diagnoses, Parsa's journey to recovery doesn't stop when the medical treatment stopped. While she remained physically healthy throughout her childhood—returning to Children's Minnesota largely for well-child check-ups and routine care—Parsa struggled with her emotional and mental health.
Staying active as self care
Whether dealing with insomnia or anxiety, Parsa knew she needed to find healthy ways to take care of herself. Throughout her life, Parsa has tried many forms of self-care, but nothing has worked quite as well as moving and listening to her body.
"It contributes to my resiliency," Parsa said when asked why she likes to stay active. "It's a daily habit that I like to maintain." Whether she's going for walks, training at the gym, coaching others in powerlifting, or even simply paying attention to her breath, Parsa knows that staying active will help her stay holistically healthy.
Virtual Walk for Amazing
Parsa is excited to participate in Virtual Walk for Amazing for the first time in 2021. While she is currently in remission from leukemia, children's health remains one of Parsa's many passions—and she's ready to raise funds for the most amazing people on earth—kids!
You, too, can find community and get active while celebrating recovery. Will you join Parsa at Walk for Amazing? Register today and join the Facebook group.
Walk. Jump. Play. Make a difference.
From May 3-14, go-getters and funseekers just like you, will be dancing, running, hula-hooping, juggling, and getting their move on to raise funds for Children's Minnesota.You can create or join a team, or join in as an individual — and since it's a virtual event, it's a great chance to connect with friends and family, whether they're here in town or across the country!
Kaitlyn Kamleiter