Children's Minnesota expanding care to help more children live pain-free
At Children's Minnesota, we're committed to helping prevent and treat pain in kids so that they can live as well as possible. As part of that commitment, we're expanding access within the Pediatric Pain, Palliative Care and Integrative Medicine Program.
With recent operational changes, the program can now see more patients and treat a wider variety of conditions. From a patient perspective, kids can now get in for appointments faster and experience shorter, more efficient visits.
The program, which is accepting new patients, serves kids of all ages — from babies to teens.
It uses an interdisciplinary approach to treat acute pain, chronic and complex pain, and procedural pain in children. The program also provides holistic support for children with serious or life-limiting illnesses.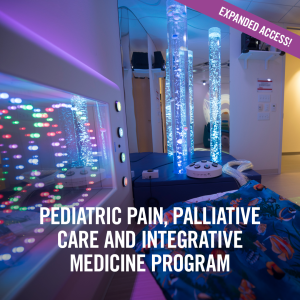 How Children's Minnesota is improving access to pain medicine
The Pain, Palliative Care and Integrative Medicine outpatient clinic has updated processes and procedures to improve access and the patient experience. The benefits of these changes include:
Options for virtual care (telehealth)
Although virtual care was already available within the program, the COVID-19 pandemic increased the need.
Having virtual care appointments means less travel time for patients and fewer disruptions to their daily schedule. Pain, palliative care and integrative medicine experts can also see long-distance patients who can't easily travel for treatment.
Increased capacity for new patients
The operational changes allow the program to see up to six new patients a week, doubling the number of new patients we can see in a month.
Expanded conditions and patient types
The program treats children with conditions that cause chronic, debilitating pain and functional impairment, such as postural orthostatic tachycardia syndrome (POTS) and Ehlers Danlos syndromes.  The program is now accepting new types of patients, including children with undiagnosed conditions causing pain that affect their daily quality of life. If a patient hasn't been able to get a diagnosis with their primary care provider or another specialist, our program may be able to help.
Shorter turnaround time for appointments
With the operational changes, new patients don't have a shorter wait to get an appointment with a pain specialist. We can usually see patients within two weeks.
Providers can refer patients to the program or families can self-refer.
More efficient appointments
We've changed up our processes to allow for faster and more efficient appointments. As a result of these changes, the first intake appointment has been shortened to an hour. At the conclusion of this initial appointment, the patient will have an individualized tailor-made plan of care outlining the next steps in their pain rehabilitation.
Despite the changes, patients still will have access to the program's full, interdisciplinary team. This treatment approach incorporates care from pediatric pain physicians, physical therapists, psychologists, advanced practice nurses, social workers and massage therapists.
Creating seamless care for patients
While efficient operations are important to expanding access to pain treatment, Children's Minnesota also understands the need to create a positive and seamless care experience. We know that many of our program's patients require care from multiple providers, so we want to make sure the treatment process is as smooth as possible.
We're taking steps to ensure the Pain, Palliative Care and Integrative Medicine Program coordinates care with each patient's primary care provider (as much as preferred). Our team will also help manage any referrals the patient may need beyond our program.
About the program
The Pediatric Pain, Palliative and Integrative Medicine Program is one the most comprehensive programs of its kind in the country. Our interdisciplinary approach allows us to not only treat the pain, but the whole patient. Ultimately, this helps improve function and the child's overall quality of life.
Children's Minnesota is also a Center of Excellence in Pediatric Pain Management. The American Pain Society has recognized our state-of-the-art, patient-centered pain management program.
Learn more about the program and its expertise in pain, palliative care and integrative medicine.
To refer a patient or schedule an appointment, call the clinic directly at 612-813-7888. You can also contact Physician Access with questions or for a consultation.
Stephanie Hoff