Kangaroo care: A healing connection between mom and baby
In honor of International Kangaroo Care Awareness Day, we're excited to celebrate the families who use kangaroo care to help their babies grow big and strong.
Heather and now 9-week-old Lucy know first-hand how beneficial kangaroo care, also called skin-to-skin care, can be—especially when born premature.
Throughout the COVID-19 pandemic, Heather did everything she could to avoid getting sick for her own health and for the health of her daughter. However, when Heather was 25 weeks pregnant, she learned she had contracted COVID-19. About a week after testing positive, Heather went to Methodist hospital because she was having difficulty breathing. At Methodist hospital, they found that her daughter wasn't moving, so she was transferred to The Mother Baby Center in Minneapolis for specialized care.
About 90 minutes after arriving to The Mother Baby Center, it was discovered that Lucy's heart rate was diminishing, so Heather's care team decided they needed to deliver—even though Heather was only 26 weeks pregnant.
"It was the scariest day of my life thus far," Heather explained. "I'll never forget the doctor's face when she said 'everything is going to be OK.' I had to trust her."
When Lucy was born on Feb. 25, 2021, she weighed just 1 pound 14 ounces. While Heather couldn't be with her daughter for the first week of her life as Heather recovered from COVID-19, she knew Lucy was in great hands. Her doctor told her: "We're in the business of growing babies." And Heather knew Lucy would be OK.
"I felt pretty helpless, as I was not able to care for her like a new mom would," Heather said.
One of Lucy's nurses told Heather about kangaroo care. In kangaroo care, parents hold their babies to their bare chests, making as much skin-to-skin contact as possible. This helps babies get to know parents and provides many benefits to parents as well.
While Heather hadn't heard much about kangaroo care prior to this, she was willing to try anything to help Lucy. At the beginning, Heather would lay with Lucy for 10 to 12 hours each day—which she credits with helping Lucy nearly triple in size!
Now that Lucy is older, and doing remarkably well as she continues to receive top-notch care at Children's Minnesota's Infant Care Center, Heather lays with her for about 6 hours each day. "It's helped me keep my sanity."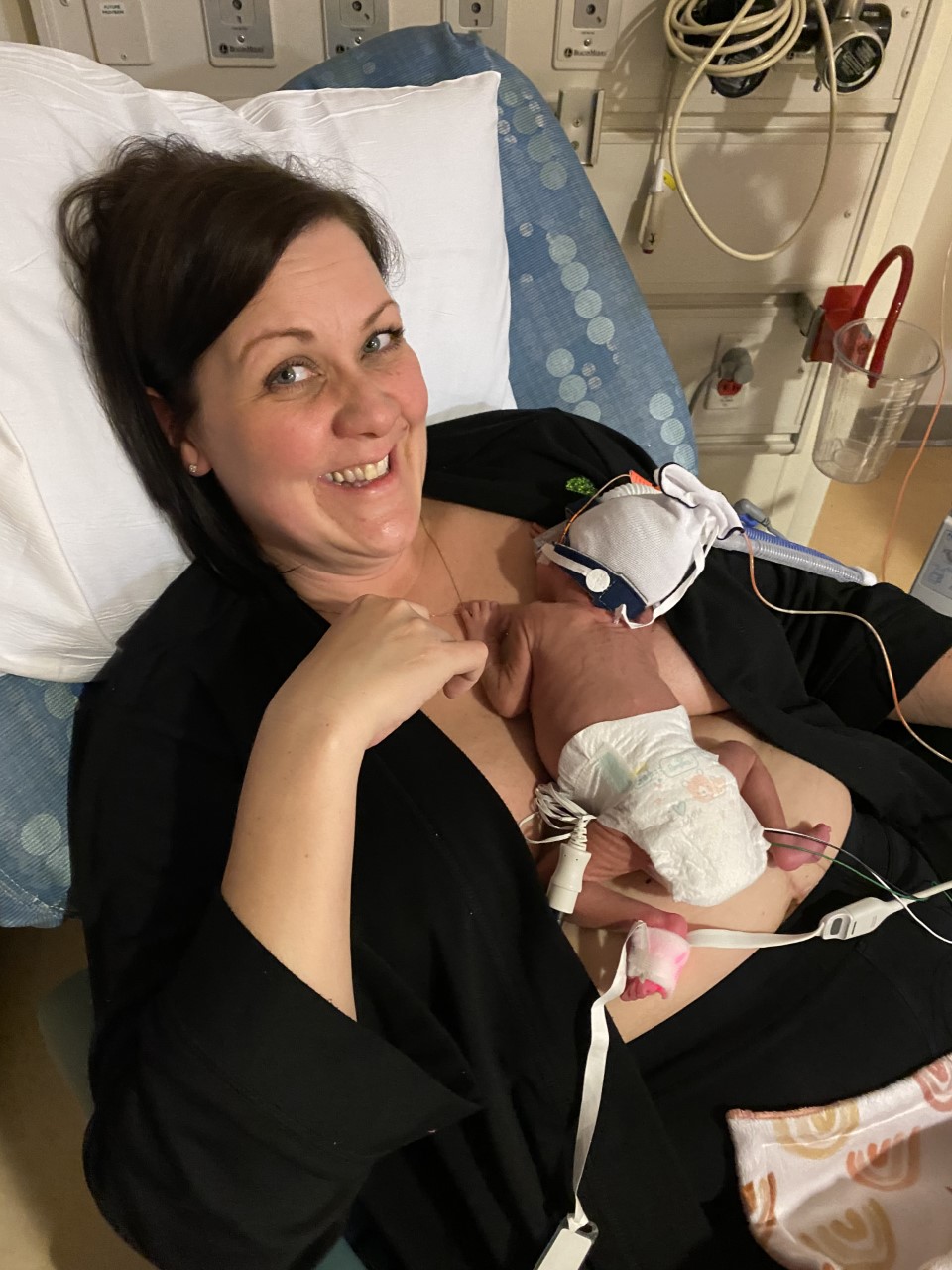 Lucy today
"When I was pregnant, I knew Lucy would change the world. I just didn't realize it would be mine."
At 9 weeks old, Lucy now weighs 5 pounds and 9 ounces and is doing amazing. While there are a lot of complications related to being premature, Lucy grows stronger each day with the help of her mom and kangaroo care.
Kangaroo care can help you to:
Produce more milk.
Feel even more love for your baby.
Cope with "the baby blues."
Learn how to respond to your baby's needs.
Have more confidence in your parenting skills.
Be ready for breastfeeding.
Kangaroo care will help your baby to:
Sleep better.
Cry less.
Keep their body the right temperature.
Breathe better.
Feel less pain.
Know you better.
Be ready for breastfeeding.
Kaitlyn Kamleiter