Baby Jabari gets a second chance at life
Pregnancy is an exciting and anxious time for many. When Trina and Bak Bak found out they were expecting, they took it one day at a time and approached it with their usual easy-going demeanor, even in the midst of a pandemic.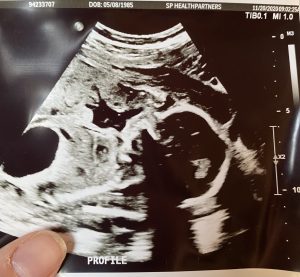 At her 20-week ultrasound in November 2020, Trina Bak was alone during her appointment because of the clinic's COVID-19 restrictions. She was excited to see her baby and share any news with her husband.
But as the sonographer looked at the baby, something seemed off. Trina noticed something large in the image that didn't fit in with what she thought she should be seeing. The doctor came in and told Trina that the baby likely had a lower urinary tract obstruction, meaning that he had extra tissue blocking his bladder. This didn't allow urine to pass through, which meant that amniotic fluid wasn't being produced to help the baby grow in the womb.
"At first I just thought it's not that big of a deal, fix it," said Trina. But she quickly started to feel the gravity of the situation.
The Midwest Fetal Care Center gives the Bak family hope
Their Health Partners clinic immediately referred Trina and Bak to the Midwest Fetal Care Center, a collaboration between Allina Health and Children's Minnesota. As the only advanced fetal care center in the Upper Midwest — and one of only a few in United States — the Midwest Fetal Care Center provides state of the art fetal diagnosis through delivery.
A few days after the ultrasound, the Bak family met with Dr. Saul Snowise, medical director of the Midwest Fetal Care Center. Dr. Snowise went over the ultrasound in detail and explained everything about their son's lower urinary tract obstruction.
"He pointed out on one of the photos the bladder was really enlarged, it was like the size of his head, and at 20 weeks you're not really even supposed to see the bladder," said Trina.
Dr. Snowise explained that without intervention, there was little chance that their baby would survive since amniotic fluid is essential to allowing babies to grow and develop. But with intervention, he had a shot.
Trina and Bak made the decision to try everything they could to help their baby survive. During that same appointment, Dr. Snowise tapped the baby's bladder and drained the fluid to see if it would fill back up, meaning that the baby could survive after the intervention. A couple days later, it had!
The day after Thanksgiving on November 27, 2020, Trina came back to the Midwest Fetal Care Center with her husband, so that a shunt could be placed to allow the baby's fluid to drain from the bladder into the amniotic cavity, to produce amniotic fluid. She was given local anesthesia and watched an ultrasound of a procedure on a screen. Dr. Snowise used a needle to go through Trina's abdomen to allow him to insert a shunt into the baby's bladder, guided by live ultrasound images.
Trina only had a half inch incision from the procedure to place the shunt and was out within an hour.
Baby Jabari at the Children's Minnesota NICU in St. Paul
Trina's water broke when she was only 33 weeks pregnant. She came to The Mother Baby Center at United Hospital and Children's Minnesota in St. Paul and received medications to help speed up her baby's lung development because he was so premature. Then, two days later, it was time to deliver. Because he was breeched, Trina had a cesarean delivery on February 20, 2021.
"When he came out screaming and crying the whole time, I felt so relieved," Trina said describing the experience. "It was really cool."
Bak and Trina decided to name their son Jabari, meaning 'brave' in Swahili. He came into the world at just 4 pounds and 15 ounces, but with strong and fully developed lungs.
Because he was premature and needed expert care, Jabari was admitted to the Children's Minnesota neonatal intensive care unit (NICU) in St. Paul where the team could keep a watchful eye on him.
"Everybody was so fantastic," Trina said describing the team at Children's Minnesota that Jabari had to support him, including a neonatal team of experts and urology and nephrology specialists.
Jabari's shunt was taken out the day after his birth. He then underwent a vesicostomy, a surgery to create a small opening in his lower abdomen where urine can come out.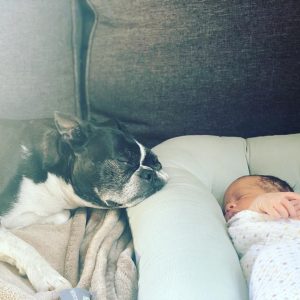 Jabari spent nearly two weeks in the NICU with his parents visiting often and also checking in on him frequently by accessing a secure camera that shared a live feed of Jabari in the NICU.
"I was looking at that camera all the time," said Trina. "I even gave access to my mom. It was really nice to be able to see him."
After 12 days in the NICU, Jabari was thriving and ready to go home. Only a couple months later, Jabari is enjoying time with his family and loves to snooze on the couch next to the family dog, Radar.
About the Midwest Fetal Care Center
The Midwest Fetal Care Center (MWFCC), a collaboration between Allina Health and Children's Minnesota, brings together a multi-disciplinary team of highly trained maternal-fetal medicine experts from Allina Health and pediatric and neonatal specialists from Children's Minnesota. Open since 2008, the MWFCC is a national referral center and regional leader in fetal diagnosis, fetal intervention and comprehensive fetal care for unborn babies with complex conditions.
About the Children's Minnesota NICU in St. Paul
The Children's Minnesota NICU in St. Paul is a vital resource for families in the region, providing neonatal expert care for babies who are extremely premature, with the full range of Children's Minnesota pediatric sub-specialties providing bedside care, including neurosurgery, neurology, ENT, cardiology, general surgery and more. Families at any Children's Minnesota NICU receive comprehensive care with the support of child life specialists, dietitians, music therapists, respiratory therapists, social workers, spiritual counselors and more.
Dina Elrashidy