Why Kali, a double-lung transplant recipient, got vaccinated against COVID-19
"If her body can handle it, then healthy bodies can handle it."
There's one thing 14-year-old Kali has been wanting to do since the COVID-19 pandemic began — make a Target run. Kali and her mom, Janice, love to shop. But they have not been to a store, restaurant or any public place for almost 16 months! The only time they leave the house is to visit her grandparents, who are also quarantined, and for medical appointments at Children's Minnesota. Kali is a double-lung transplant recipient and, because of that, her immune system is compromised.
"If she got COVID-19, it's just not something her body can handle. We had to keep her safe," said Janice. "I wasn't going to fight 14 years to keep her safe and have COVID-19 knock her out."
When Pfizer BioNTech's COVID-19 vaccine was approved for emergency use in children ages 12-15 years old, Janice was overwhelmed with excitement and hope.
"The vaccine was the light at the end of the tunnel after almost 16 months. Kali just wants to be a kid and not be home all day," Janice said.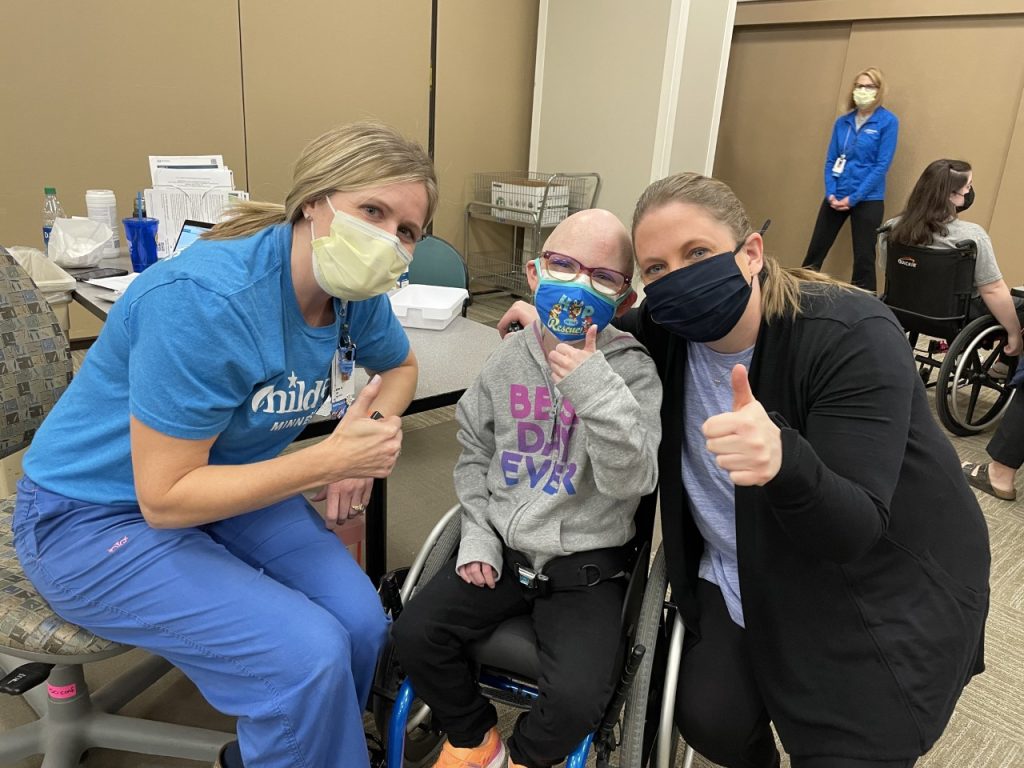 Kali was born premature at 24 weeks, weighing 1.5 pounds. She spent her first eight months in the Children's Minnesota Minneapolis neonatal intensive care unit (NICU). At 10 months, her lungs were still not growing and she was transferred to a pediatric hospital in Texas to have a double-lung transplant, which was not available in Minnesota. Her body accepted the lungs well and, after a several months of recovery, the family returned to Minnesota.
However, due to her premature birth, Kali has had to face other health issues. She comes to Children's Minnesota for visits with her pediatric pulmonologist, Dr. Brooke Moore, as well as regular IV infusions of certain antibodies that her body doesn't produce on its own. Kali is able to move around on her own but uses a wheelchair because she tires easily. Despite all the obstacles, Janice always believed in her daughter and the care team at Children's Minnesota.
"Kali has been thrown many curveballs in her young life, but she keeps hitting them out of the park. But we would not be this far without her doctors and nurses. Texas gave us the lungs, but Children's Minnesota will always be our forever second home," said Janice.
COVID-19 impact and relief
Along with Target runs, Kali has had to miss out on a lot during the pandemic. She loves playing adaptive sports, especially baseball. But she hasn't been able to play because it's too risky for her health. She's also missed going to cheer on her cousins at their hockey games. When a COVID-19 vaccine was approved for kids 12 years and older, Janice and Kali had questions. They brought those questions to the care team at Children's Minnesota who explained the vaccine was safe and effective, even for Kali.
"I trust her doctors. They gave me 14 years that I didn't think I was ever going to get with Kali. I know Dr. Moore was not going to tell me to give her this vaccine unless it was safe," said Janice.
Kali had a fever following her first dose. Dr. Moore told Janice it was a good sign that Kali's immune system was responding to the vaccine. Kali took Tylenol and her fever was gone after two days.
After Kali gets her second dose and is considered vaccinated, she looks forward to getting back to her shopping trips. Janice is hopeful her daughter can return to in-person school in the fall. Kali will be starting at a high school that has a large adaptive sports program. Janice and Kali also look forward to getting season tickets to Gopher hockey.
Janice understands parents may have their own concerns. She encourages them to talk with their health care provider. She also believes if her daughter can handle it, almost anyone can.
"If there's anyone wondering 'Should I get the COVID-19 vaccine for me and my child?' If it's safe for this little body, then it's safe for healthy bodies. She's 45 pounds and getting the same dose as adults and her body can take it," said Janice. "It's one little thing we can do to keep others safe and healthy."
Nick Petersen