Hope for Mikayla and other kids living with sickle cell disease
Mikayla has been in the hospital more than 100 times. And she's only 13.
Born with sickle cell disease, a disease that primarily affects people of African descent, Mikayla endures severe pain, infections and even strokes.
"When you see her, you'd never know," says mom Demitrea. "She's really going through the worst pain of her life."
But The Kid Experts™ at Children's Minnesota think there's a way to change all that.
A bone marrow transplant — a rare and complex intervention — could radically improve Mikayla's quality of life, ridding her of pain, eliminating the need to take medicine and taking away many of the complications she faces every day.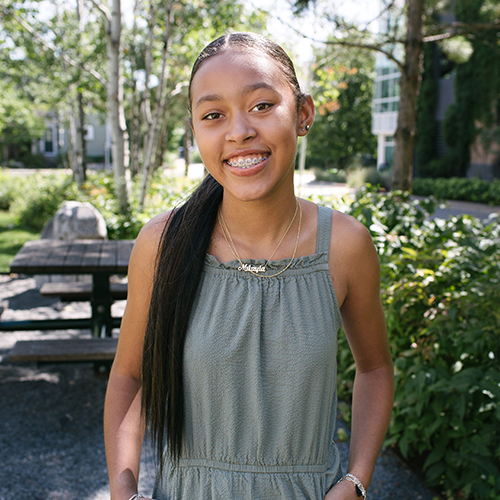 "When the doctors said I wouldn't have to take medication anymore and I'd feel better, I was happy. I wanted to get started on the process," says Mikayla.
The nationally recognized Children's Minnesota Sickle Cell Program treats over 80% of children and teens in the state with Mikayla's condition. And the team is working harder than ever to strengthen the program, recognizing that sickle cell disease has not received the attention, funding and research it deserves.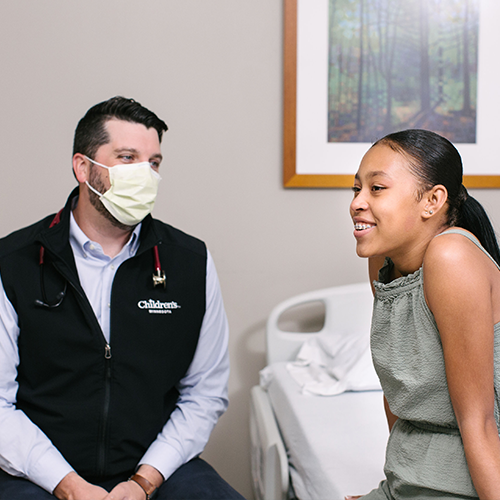 "The patients I get to care for are truly the strongest people I've ever met in my life," says Dr. Derrick Goubeaux, Mikayla's doctor and the medical director of the Sickle Cell Program at Children's Minnesota.
"And that's why we call them warriors."
Mikayla's family agrees. "She takes everything in stride and she's so patient and resilient," says Demitrea. "She's the strength of our whole family. It's hard to be around her and not smile or laugh."
Despite major advances in sickle cell disease treatment over the last 30 years, funding for research and other areas of care lags far behind that of other conditions. Dr. Goubeaux and the team in the cancer and blood disorders program have hope that they can lead the way toward more equitable care.
"We need to continue to push ourselves and be the best we possibly can be for these warriors. We should be at the forefront of research opportunities of drug development, the most state-of-the-art care monitoring, interventions, whatever these patients and families need."
While Mikayla waits for a suitable donor for a bone marrow transplant (a search that is complicated by race: Black people have only a 23% chance of finding a matched donor in the registry, while Caucasian people have a 77% chance, according to Be the Match), she's still having fun. She enjoys trying new foods and traveling with her mom. Over the summer, she spent time with her dad and cousins in Indiana going to the amusement park and trying TikTok dances.
Through all of the ups and downs, Mikayla's family is grateful for the guidance and care they're receiving.
"My experience with Children's Minnesota has been amazing to say the least," says Demitrea. "Everyone's educated me and my family just to another level. And they've taken the time to really listen and talk to us. I ask a lot of questions and I've never felt uncomfortable or rushed. Sometimes our 30-minute appointment turns into an hour or two, the entire team comes in to talk to us. I always leave with more information than I started with."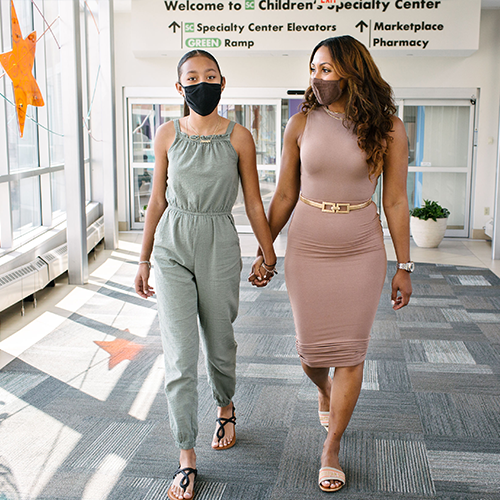 Mikayla's experience has inspired her goals for the future. "When I grow up I want to be a doctor or nurse so I can help kids just like me."
Shine Bright for Cancer Kids is a fundraiser for Children's Minnesota, the home of The Kid Experts™. We have the largest pediatric cancer and blood disorders program in the Upper Midwest. Donate online or shop with a participating business to help children like Cullen and Mikayla keep fighting. Your gift supports everything from special therapies to life-saving research to mortgage and rent relief. With your help, we can make every day a little brighter for them.