Elliot accomplishes his goal, one step at a time
Elliot Rolloff loves all of the same things you'd expect a 6-year-old boy to love: building, reading, playing sports, puzzles, school and riding the bus.
Although Elliot was diagnosed with spina bifida before he was born, he has never let that stop him from reaching his goals.
When Elliot's mom, Heather, was pregnant with him, she had some blood work and tests done, which resulted in her care team wanting to look at his heart closer. She made an appointment at Midwest Fetal Care Center for an ultrasound, which didn't show any abnormalities until the very end of the appointment. As the appointment was wrapping up, Elliot turned around in the womb. On the ultrasound screen, the team saw the hole in his back, indicating he would be born with spina bifida – triggering a whirlwind of visits with specialists up until his birth.
The beginning of his Children's Minnesota story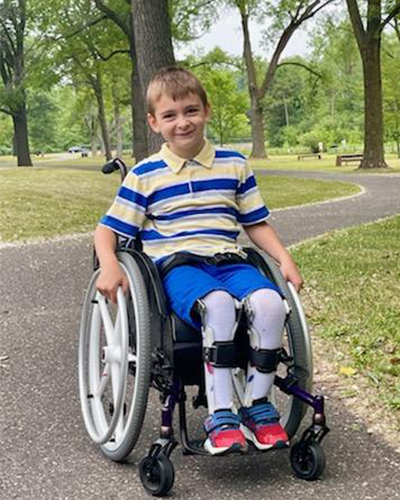 After Elliot was born at United Hospital, he was sent to the neonatal intensive care unit (NICU) at Children's Minnesota's St. Paul hospital right away. A team of specialists diagnosed him with lipomyelomeningocele spina bifida, which is an uncommon form of the condition. Elliot stayed in the NICU for three days before going home, and he would return for his first surgery when he turned 4 months old.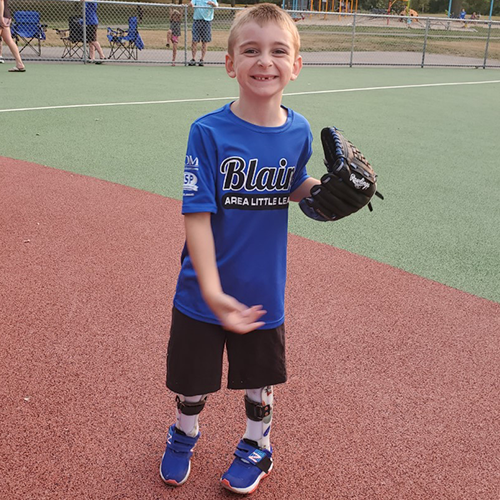 During conversations with his neurosurgeon, Dr. Meysam Kebriaei, Heather remembers the doctor telling her, "I'm a neurosurgeon by training, but I don't want to cut unless I have to." This spoke loudly to the Rolloffs because they didn't want Elliot to go through more than he needed to. Dr. Kebriaei's, and the rest of the team's, bedside manner left the Rolloffs feeling that they were in the right place to get Elliot the care he needed.
Rehab at Children's Minnesota
Just after Elliot's first surgery at Children's Minnesota, he started seeing a physical therapist, Jenny, and he has continued to have appointments with her weekly for most of his life.
"Jenny is our rockstar," his father, Nate, explained. She helped him through spine and hip surgeries, and even helped Elliot learn and re-learn how to walk three times. But not only has Jenny helped Elliot learn new things, she makes it fun.
After seeing Jenny for years, Elliot was referred to also see an occupational therapist to help him gain independence. Elliot and his care team have put in a lot of work – and had a lot of fun along the way – to help him achieve any goal he puts his mind to.
Achieving his goals
Recently, Elliot set one very important goal for himself: he wanted to ride the bus to school. But there was one thing in his way. He needed to learn to climb the bus stairs by himself.
When the first day of school came, Elliot was ready.
Heather and Nate waited for the bus with him that morning. As they watched it pull up, Heather admitted to feeling a little anxious. "As a parent, you still have the anxiety that he could still fall," she said.
When the bus pulled up to his stop, he knew he was ready. He made it up the stairs to the bus without a problem!
"Since we watched him work so hard, it wasn't as surprising as you think it might be," Nate said. "We're proud of him for the work that he's done to get to this point."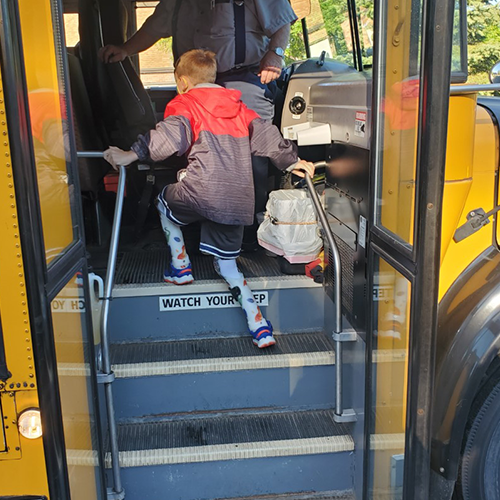 On to the next milestone
Heather said that being Elliot's parents means she and Nate are constantly proud of Elliot's determination and drive: "He doesn't let things hold him back."
Now that Elliot has accomplished this milestone, there's no telling what he will put his mind to next. He can accomplish anything he wants to do, and his care team at Children's Minnesota will help him every step of the way.