Helping baby Javier – and his family – breathe easier
Mindy Torres has dedicated three years to working at Children's Minnesota as a referral testing technician in the St. Paul reference lab. When Mindy and her husband, Zachary Zdon, got pregnant with her second son, she knew she could trust the teams here to deliver her baby safely.
Javier's early entrance into the world
When Mindy was just 22.6 weeks pregnant, her water broke due to a pregnancy complication called: preterm premature rupture of the membranes, or PPROM. Her baby Javier was then born at just 24.3 weeks, which meant that he was nearly four months premature!
Javier was immediately brought to the neonatal intensive care unit (NICU) at Children's Minnesota. That's when the Zdon family learned Javier would need an oxygen tube placed. They would need to keep Javier in the NICU until he could regulate his breathing without oxygen.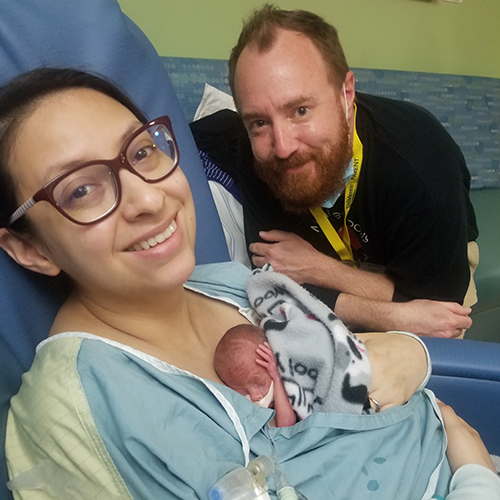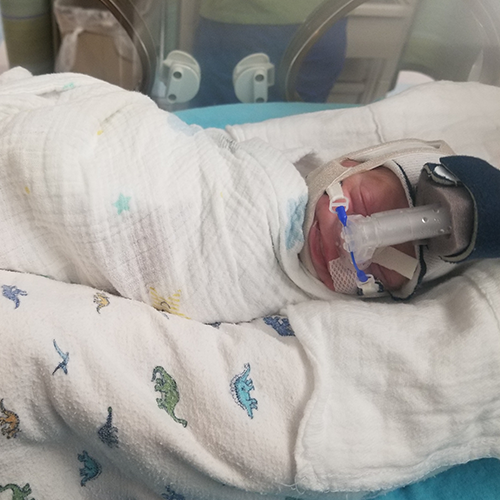 Mindy felt scared and stressed for her son while he was in the NICU. But thanks to the amazing care team that helped take care of Javier, Mindy could breathe a little easier.
"The people at Children's Minnesota not only took care of my son but also took care of me. Things got rough sometimes but they all listened to my concerns with empathy and understanding," said Mindy.
Baby Javier spent 133 days – more than four months – in the NICU slowly getting stronger and stronger every day. Then, Javier's care team told Mindy he could go home – however, he would still need to be on oxygen.
"When I was first told Javier would need to be on oxygen at home, I felt super overwhelmed and very scared," said Mindy. "I thought, 'How am I going to do this? I have another kid at home.'"
Javier at home with oxygen
Before they went home with Javier, Mindy and her husband were trained and prepared to help Javier with his oxygen at home from changing his oxygen tubes, watching his oxygen levels to making sure there was always oxygen in the tank.
"The first week was very scary," Mindy said. "But then we got used to it and figured it out. His brother would even pull the oxygen tank around for me."
Javier's fire spirit shines
Javier slowly started to rely less and less on oxygen. He went from needing an oxygen tube to a daily nebulizer, then a daily inhaler and now he uses an inhaler only as needed and if he's sick – a true accomplishment!
"Javier's doing great," Mindy said. "He's very much my troublemaker. He's feisty and real sassy. We feel like these are very much the same qualities he had during his NICU stay."
Mindy's husband truly believes Javier did so well in the NICU because of those qualities. "His fire spirit shined through," said Mindy.
Javier recently celebrated his first birthday – all without the help of oxygen!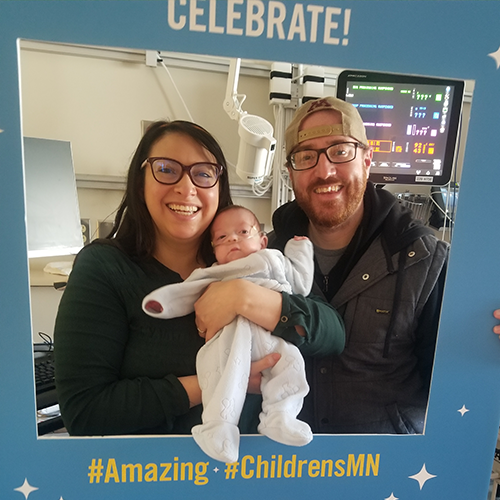 Recommending care from a first-hand experience
Not only is Mindy a dedicated mother, she is a dedicated employee of Children's Minnesota. She works in our St. Paul lab. "Given I worked here, I didn't understand how little and fragile these little babies are, I'm in a lab downstairs I never see them," Mindy said.
But having Javier born premature and needing a NICU stay, Mindy's eyes were opened to what it's like being a patient family of Children's Minnesota, in addition to being an employee.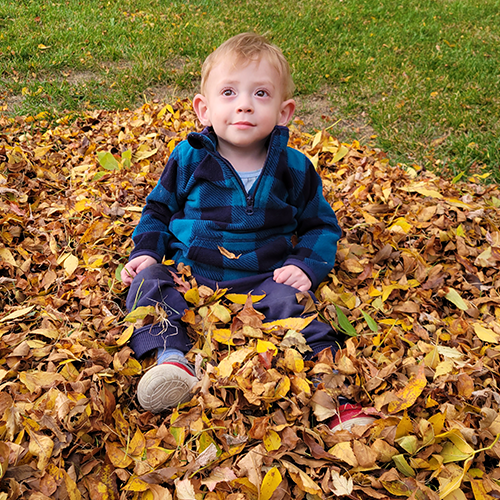 "Going through this, being on the other side, the patient side, was truly humbling," Mindy said. "It makes me have more compassion and empathy. I get it now, I truly get it."
Mindy knew she could trust her fellow colleagues, and The Kid Experts ™ at Children's Minnesota, to care for her new baby. "They took care of my baby, but they were also literally holding my hand. That's something I could never repay them for," Mindy said. "They were advocates not only for Javier but for me."
But it wasn't just Javier's care team that made a difference in their hospital stay.
"It wasn't just the nurses and providers that made it a great experience," Mindy said. "It was a collective unit that made it great." From the people who came to clean Javier's room to the staff in the kitchen preparing her lunches every day, she felt cared for and supported. "The care travels to all areas of the hospital, it's really great."
Give to Children's Minnesota
When you donate to Children's Minnesota, you make possible the most extraordinary care. Fetal surgery. Heart transplants. Innovative cancer treatments. Your donations also make possible the vital wraparound care — support services, financial help, sibling play areas — that help families cope with hard times. As a nonprofit, we rely on the generosity of people like you to make it all possible. Learn more and donate here.
Alexandra Rothstein