Eight neurosurgeries by age 3; Xenia's family is grateful to be at Children's Minnesota
"We don't love that we have a neurosurgeon, but if we have to have one, we are grateful for Dr. Halvorson and the entire team at Children's Minnesota."
At only 3 years old, Xenia has required multiple surgeries, including many neurosurgeries – a tough road for such a small kid. In total, she's been admitted to the hospital 14 times and undergone surgery during several of these admissions.
The beginning of Xenia's medical journey
Xenia's medical journey began a few short weeks after she was born. Her mom, Joy, was doing regular feedings but noticed Xenia wasn't gaining weight. And, at only 1 month old, she was admitted to Children's Minnesota for laryngomalacia, a common cause of noisy breathing in infants. Xenia needed surgery to help her laryngomalacia.
The surgery went well. However, when Xenia came off the IV and post-surgery medication all the gains the family and care team celebrated were lost.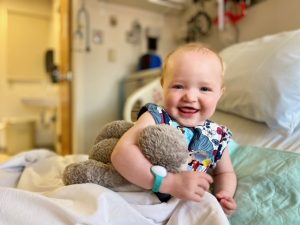 Xenia was able to go home after surgery and be with her family for a brief time. But, she would spend the first seven months of her life in and out of the hospital for several weeks at a time as the team in the Children's Minnesota neuroscience program focused on trying to diagnose what was going on. An MRI found a Chiari malformation; a condition where the cerebellum — the part of the brain that controls coordination and muscle movement — pushes down through the opening in the bottom of the skull.
Around this time is when the family started meeting with pediatric neurosurgeon Dr. Kyle Halvorson and the rest of the neurosurgery team. After discussing some of Xenia's other symptoms, it became clear that surgery to repair the Chiari malformation might be necessary. The family was sent to a different hospital for a second opinion which is where Xenia had her first neurosurgery.
After surgery, mom Joy noticed a night and day difference in her daughter. But again, Xenia's medical journey would take another turn.
Above and beyond care from The Kid Experts™
Unfortunately, after some temporary relief, Xenia developed new and worsening symptoms. After testing and trying other treatment options, it became clear that a more invasive surgery was needed. It was at that time that Joy and the family realized they wanted to go back to The Kids Experts™ at Children's Minnesota for Xenia's care.
"Though there had been some challenges in her case, we also could not have asked for a more compassionate and empathetic provider on our case than Dr. Halvorson. He has always gone above and beyond and worked to care for our whole family," remembered Joy. "We also felt like the neurosurgery team really had a special dynamic, even when he wasn't the provider on call, the communication and collaboration was unlike anything I had ever seen."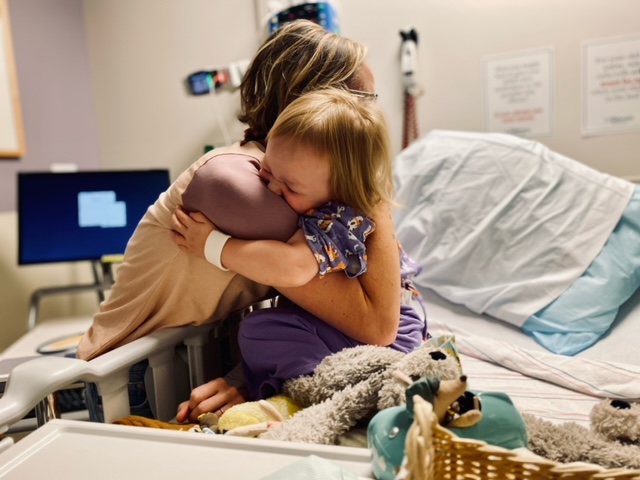 Search for the missing piece
In February 2020, during one of her neurosurgeries, the care team discovered there was much more going on internally with Xenia that hadn't shown up in tests and imaging. Joy says many of the challenges they faced with her seemed to finally make sense.
However, weeks later Xenia developed multiple issues including chemical meningitis, hydrocephalus and a cerebrospinal fluid (CSF) leak — CSF is a clear liquid that surrounds and cushions the brain and spinal cord.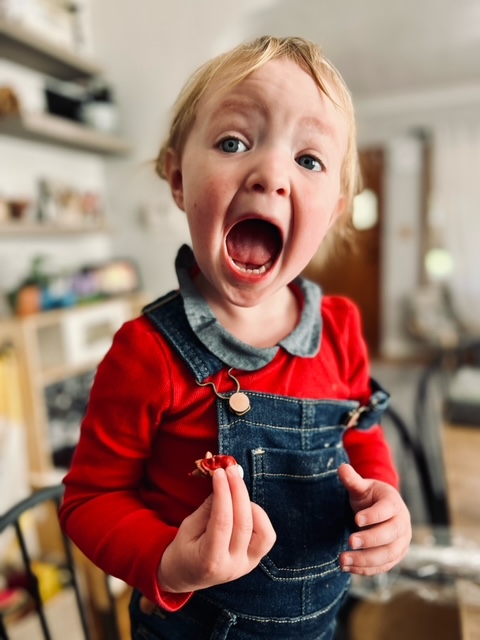 In March 2020, as the COVID-19 pandemic hit Minnesota, Xenia went back into the hospital to have a shunt placed to help drain the extra CSF from her brain. The pandemic added an extra layer of stress as the family spent over a month in the hospital with Xenia. The family's resilience through Xenia's medical journey is what impresses Dr. Halvorson.
"The family has been through a lot in barely three years but they keep fighting for Xenia. Their strength during the unexpected is what keeps us going as a neurosurgery team," said Dr. Havlorson.
Since then, Xenia has had a couple surgeries to fix her shunt. The family has come to realize it may be some time before "the missing piece" of Xenia's diagnosis is found. But Joy could not ask for better care.
"All in all, we have a kid who's thriving. From a functional standpoint she's doing amazing," says Joy. "We don't love that we have a neurosurgeon in our lives, but if we have to have one, we are so, so grateful for Dr. Halvorson and the rest of the team at Children's Minnesota."