The healing power of reading for our patients
Reading is a huge part of growing up, developing and learning for kids of all ages. When a child spends a few days, or sometimes even longer, in the hospital, it's important to keep them reading so they can continue to learn! But learning isn't the only reason we have books at Children's Minnesota.
We use books for many different reasons – parents reading to their premature baby, distraction, entertainment, learning and more! That's why we are so grateful for the book donations we receive yearly from families or individuals, local bookstores like Magers & Quinn and more.
How Children's Minnesota uses books
Book donations and the Children's Comfort Promise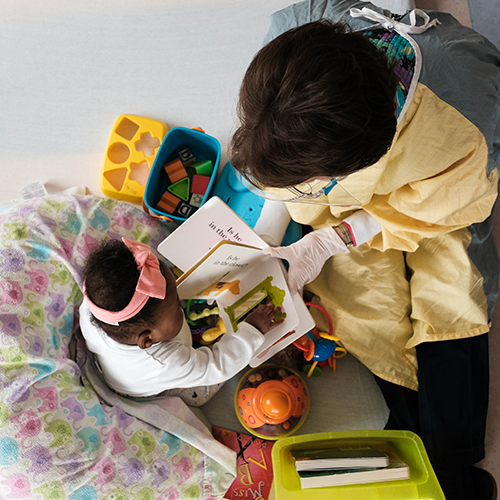 We offer something called our Comfort Promise – a promise to you and your child that we will use a variety of strategies (including numbing cream, soothing blankets and distractions) to reduce the pain kids feel at the doctor's office or hospital.
Reading provides kids a distraction or an escape from the reality of the procedure they are facing in that moment – and books are a wonderful way to do just that! Books are also used as an incentive following a needle procedure to promote literacy, learning and the benefits of reading for pleasure at home.
Wee Read
Wee Read was introduced on our Minneapolis hospital campus in February 2007 to encourage parents to read to their premature and critically-ill babies in our neonatal intensive care units, and to promote brain development. Research has found reading aloud to babies:
Stimulates brain growth and promotes a quiet alert state.
Offers both visual and social stimulation.
Provides an opportunity for parent/baby bonding.
Helps them respond better to reading and learning throughout their lives.
For further information, contact Diane Dingley, child life specialist, at 612-813-7378.
Book Nook program
Our Book Nook volunteers bring our book cart to inpatient units to give patients books according to their reading level and interests – including board books, picture books, activity books, chapter books and books in different languages. These books are designed to provide fun and distraction while in the hospital, but also to build patients' at-home libraries and encourage literacy.
One of our Book Nook volunteers, who is also a children's book author, Joyce Sidman explained her experience with this program:
"To many children and their parents, books are like old friends. When they see a familiar title or author on the Book Nook cart, their faces light up. Books are a link to normalcy, helping remind them that important things like humor, courage and friendship remain part of their lives even in the hospital."
Partnering with Magers & Quinn
Magers & Quinn, an independently owned new and used book store located in the Uptown neighborhood of Minneapolis, Minnesota, has been partnering with Children's Minnesota for 10 years! Every year in November through December, Magers & Quinn hosts a book drive for our patients.
Customers of the book store can purchase books for the patients spending time in the hospital to help them through their stay.
In 2021, Magers & Quinn is hosting their book drive starting Friday, Nov. 26, 2021! Visit their store to participate in their book drive for Children's Minnesota!
Alexandra Rothstein