Peace of mind from the kid experts: The Hill family shares their story
PJ Hill, vice president of the National Association for the Advancement of Colored People (NAACP) Minneapolis, and his family are no strangers to Children's Minnesota. PJ grew up in Little Earth in South Minneapolis, within a mile of the Children's Minnesota Minneapolis hospital.
Growing up, when PJ or one of his siblings got sick, his parents knew exactly where to go.
"My mom and dad took us to the emergency room for everything. We went to Children's [Minnesota] a lot," he said. "A lot of people who are low income, you depend on the hospital so much, and that's what we did."
PJ is one of nine siblings, and his youngest brother is just 12 years old and goes to Children's Minnesota whenever he's sick.
So, even after PJ and his family moved further away – to Lake Harriet – when his own kids got sick, the family only trusted The Kid Experts™ at Children's Minnesota with their kids' care.
"Everybody always says you need to go to Children's [Minnesota] if anything happens," PJ shared.
PJ Jr.'s experience at Children's Minnesota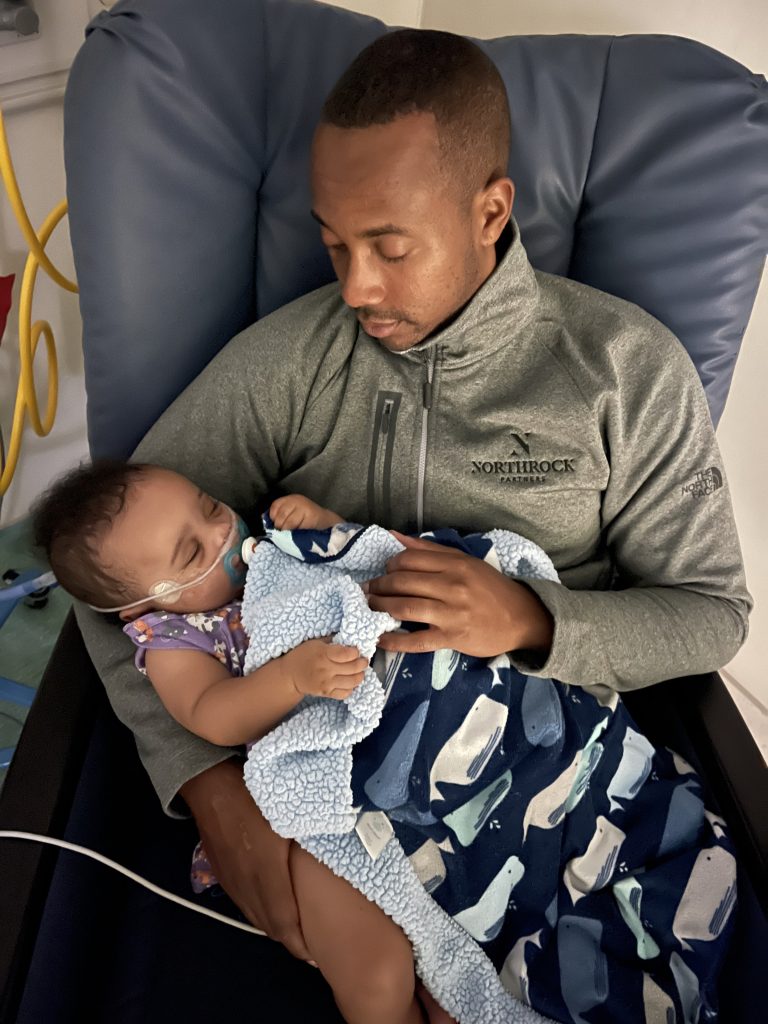 Since the pandemic began, PJ, his wife, Mandy, and their 13-year-old daughter, Sinae, have been extremely cautious. Mandy suffers from a rare autoimmune disease so they've had to take extra steps to make sure she doesn't get sick. Not only that, but Mandy became pregnant during the pandemic. Once their son, PJ Jr., was born on April 30, 2021, their concern about catching COVID-19 was that much greater.
But even with those extra steps, when PJ Jr. was almost 5 months old in September 2021, his parents noticed he was having difficulty breathing and was coughing a lot.
"We always want to go to where the best care is – and that's why we go to Children's [Minnesota]," said PJ.
The family brought PJ Jr. to the emergency department at Children's Minnesota where he was given a nebulizer to help him breathe. He was diagnosed with bronchiolitis, a common lung infection. Before he was discharged from the hospital, a respiratory therapist came in and explained to the family how to care for their son once they were home.
A stay in the emergency room
But in October 2021, PJ Jr.'s cough became even more severe and he started to have difficulty breathing. When the family noticed his symptoms getting worse and he couldn't sleep, PJ and Mandy rushed their son to Children's Minnesota again.
The team at Children's Minnesota saw his state and brought him in for care immediately. He was given oxygen to help him breath and an IV for fluids. He was diagnosed with a respiratory virus. His oxygen levels were low and didn't get better that first night so the team at Children's Minnesota said they'd have PJ Jr. stay overnight.
In the height of the continued surge of respiratory illnesses, beds were full in the hospital so the Hill family stayed in the emergency department. They were given a cot to sleep on, and staff checked in on the family and PJ Jr. frequently throughout the night. They continued to suction his nose – which had a lot of built-up mucus.
PJ Jr. was given more IV fluids because he wasn't eating, and by the second night, he started to finally get a little better. He was smiling and happy, even when he had the IVs still in place.
On the third day, PJ Jr. was discharged. Now, he's back to being his happy-go-lucky self.
PJ and his wife couldn't be more grateful to the team at Children's Minnesota who took such good care of their son, and they know exactly where to go if they need care for their children in the future.
Describing the team, PJ said, "The nurses were really nice and knew a lot. They [the staff] gave us peace of mind, because when you're looking at your son like that, you're kind of helpless… I'm grateful."
About PJ Hill
PJ Hill is an active community organizer in the Twin Cities. As vice president of the NAACP in Minneapolis, PJ is committed to dismantling systemic racism and recently helped organize the "Take the Knee" rally and the "10K March" – two significant George Floyd protests in Minneapolis. He was featured on major news networks nationally and internationally and appeared on a CBS 60 Minutes special: "Justice for All".