Referral and collaboration help baby August beat the odds of Ebstein anomaly diagnosis
If you see baby August today, it would be hard to tell the difficult road he's already been on in his young life. By all accounts he is your typical baby — smiling and playing with his big brother, Oliver, and big sister, Elodie. But just weeks before he was born, August had already been on quite the medical journey. But mom Elizabeth, or "Bitsy," says there's significance in his name.
"August was the month we almost lost our baby, but more importantly, it was the month he beat the odds."
August's was able to beat the odds thanks to a comprehensive and multidisciplinary team of health care professionals.
Concern and referral to Children's Minnesota
The first cause for concern with baby August came when Bitsy went for her 20-week ultrasound. Dr. Elizabeth Baldwin, a perinatologist at HealthPartners Clinic in St. Paul, noticed a heart abnormality.
Fetuses diagnosed with an Ebstein anomaly unfortunately face long odds for survival. The most recent publication for fetuses with Ebstein anomaly reported a 45% perinatal mortality rate (Freud et al, Circulation 2015).
Because of those odds, Dr. Howley and other specialists at Children's Minnesota followed Bitsy every two weeks to monitor the health of her baby. Through the Mayo Clinic – Children's Minnesota Cardiovascular Collaborative, Dr. David Overman, chief of cardiovascular surgery at Children's Minnesota, and Dr. Joseph Dearani, chair of pediatric and adult congenital heart surgery at Mayo Clinic, consulted with Bitsy about managing August's care after he was born. Dr. Dearani was brought in due to his specific expertise with Ebstein anomaly.
Bitsy's 31-week ultrasound showed evidence of worsening heart instability with development of hydrops — fluid seen in his abdomen and around his heart. The new fluid buildup was a sign that August's heart was failing due to its leaking tricuspid and pulmonary valves. Dr. Howley believed an experimental approach could be August's best chance of long-term survival.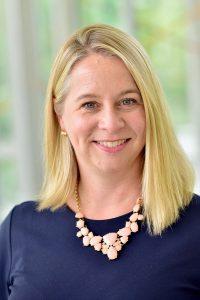 Dr. Howley talked with the family about the option of trying high-dose indomethacin, a non-steroidal anti-inflammatory drug.
"I discussed risks and benefits of the therapy and explained that use of indomethacin is experimental with only anecdotal reports of success," remembers Dr. Howley.
The risks were high. But, when Dr. Howley asked the couple if they wanted to pursue indomethacin Bitsy remembers saying, "If he's fighting then we're fighting." And fight he did!
Bitsy was admitted to The Mother Baby Center in Minneapolis and put on high-dose indomethacin. And, it was successful! After less than 24 hours baby August's heart was showing signs of improvement.  August's heart improved well enough that Bitsy was discharged and carried out her pregnancy at home with close monitoring — at both the Midwest Fetal Care Center and the HealthPartners clinic. The Mother Baby Center and Midwest Fetal Care Center are both collaborations between Allina Health and Children's Minnesota
August was born in late September 2021. Two days later, he underwent a Starnes procedure and placement of a Blalock-Taussig (BT) shunt led by Dr. Overman and Dr. Dearani.
August went home after spending three weeks in our Cardiovascular Care Center. He's home with family and followed as an outpatient in the Home Monitoring Program at Children's Minnesota. The program offers a continuum of care from the inpatient to the outpatient environment. It enables high-risk infants with cardiac disease to be at home in a safe and monitored environment while staying closely connected with their cardiology team.
From diagnosis to home visits, Bitsy could not ask for better care from August's care team.  "Dr. Howley and the entire team were the most dedicated clinicians I could ever imagine," described Bitsy.
"August's case was exceptionally challenging and his excellent outcome demonstrates the value of referring providers, teamwork between the fetal, neonatal and cardiovascular teams, and the critical importance of the cardiovascular collaboration between Children's Minnesota and Mayo Clinic," remarked Dr. Howley.
Watch August's story on KSTP: