Employees celebrate Black History Month: Sandi Richmond shares the significance
The month of February marks Black History Month, a time to celebrate the tremendous milestones and contributions Black Americans have made throughout history and continue to make today.
In honor of Black History Month, we're highlighting leaders, trailblazers and rising stars at Children's Minnesota who make an impact each and every day. We're excited to introduce you to Sandi Richmond, the marketing events lead in the marketing and communications department.
Get to know Sandi!
Tell us about your role and how long you've worked at Children's Minnesota.
I am the marketing events lead for the marketing and communications department. I've been at Children's Minnesota for two years and relocated from Georgia.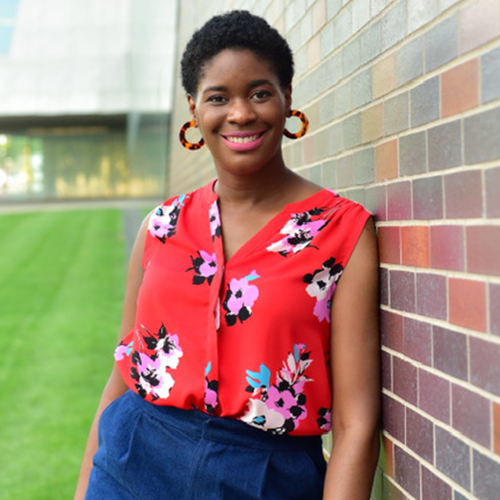 What inspired you to want to work at Children's Minnesota?
The opportunity to engage with patients, families and community through events really caught my attention. While doing research, I learned that Children's Minnesota was the only health system in Minnesota to provide care exclusively to children – from before birth through young adulthood. This truly inspired me, as kids are the future! I just knew I had to bring my talents to this nonprofit organization. Since being here, I've joined together with many departments to create lasting branded experiences for families throughout the communities we serve.
What does Black History Month mean to you?
Black History month is celebrated during the month of February which typically has 28 days – unless we are in leap year and there are 29 days to celebrate. It's a dedicated time to reflect on our past, celebrate the present and look ahead to the future! A time to come together in support and love. While February is the "designated month" to celebrate Black history, it's important to support and amplify Black creativity and uniqueness all year round.
How are you celebrating Black History Month this year?
Each day during this month-long celebration, I intentionally reach out to family and friends to simply check-in. Perhaps, I've been too busy to call an elder due to my schedule. This is the month, where I make no excuses and just do it! It's also a great opportunity to share current events, recipes, resources and other things via text, social media, word of mouth or phone call to educate and bring awareness.
I generally enjoy supporting Black-owned restaurants and businesses on any given day of the year. However, during February, I make sure to spend an extra couple of dollars at these establishments and even to leave them with an encouraging word whether it's through reviews or in-person.
February is such a cold weather month here in Minnesota. One thing I've enjoyed doing to stay active is checking out winter activities throughout the Twin Cities and enjoying the snow! I truly love breaking stereotypes while representing as a Black southern woman living in the Midwest. I even keep a sled in the trunk of my car JUST IN CASE I feel the need to pull over and slide down an icy hill!
What do you think makes kids amazing?
Kids amaze me with their natural knack for adventure! The imagination of a child is so inspiring and creative that it gives me the giggles thinking of the possibilities of wonder. They are our future, and we have an opportunity to inspire and teach the wisdom we've learned from past generations with love, patience and understanding.
Other Black History Month employee highlights
Read our other employee Black History Month highlights:
Alexandra Rothstein