Born with a tumor followed by a 76-day NICU stay, baby Jagger is now home and healthy
Mycaela Scalzo and Donovan Martin, parents of one with another on the way, were going to their 20-week ultrasound appointment with the typical feelings of anxiousness and excitement parents have. But Mycaela and Donovan's excitement soon turned to fear.
During the checkup, an unknown mass was found on their baby's face. The provider suspected it was oral teratoma – a noncancerous but still potentially dangerous tumor that could block the baby's airway, create feeding issues and more.
Referred to expert care at the Midwest Fetal Care Center
Mycaela's local care team in Hayward, Wisconsin, a small town of just under 3,000 people, referred her to a larger clinic in Duluth, Minnesota, where their baby's diagnosis was confirmed and specified as an epignathus teratoma, a rare tumor found on the roof of the mouth.
To receive the highly specialized care this rare diagnosis requires, Mycaela and baby Jagger were referred to the Midwest Fetal Care Center (MWFCC) – a  collaboration between Allina Health and Children's Minnesota that brings together a multi-disciplinary team of highly trained maternal-fetal medicine experts, and pediatric and neonatal specialists.
Receiving exceptional care at MWFCC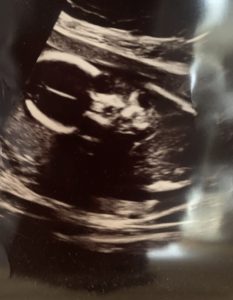 Beginning at 24 weeks gestation, Mycaela drove two and a half hours to the Twin Cities for weekly scans that monitored the growth of her baby's tumor. At 26 weeks, Mycaela developed polyhydramnios, a condition where there is too much fluid in the amniotic cavity. To be closer to the expert care they needed, the family relocated closer to the Twin Cities.
Mycaela was managed by a multidisciplinary team at the Midwest Fetal Care Center. Her primary providers included Dr. Joseph Lillegard, a pediatric general surgeon; Dr. Saul Snowise, a maternal-fetal medicine specialist; and Dr. Abby Meyer, a pediatric otolaryngologist.
The team monitored the tumor closely and noted that it was growing rapidly. The outside shell of the tumor started to show evidence of thinning, and increased the risk of rupture and a catastrophic bleeding event. A multidisciplinary meeting including pediatric surgery, ENT, MFM, NICU, anesthesia, ultrasound and nursing led to the decision to deliver baby Martin early at 32 weeks gestational age to minimize the risk of a significant bleeding event.
Jagger Martin was born via an EXIT (ex utero intrapartum treatment) procedure on March 10, 2021, at The Mother Baby Center at Abbott Northwestern and Children's Minnesota. During an EXIT procedure, the mother receives general anesthesia before an incision is made to expose the uterus. The baby is partially delivered, beginning with the head and arms, while the rest of the baby is still attached to mom through the placenta. The placenta provides oxygen and nutrients to the baby while life-saving procedures are performed.
In baby Jagger's case, Dr. Lillegard led a multidisciplinary team that partially delivered Jagger, exposing his head while keeping him attached to the placental circulation. The team removed the externally visible part of the tumor. Before fully delivering Jagger, Dr. Meyer performed a tracheotomy, creating a small incision in the windpipe to establish his airway. In total, the procedure took approximately 30 minutes. The team had to work efficiently; after a certain amount of time the uterus begins to contract, the placenta may separate, and it can no longer can support the baby.
At birth Jagger Martin weighed in at 4 pounds, 8 ounces. His tumor weighed just over one pound, or about the size of a grapefruit, one of the largest oral tumors the MWFCC has seen. "We have only performed two other antenatal teratoma procedures since 2017," said Dr. Snowise. "Because this condition and the severity of his case are so rare, few hospitals are equipped to care for a baby like Jagger," Dr. Snowise stated. "We're honored to be able to provide these multidisciplinary services at the Midwest Fetal Care Center and care for the most fragile little lives."
While challenges still remained, thankfully both Mycaela and Jagger were stable. Mycaela recovered from the procedure remarkably well and was discharged from the hospital after three days.
Baby Jagger experiences complications
After his initial surgery and after being fully delivered, Jagger was taken to the neonatal intensive care unit (NICU) where stabilization took three days of round the clock care from our remarkable nursing staff. The doctors hoped Jagger would begin healing, however, he continued to show signs of distress.
The neonatologists ordered an MRI to see what remained of his tumor when another unexpected discovery was made; baby Jagger was experiencing a severe intraventricular hemorrhage. Blood vessels in babies born prematurely, like Jagger, are not fully developed. Problems from an early birth — such as low oxygen levels, changes in blood pressure, and breathing problems — can damage these fragile blood vessels, making them leak.
Unfortunately, the bleed turned into hydrocephalus. As a result, the neurosurgery team placed a shunt in baby Jagger's brain to drain the fluid away.
On April 20, 2021, Jagger was stabilized and ready to undergo a second surgery to remove the tumor that remained on the roof of his mouth. The surgery was a success and marks the beginning of Jagger's recovery to becoming a happy and healthy baby!
After surgery, a feeding tube was placed, the tracheostomy tube was removed and Jagger was discharged eight days later to begin recovering in the comfort of his home. In total, his NICU stay lasted 76 days.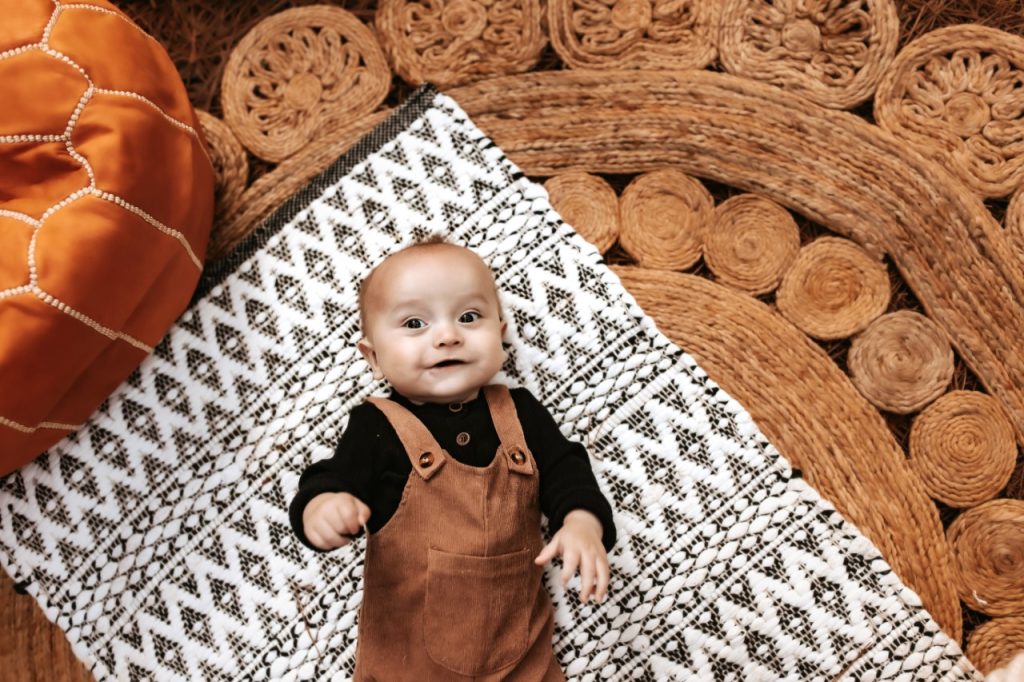 Baby Jagger's recovery today
Thankfully, Jagger has made a remarkable recovery! He is enjoying life as a smiley and sweet 11 month old. For follow-up care, Jagger sees an ear, nose & throat (ENT) doctor, a neurosurgeon, and a gastrointestinal/eating specialist to make sure the complications he faced don't continue and create roadblocks for his development.
"Miraculously, baby Jagger has no oral aversion, will start eating solid foods soon, doesn't need ear tubes, and shows no signs of cerebral palsy, a fairly common complication of an interventricular hemorrhage," said Dr. Meyer. "Moving forward, Jagger will most likely be treated the same as our other cleft palate patients. Considering the other unexpected diagnoses he faced, this outcome is remarkable! I adore this family and am so proud of the team effort it took to get here."
Mycaela shares the small wins her family is embracing, "We take it day by day and make sure to cherish something as simple as his smile."
Their family believes these wins are thanks to The Kid Experts™ at Children's Minnesota.