Renowned medical ethicist Harriet A. Washington speaks to Children's Minnesota employees
Children's Minnesota is honored to announce that renowned medical ethicist Harriet A. Washington was the guest speaker for our Grand Rounds that focused on the legacy of racism in the medical system on Feb. 17, 2022. The topic of the Ground Rounds was: A shot in the dark? Vaccines and medical untrustworthiness.
"A core part of our interprofessional education mission at Children's Minnesota centers around advancing health equity, and we are honored to have distinguished speakers and scholars like Ms. Washington join us as a part of our Virtual Grand Rounds series," said Dr. Angela Kade Goepferd, chief education officer at Children's Minnesota.
About Harriet A. Washington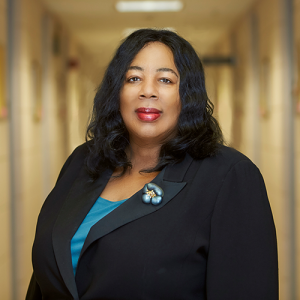 Washington is the author of "Medical Apartheid: The Dark History of Medical Experimentation on Black Americans from Colonial Times to the Present," which won a National Book Critics Circle Award for Nonfiction. Her other works include books on environmental racism and the erosion of voluntary consent in medicine.
She teaches bioethics at Columbia University and has been a research fellow in ethics at Harvard Medical School, a fellow at the Harvard School of Public Health and a senior research scholar at the National Center for Bioethics at Tuskegee University.
About the Grand Rounds
During her Grand Rounds presentation, Washington discussed vaccine hesitancy within the Black community – a frequent topic now and throughout the COVID-19 pandemic. She explained, however, that the untrustworthiness of the U.S. health care system is as much a factor as the supposed mistrust of the Black community and medical professionals. This untrustworthy health care system has manifested as a long, multi-generational history of abuse of Black bodies by physicians, including the use of Black people as test subjects in experiments based on a grotesque denial of their humanity.
During her presentation, Washington said:
"We are ignoring the fact that the health care system is untrustworthy. Some people don't trust it because they've seen it to be untrustworthy and until you recognize that fact and know that you have to address both things — fixing the system and then engaging trust — you can never be successful. The problem is we tend to ignore the health care systems' flaws and treat African American fears as if they harbor some kind of pathology that needs to be corrected, and that's not the case. We need to fix the system. It's harder and will take more time, it's not a quick fix but it has to be done if we're going to get everyone to engage and get everybody to enjoy the benefits."
The importance of diversity, equity and inclusion learning opportunities at Children's Minnesota
At Children's Minnesota, we have a mission to champion the health needs of all children and families in our community, which means addressing inequities within our system and in our community. That's exactly why we invite experts like Washington to speak to our employees and staff.
"The health equity insights Ms. Harriet Washington outlines in her classic book "Medical Apartheid" about ethics, racism and medicine are invaluable and serve as a great framework for addressing the core issues that negatively impact health outcomes for patients," said James Burroughs, vice president, chief equity and inclusion officer at Children's Minnesota.
More than half the kids we serve within our hospitals are people of color and we know this number will continue to grow. We have a duty to reflect that diversity and ensure equitable care and access to all our patient families.
We strive to have a diverse, equitable and inclusive culture that reflects the rich backgrounds of the communities we serve. Having this culture brings about better communication, improves access to care, cultivates deeper patient satisfaction, reduces health disparities and creates an engaging place to work.
Our work to improve diversity, equity and inclusion at Children's Minnesota
At Children's Minnesota, we still have a long way to go on our diversity, equity and inclusion journey. But we've already made strides, including:
Nearly 25% of Children's Minnesota employees are people of color, and part of our three-year strategic plan is to grow that number another 10%.
One-third of the organization's C-Suite are people of color.
Children's Minnesota was recently ranked 15th on the Minneapolis/St. Paul Business Journal's Corporate Diversity, Medium Companies List.
We are so grateful to have been given the opportunity to have Harriet A. Washington speak to our employees. "If we don't learn from the past, as so clearly outlined in her book "Medical Apartheid," then we are destined to repeat it. We learn from our past so that we can build a better future for all of us," said Dr. Goepferd.
Alexandra Rothstein