Minnesota Wild fanatic and patient gets ultimate game experience
Jack loves the Minnesota Wild. His favorite player on the team is Kirill Kaprizov, who plays left wing just like Jack does on his squirt team. Jack's parents say their 10-year-old son and Kirill share a similar quality as left-wingers – determination.
Jack, who is undergoing treatment for Burkitt's lymphoma at Children's Minnesota, got a major boost to his spirit when he got to skate on the ice as the Wild's flag bearer the same night the team retired Mikko Koivu's #9 jersey.
Jack was a little nervous to go out onto the ice before a packed crowd at the Xcel Energy Center. But once he stepped out, he was in his element and savored every second of being able to skate and plant the Wild's State of Hockey flag on center ice.
"By far the greatest moment of his life," said his mom, Kim. "I was down on the ice, just full of pride and really happy for him. It was surreal that my child got to have that moment. It meant so much to him."
Jack's dad, Joe, was also full of pride watching his son. "I was sitting up in the stands and it was incredible to see people cheering on our son. Jack just goes out and does it, smiling all the time. As a parent you just have a lot of pride in that."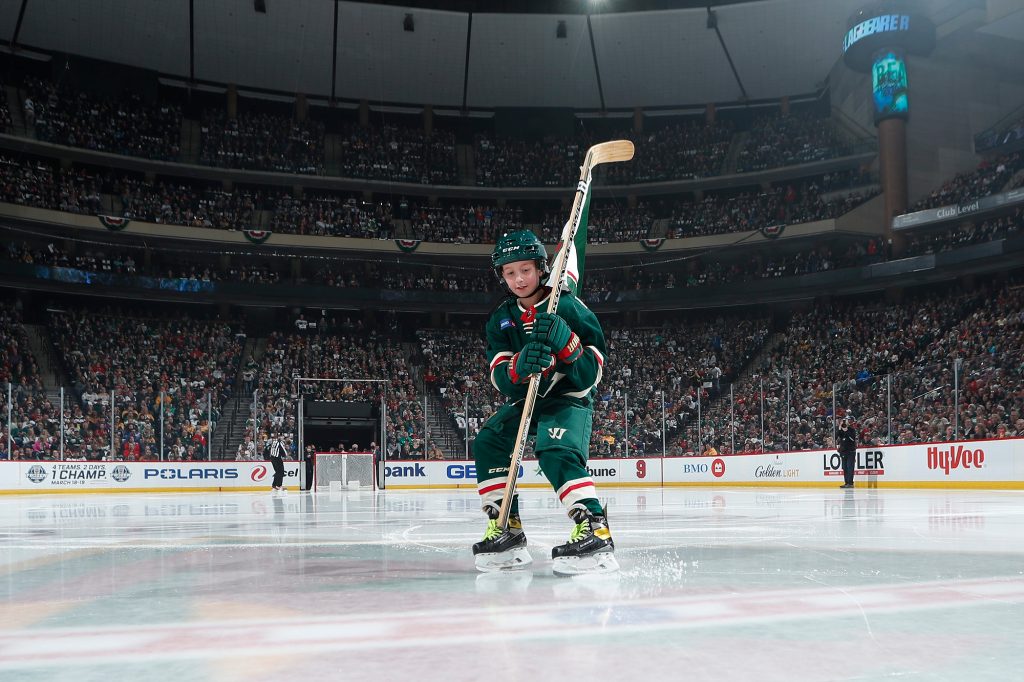 The excitement continued after Jack stepped off the ice. After the second period, he got to meet Mikko before the Minnesota Wild Foundation presented a check for $5,000 to Children's Minnesota in honor of the jersey retirement. Mikko told Jack he did a great job carrying the flag and also gave him a jersey, signed 'Your friend Mikko.' This experience was very special for the family.
"Mikko has a giant heart. Even though he's a very big figure in the hockey world, he connects on a personal level with the patients at Children's Minnesota," said Kim.
Throughout his career, Mikko has generously supported the kids in the State of Hockey, including our patients and families! In addition, Mikko also serves on the Foundation board of directors at Children's Minnesota.
Jack also got to enjoy a moment with the Wild's mascot, Nordy, who presented him with a Hockey Fights Cancer jersey signed by his favorite player, Kaprizov. The jersey was courtesy of a gracious donor, as well as the family's four seats to the game. "We are so grateful to the people who  are making a difference for these kids by creating these special moments," remarked Kim.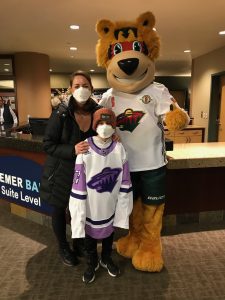 Special day for the family
The experience with the Wild is one Jack and his family won't forget. They have received an outpouring of support from all levels of the hockey community since the diagnosis – from high school, college to the National Hockey League (NHL).
"The Wild has been incredibly supportive. Sending us care packages and video messages from the players that raise his spirits," said Kim.
The family is also grateful for the care and support they receive from the team at Children's Minnesota. "We adore and appreciate the doctors, nurses and staff at Children's Minnesota. Jack is in good hands."
Nick Petersen