Ben's story: from traumatic brain injury to inspiring others
"I was screaming"
Memorial Day Weekend 2018 was supposed to be just like previous years for the Meniers. The family – parents Dave and Robin, and their son Ben who was 12 years old at the time – would drive about three-and-a-half hours southwest from their Twin Cities area home in Woodbury to visit Ben's grandparents in Marshall, MN.
That year, the family took two cars. Dave and Ben took a father-son road trip with about an hour head start ahead of Ben's mom, Robin.
"I was talking to Ben on the phone as I started driving out of the Twin Cities," Robin recalled. "A few hours later, my mother called saying Dave and Ben had not arrived to their house yet."
Soon after that call, Robin pulled up to an intersection just a quarter of a mile from where her parents live. There, she came across a crash with first responders on-scene and a mangled car sitting in a ditch – her husband's – t-boned right where her teen son was sitting.
"The only thing I remember was I was in the front seat of the car," recalled Ben, who's now 16 years old. "All I know is another car accidently rammed into us."
The family calls the crash a "freak accident" caused by blinding rain.
"The sheriff told me Ben had been airlifted to Children's Minnesota in Minneapolis," explained Robin. "I knew it was bad."
The sheriff drove Robin from the crash site to the local hospital in Marshall. Inside its Emergency Department, her husband was stable and under observation with broken ribs and a broken bone at the base of his skull. On the helipad still sat the roaring helicopter with Robin's severely injured son inside. It was ready to fly to Children's Minnesota's Minneapolis campus about 150 miles away.
"My parents held me while I was screaming 'this isn't happening, this isn't real,'" reflected Robin.
Ben arrives at Children's Minnesota
On May 25, 2018, the helicopter flying Ben to Children's Minnesota touched down in Minneapolis. Ben had suffered injuries throughout his entire body – including numerous fractures, a severed spleen and severe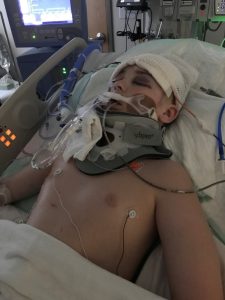 traumatic brain injury (TBI) that had caused damage to both sides of his brain.
From the moment he landed, his care was coordinated by the Pediatric Trauma team. It was quickly determined upon arrival he needed an emergent operation by the pediatric neurosurgeon to relieve pressure on his brain from the swelling. At that same time, he had emergent exploratory abdominal surgery, where he needed his spleen removed.
"His brain continued to swell," Robin said. "They said 'it would get worse before he gets better.'"
Robin was receiving updates in real-time from her sister-in-law – a nurse practitioner at Children's Minnesota – as she navigated her way back to Ben. He arrived at Children's Minnesota and was put into an induced coma. Two days in, he had surgery to remove part of his skull to relieve pressure.
Ben spent roughly the next seven weeks in the Pediatric Intensive Care Unit (PICU) at Children's Minnesota. Most of that time, he relied on a breathing machine.
Overall, Ben underwent abdominal surgery, treatment for his many broken bones, and a second brain surgery to repair his skull. His family would stay close to Ben's bedside. The teen's dad – recovering from his own car crash injuries – would rest in the Ronald McDonald House inside Children's Minnesota's Minneapolis campus.
"I was literally praying every night for my baby to come back," said Robin while holding back tears.
Prayers answered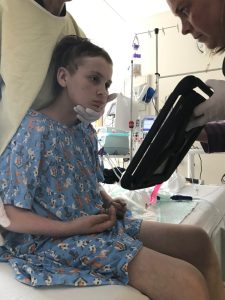 Ben's road to recovery has been long due to the extent of his injuries. His mom says she's grateful for the clinical treatment her son received from at least five different Children's Minnesota care teams. These providers include experts from hematology for Ben's blood clots, pain management to wean Ben off his pain medications, PICU physician Dr. Kenneth Maslonka's team, and Ben's primary nurses who looked after the entire family.
"There was a day early on where they told us we might have to prepare ourselves that this was the extent of his recovery – on a ventilator, in a semi-awake state – and that day I finally broke. I collapsed on the floor in emotion," Robin said. "One of Ben's nurses got on the floor with me – I feel like she saved my life that day."
Ben eventually turned a corner and started to move and breathe on his own. He spoke for the first time after the May 2018 collision five months later in October. Now, he has this message for his care providers: "I'm just going to say 'thank you' to everyone who supported me and helped me to get better."
Recovery
It's been nearly four years since Ben suffered a TBI on that rural road southwest of the Twin Cities. He now gets follow up care every six months, including a routine MRI.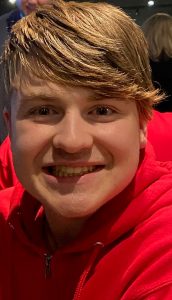 His recovery has had a couple speedbumps. Ben underwent a third surgery to remove a piece of the metal plate on his skull. The procedure happened, as Robin explained in a blog, in March 2020 during the beginning of the COVID-19 pandemic.
Throughout this process, Ben had to relearn many skills – including how to walk and talk. He does both again, and is now using his voice to help others during Brain Injury Awareness Month in March.
"It's very important, and everyone should know that if they meet someone with a disability or brain injury – or anything related to that – they need to be nice," Ben explained.
Giving back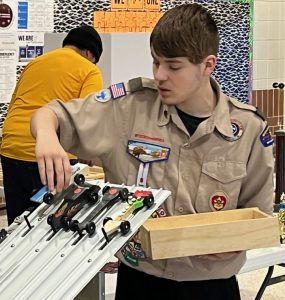 Ben is now a high school junior working to earn the title of Eagle Scout. To achieve his goal, he's planning a Pinewood Derby model car race for current and former Children's Minnesota patients to raise money for a familiar place.
"I'm giving thanks to what Children's Minnesota did for me. I just want to give the proceeds to Children's Minnesota so I can give them more money to get things to support kids in different ways," Ben said.
Ben's Pinewood Derby race is currently scheduled for June 2022 at the Boys Scout Base Camp. He hopes many Children's Minnesota families will join him in giving back to the place that helped them all so much.
Ben shares his story with Fox 9