Celebrating Ramadan and Eid at Children's Minnesota
This year, Ramadan is celebrated from Friday, April 1, through Sunday, May 1, 2022. Find out how we're celebrating Ramadan and Eid al-Fitr at Children's Minnesota.
What is Ramadan and how is it celebrated?
Ramadan is an Islamic holiday celebrated by Muslims around the world. It is the 9th month of the Islamic calendar, when Muslims engage in fasting from dawn until dusk each day during this month.
"We not only refrain from food, drink, smoking, intimate relations, but we also strive to maintain a heightened level of self-control through acts such as avoiding disagreements, anger and greed," said Dr. Samreen Vora, medical director of simulation at Children's Minnesota.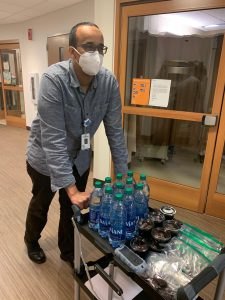 Participating in Ramadan is a test of willpower and resilience, a time for community building and also a way to learn to empathize for those who may experience hunger and thirst regularly.
What does Children's Minnesota do to help Muslim patients and families?
Children's Minnesota staff have done an incredible job of acknowledging the Muslim patients and families who are facing the extra burden of being in the hospital during this time.
During Ramadan, the Children's Minnesota Muslim Employee Resource Group has partnered with child and family services to have volunteers round every evening and hand out "snack bags" with dates and water at Iftar time (or sunset, breaking of the fast).
What is Eid al-Fitr?
Eid al-Fitr is celebrated after completing a month of fasting. The day consists of gathering together for the traditional Eid prayer in the morning and the feast during the day.
COVID-19 has made celebrating Eid al-Fitr a little complicated. But, in the effort to remain grateful in honor of Ramadan, Dr. Vora encourages you to wish your colleagues and friends Eid Mubarak on May 1.
What is Children's Minnesota doing during Eid al-Fitr?
In recognition of Eid, Children's Minnesota has added books about Ramadan and Eid to be handed out during the rounds as small Eid gifts for the kids.
Other celebrations throughout Ramadan
Ramadan Iftar at Children's Minnesota
Once again, this year we are hosting our annual community Iftar in our Minneapolis Education Center. This brings together staff, patients, community members and more while executive leaders serve food!
Affirmation cards and posters
Around both our Minneapolis and St. Paul campuses will be Kalsooni affirmation card packs and posters. Kalsooni is the first ever deck of Somali-English affirmation cards and, the posters display illustrations of Somali people and positive affirmations that will inspire all.
Anse Tamara presentation
Guest speaker, Anse Dr. Tamara Gray spoke with our staff at the beginning of April. Dr. Gray is the founder of Rabata, an organization dedicated to promoting positive cultural change through creative educational experiences. She holds a doctorate in leadership from the University of St. Thomas, a master's degree in Curriculum Theory and Instruction from Temple University, and spent twenty years studying traditional and classical Islamic sciences, Quran and Arabic in Damascus, Syria.
Alexandra Rothstein