Celebrating Ramadan at Children's Minnesota
This year, Ramadan is celebrated from Wednesday, March 22, through Friday, April 21, 2023. Find out how we're celebrating Ramadan and Eid al-Fitr alongside our Muslim Employee Resource Group (MERG) at Children's Minnesota! 
What is Ramadan?
Ramadan is an Islamic holiday celebrated by Muslims around the world. It is the ninth month of the Islamic calendar, when Muslims engage in fasting from dawn until dusk each day during this month. 
"Ramadan is an incredibly rewarding month that Muslims look forward to year-round," said Hamdi Sahal, chair of the Children's Minnesota Muslim Employee Resource Group. "There are many reasons why we fast such as a way to show devotion to God and grow spiritually, practice patience and gratitude. Outside of fasting during Ramadan, Muslims are also encouraged to volunteer, give to charity and help those less fortunate in our community."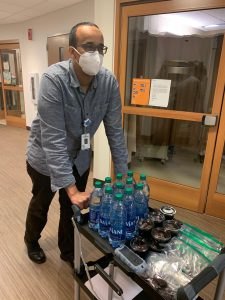 What does Children's Minnesota do to help Muslim patients and families?
Children's Minnesota staff have done an incredible job of acknowledging the Muslim patients and families who are facing the extra burden of being in the hospital during this time. 
During Ramadan, Children's Minnesota's MERG partners with the spiritual care department to have volunteers round every evening and hand out "snack bags" with dates and water at Iftar time (or sunset, breaking of the fast). 
What is Eid al-Fitr?
Eid al-Fitr is celebrated after completing a month of fasting. The day consists of gathering together for the traditional Eid prayer in the morning and the feast during the day. We encourage you to wish your colleagues and friends "Eid Mubarak" which means blessed feast or festival on April 21!  
Ramadan c

elebrations at Children's Minnesota
Ramadan Iftar event
Once again, the Children's Minnesota MERG is hosting its annual community Iftar. This event brings together employees, patient families and community members to break fast and enjoy a meal. 
Eid al-Fitr event
The MERG will also host an Eid al-Fitr event at the St. Paul campus in early May.
Alexandra Rothstein