Children's Minnesota promotes Dr. Meysam Kebriaei to medical director of pediatric neurosurgery
Children's Minnesota recently promoted Pediatric Neurosurgeon Dr. Meysam Kebriaei to medical director of the organization's neurosurgery program. Dr. Kebriaei previously served as associate director of neurosurgery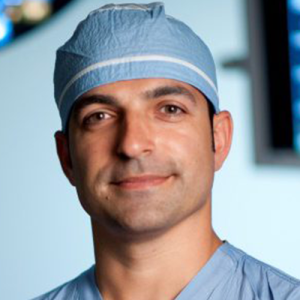 with Children's Minnesota since about 2017. Dr. Kebriaei's team cares for more kids than any other neurosurgery program in the region, and performs hundreds of surgeries each year.
"I'm thrilled for this opportunity to lead such a prestigious program," said Dr. Kebriaei. "As the kid experts in this specialty at Children's Minnesota, my team's goal is to expand our program as a regional leader in pediatric neurosurgery by expanding our neurosurgical service offerings and investing in the latest technology to continue delivering positive patient outcomes."
Dr. Kebriaei says his immediate goals for the Children's Minnesota's neurosurgery program include:
Continue to support our current comprehensive neuroscience programs; including our multidisciplinary neurooncology program and craniofacial program.
Build a comprehensive, multidisciplinary pediatric cerebrovascular program led by pediatric subspecialists with expertise in treating vascular malformations – including Moya Moya disease, arteriovenous malformations, and brain aneurysms.
Expand the types of procedures available at the Midwest Fetal Care Center – a collaboration between Allina Health and Children's Minnesota – for fetal neurological disorders and spina bifida.
Continue to support the comprehensive surgical epilepsy program for epilepsy patients within Children's Minnesota and Minnesota Epilepsy Group's Level 4 epilepsy center, the only pediatric epilepsy facility of its kind in Minnesota.
Education and accomplishments
Dr. Kebriaei is board certified through the board of American Association of Neurological Surgeons, and the American Board of Pediatric Neurological Surgeons. Dr. Kebriaei earned his medical degree and completed his neurosurgery residency at the University of Nebraska Medical Center in Omaha, Nebraska. He also holds an MBA from the University of St. Thomas in St. Paul, Minnesota, and completed a fellowship in pediatric neurosurgery from Emory University in Atlanta, Georgia.
Dr. Kebriaei was inducted into the prestigious Alpha Omega Alpha medical honor society while as a Chief Resident at the University of Nebraska. Dr. Kebriaei first joined Children's Minnesota in 2013, and succeeds Dr. Joseph Petronio as the organization's medical director of pediatric neurosurgery.