Celebrating Ramadan: Asma Fazal, clinical ethics fellow, shares more
April 1 to May 1, 2022, marks Ramadan. It is the ninth month of the Islamic calendar and is celebrated by Muslims worldwide. During Ramadan, Muslims engage in fasting from dawn until dusk, and it is a time for fasting, prayer, reflection and community.
In honor of Ramadan, we are highlighting Children's Minnesota kid experts who are also members of our Muslim Employee Resource Group (MERG) to learn more about their experiences and the significance of Ramadan.
We're excited to introduce you to Asma Fazal, clinical ethics fellow at Children's Minnesota.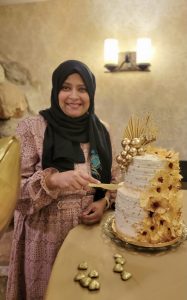 What inspired you to want to work at Children's Minnesota?
Children's Minnesota is a very inclusive organization and gives equal opportunity to everyone without any discrimination. I am from Canada but chose to work at Children's Minnesota for my clinical ethics fellowship because of this.
Do you have a favorite memory at Children's Minnesota?
The people at Children's Minnesota are like family. They are always there to support me and have my back. When I moved here from Canada, I felt so welcomed and everybody made sure my transition to the new workplace and new country was smooth and enjoyable.
How long have you been part of the MERG and do you have a favorite memory from a particular event?
I have been with MERG for one-and-a-half years. In MERG, we have non-Muslim members too. My favorite memory is when the non-Muslim members appreciated the information about "Zamzam water" (holy water for Muslims) and supported the idea of providing Zamzam water to Muslims families in Ramadan for iftar.
How are you celebrating Ramadan this year?
I am celebrating Ramadan with my beautiful family. We have a new baby and it is her first Ramadan. We gave Ramadan baskets to our neighbors which included dates, some treats and a Ramadan information leaflet. My daughters also did presentations about Ramadan at their school. We are inviting family, friends and neighbors to our "Iftars" (evening meal after breaking the fast). We are also organizing community Iftars at our local mosques. In addition, we are donating food to local organizations and doing other charity work.
What do you think makes kids amazing?
Kids are very resilient, full of passion and always look at the brighter side of things. That is what makes them amazing.
Alexandra Rothstein