Celebrating Ramadan: Dina Elrashidy, PR, external communications manager, shares more
April 1 to May 1, 2022, marks Ramadan. It is the ninth month of the Islamic calendar and is celebrated by Muslims worldwide. During Ramadan, Muslims engage in fasting from dawn until dusk, and it is a time for fasting, prayer, reflection and community.
In honor of Ramadan, we are highlighting Children's Minnesota kid experts who are Muslim and may also be members of our Muslim Employee Resource Group (MERG) to learn more about their experiences and the significance of Ramadan.
We're excited to introduce you to Dina Elrashidy, public relations, external communications manager at Children's Minnesota.
Get to know Dina!
Tell us about your role at Children's Minnesota.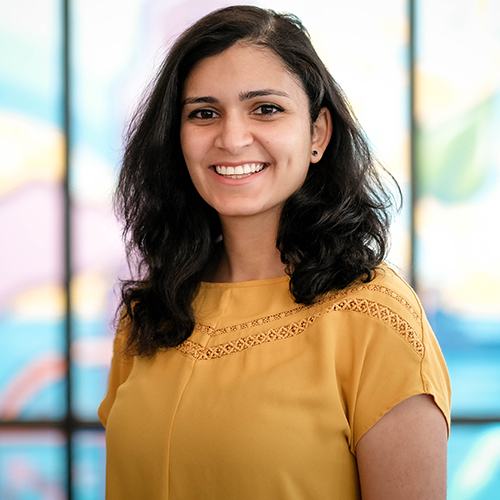 I'm the public relations, external communications manager at Children's Minnesota and I've worked here for three years. In a nutshell, my job is to build up our reputation – often times through local and national news media – so that everyone knows about the tremendously talented kid experts who work here and the resilient kids we serve. I love my job because I get to help tell stories of so many of the unique families who come through our hospitals and clinics, and collaborate with talented people across the organization and externally as well.
Do you have a favorite memory at Children's Minnesota?
It's hard to choose one! Every interaction I have with a patient family is a memorable one. I'm lucky enough to be in a role where I hear all about the amazing care that happens in our walls and the resilience of the kids and families we serve.
One memory that stands out was when I worked with a family from our cancer and blood disorders clinic. We were filming an interview with one of the local TV stations and a little girl who was featured was so excited to see her child life specialist that she ran to give her an enthusiastic hug. I could just tell how much she adored her and the rest of the team. It was clear that her child life specialist – and the rest of her care team – had made a huge impact on her life. Our hospitals are special because of that wrap-around care – we don't just take care of kids' physical health but their emotional, psychosocial and psychological health as well.
What's the best piece of advice you've ever received?
I've always been very "Type A" when it comes to my work – first when I was in school and now in my profession. Overthinking is my superpower. One day when I was an undergrad student, I was studying for finals and extremely stressed. I gave my mom a call to talk to her about it. She told me to stop studying and go watch some TV. I turned on the TV show "Friends" and it made the world a little better. I think back to that advice often – sometimes you need to take care of yourself first, then worry about your to-do list.
How are you celebrating Ramadan this year?
I'm spending more time praying and reflecting. I'm also often with my family and friends for iftars which means a lot of delicious meals! I may have bought one-too-many decorations this year, but I love making my home feel festive, especially for my daughter.
What would you like others to know about Ramadan?
Some people think of Ramadan and just think about how hard fasting is, but I think a lot of us who fast look forward to this month. We look forward to taking a step back and reflecting spiritually, and also to spending time with our loved ones. It's one of my favorite times of the year!
Alexandra Rothstein