Born with fragile lungs and a strong heart: victorious Kairo's story
When Jasmine and Mike found out they were pregnant, they were so excited. They couldn't wait for all the things this pregnancy and this new baby would bring. But soon thereafter, Jasmine was diagnosed with a condition that would change everything.
Jasmine was diagnosed with an incompetent cervix, also called a cervical insufficiency, meaning her baby could be born premature or be lost. While this was intensely scary news, Jasmine and Mike found a way to have hope and fight for their baby.
Kairo's incredible birth story
Due to Jasmine's condition, she went on bed rest starting at only 22 weeks gestation at The Mother Baby Center at United Hospital and Children's Minnesota in St. Paul.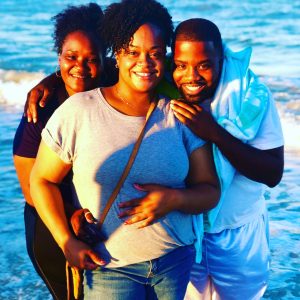 "We didn't even have time for maternity photos," Jasmine said looking at a photo of her holding her baby bump with her family just a few weeks before their baby was born.
On Oct. 3, 2019, at just 24 weeks and two days gestation, Jasmine gave birth via emergency C-section. Their baby weighed only an astonishing 1 pound and 6 ounces. Jasmine and Mike named their new son, Kairo, meaning victorious – and victorious he is.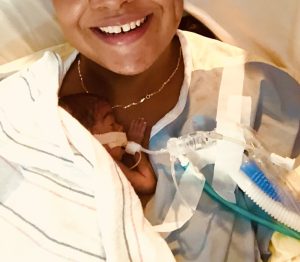 "Our ex-24-weeker has a history of beating the odds and breaking the rules when it comes to what defines a micro-preemie," said Jasmine and Mike of their son, Kairo.
Kairo's marathon hospital stay
Because Kairo was born so early and weighed so little, he needed some extra help from the Children's Minnesota neonatal intensive care unit (NICU). "He was born with fragile lungs and a strong heart," Kairo's mom said.
That's when they started their marathon hospital stay of 345 days. During their stay, Kairo was diagnosed with chronic lung disease and pulmonary hypertension, which means he had abnormally high blood pressure in his lungs making his heart work harder to pump blood.
Around 4.5 months old, Kairo needed to have surgery. The ear, nose and throat (ENT) and facial plastic surgery team at Children's Minnesota needed to place a tracheostomy (trach) to help him breathe. The trach allowed Kairo to breathe through that instead of through his nose and mouth, while also relying on a ventilator. Any time Kairo got sick, he would be placed on oxygen to help.
Kairo's challenges didn't end there. He also had a gastrostomy tube, called a G-tube or a feeding tube, placed to help him get the food and nutrients he needed. With that, he was given G-tube medications as well.
Once Kairo graduated from the NICU, he still had to spend months in our pediatric intensive care unit (PICU) before going home.
Kairo goes home
In September of 2020, Kairo was finally able to go home! "And, he hit the ground running," his mom said.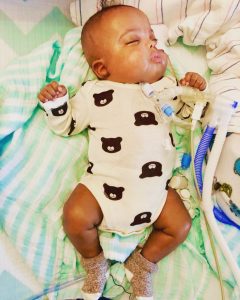 By the spring of 2021, Kairo was off oxygen and most of his medication. And by summer of 2021, Kairo was completely off the ventilator – a huge milestone in his recovery. One of his final steps was to get a required airway reconstruction.
"Recovery was a beast, but when he was back to himself, he chose to show off some more and finally started walking unassisted on Christmas day of 2021," Jasmine described excitedly.
Jasmine asks you to be inspired by Kairo's amazing journey.
"Challenges are sure to come no matter what your little one has overcome in life, there is always a new challenge ahead but that's what makes life worth living," she said.
Kairo today
Today, Kairo is just like any other typical 2-year-old, he's running, climbing, learning new sign language and new words every day – which his parents love watching. He is on zero G-tube medication and even eats completely orally now.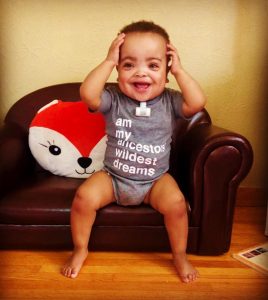 Kairo is in a therapy program helping him with his small motor skills and speech development. He is learning to vocalize new words constantly!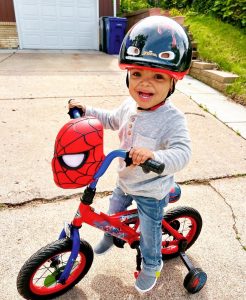 "Kairo is growing like a vine, rambunctious and learning to ride his new big boy bike," Jasmine said. "He is a naturally self-driven child who loves life and lives it to the fullest each and every day."
But their family will never forget the care they received at Children's Minnesota.
"The NICU and PICU care teams and the critical care specialists in the respiratory medicine program hold a huge place in our hearts for the difference they have made in our lives," said Jasmine and Mike. "The odds were against Kairo in a big way but no one gave up on him or us as a family."