Innovative program at Children's Minnesota helps preterm babies go home sooner
Some preterm neonatal patients can be discharged from the hospital sooner through the unique Children's Home Application-based Monitoring Program at Children's Minnesota. This one-of-its-kind program in Minnesota allows infants that qualify to receive expert care and monitoring at home through the use of an app on a tablet and a scale. The parent caregiver inputs the baby's vitals daily, which are then shared and monitored by the baby's neonatal care team.
The Children's Minnesota Neonatal Intensive Care Unit (NICU) in St. Paul conducted a pilot study with 20 patients during a one-year period to evaluate how at-home care impacts babies' ability to learn to feed, rates of breastfeeding and overall patient-family satisfaction. The results of the pilot were overwhelmingly positive and, for one family, meant that a father could spend precious time with his newborn while battling his own illness.
The year of 2021 was a time of mixed emotions for Amanda and Rob Calvin. They were excited to be welcoming their first baby, but Rob was also battling pancreatic cancer. "When we found out about Rob's diagnosis, he was given one year to live, so we decided to have a child," Amanda recalled.
The Calvins expected their baby to arrive in early April, but around mid-February, Amanda started having complications from a bleeding disorder she's had since birth. "My condition had been flaring up with my pregnancy and getting worse to the point where I had to be admitted to the hospital," Amanda said.
With the pandemic still at its height – and in light of her illness and her husband's cancer – Amanda had a virtual baby shower from her Minneapolis hospital room. There, she also dealt with another serious health concern called preeclampsia, a severe high blood pressure condition in pregnant women. Amanda had a C-section procedure the day after her baby shower at The Mother Baby Center, a partnership between Allina Health and Children's Minnesota.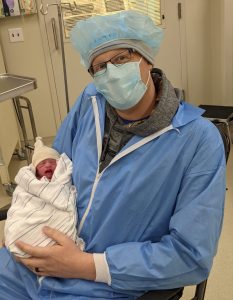 Baby Finn arrived early
On Valentine's Day 2021, baby Finn entered the world nearly eight weeks early – weighing just 3 pounds and 13 ounces. Finn's care team rushed the newborn to the NICU at Children's Minnesota and placed the tiny infant on a breathing machine. Finn spent the next month splitting time between the NICU and the special care nursery.
"I remember all of his caregivers being the most compassionate people and they made sure I knew what was going on," recalled Amanda, a physician specializing in pulmonary and critical care medicine with HealthPartners Park Nicollet. "I'm an ICU provider and my son was in the ICU. Vital signs for infants are completely different than vital signs for adults. I tried to shut out paying attention to that stuff. There was too much for me to process."
Time was of the essence
As Finn and Amanda navigated the NICU, Rob continued his fight with pancreatic cancer. "Rob no longer responded to chemo and was about to transition to hospice," said Amanda. "He was so sick he couldn't make it to the hospital."
Preterm babies usually stay in the hospital with their care team until when they would have been full-term to grow, learn how to eat and breathe on their own. But the program allowed Finn to go home a month early. Amanda used the app to stay connected with his care team and took over feeding using a nasogastric (NG) feeding tube that was inserted before heading home.
"It ended up being a major blessing," Amanda said. "We were stretched thin going back and forth to the hospital. We were making it work. Without this program, we would not have had time together as a family at home in the place where we wanted to be."
Finn graduated from the Children's Home Application based Monitoring program after a week on the special care program. Rob passed away soon after his infant's graduation. "Rob died six days before Finn's original due date. Finn got to be home with his dad before he died. I can't quantify the value of that," Amanda said while reflecting on her late husband.
Today, Finn is a healthy 1-year-old and meeting or exceeding all of his physical and developmental milestones. "Everybody at Children's Minnesota went out of their way to make sure Finn was cared for – that we were heard, and they knew what we needed more than we did," Amanda said while holding back tears. "I can't thank those people enough. They gave us time we would have never had."
About the program at Children's Minnesota
Children's Home Application-based Monitoring Program at Children's Minnesota is the only program of its kind in Minnesota. Before heading home, babies have a nasogastric tube (NG) inserted. Families are provided with a scale and a tablet equipped with a program called Locus, which allows parents to input vitals that are shared with their neonatal team. Families are also trained by the team on proper NG and oral feeding techniques as well as CPR.
To qualify for the program a newborn must be a current Children's Minnesota NICU patient, be able to breathe without any respiratory or oxygen support, weigh more than four pounds and consistently gain around 30 grams of bodyweight per day.
"Children's Minnesota will always strive to pioneer cutting-edge programs that continue to put our patients first and keep families as part of their care team – this program accomplishes all of these goals," explained Dr. Cristina Miller, medical director of the NICU follow-up clinic at Children's Minnesota, and founder and director of the Children's Home Application based Monitoring program. "Even though the babies who qualify for the program are home, their clinical care team still remains at their bedside virtually to ensure they are growing, healthy and thriving."
"The first question any parent asks when their child is admitted to the NICU is, 'When can we go home?' We're hoping that this method helps families return to their normal daily lives faster, especially with the additional COVID-19 pandemic restrictions that have been in place," said Dr. Miller. "But even after the pandemic is over eventually, this could be a game changer."
Alexandra Rothstein