Roselyn's recovery: Children's Minnesota's Neonatal Virtual Care program brings expert care to more babies
An emotional rollercoaster
For parents Emily and her partner Colton– the pregnancy of their second child, Roselyn, went almost exactly to plan. On April 28, 2022, the couple drove from their home in rural Wisconsin to their scheduled C-section at nearby St. Croix Regional Medical Center. A few hours later – baby Roselyn came into the world. The next day, Emily and Colton's emotional highs from welcoming their new daughter quickly dropped to serious concern. The shift happened after Roselyn returned from her routine hearing exam and blood draw test for bilirubin.
"She was crying really hard, the most I've ever heard a baby cry. It took her about 15 minutes to calm down," Emily recalled. "After she was crying so hard, I did skin-to-skin with her for an hour."
As Roselyn napped on her mom's chest, her dad noticed the newborn was breathing rapidly and alerted their nurse. Tests soon revealed Roselyn's oxygen levels were dangerously low, and an x-ray confirmed pneumothorax – a hole in the newborn's left lung.
"It's scary and you feel that bit of panic," Emily said as she described that moment.
Immediate expert care arrives virtually from 50 miles away
With Roselyn in respiratory distress, her care team turned to Children's Minnesota's Neonatal Virtual Care program for remote clinical support. From 50 miles away in the Twin Cities, our neonatology team guided Roselyn's care providers through an emergency thoracentesis, in real-time, using cutting-edge audio/visual technology.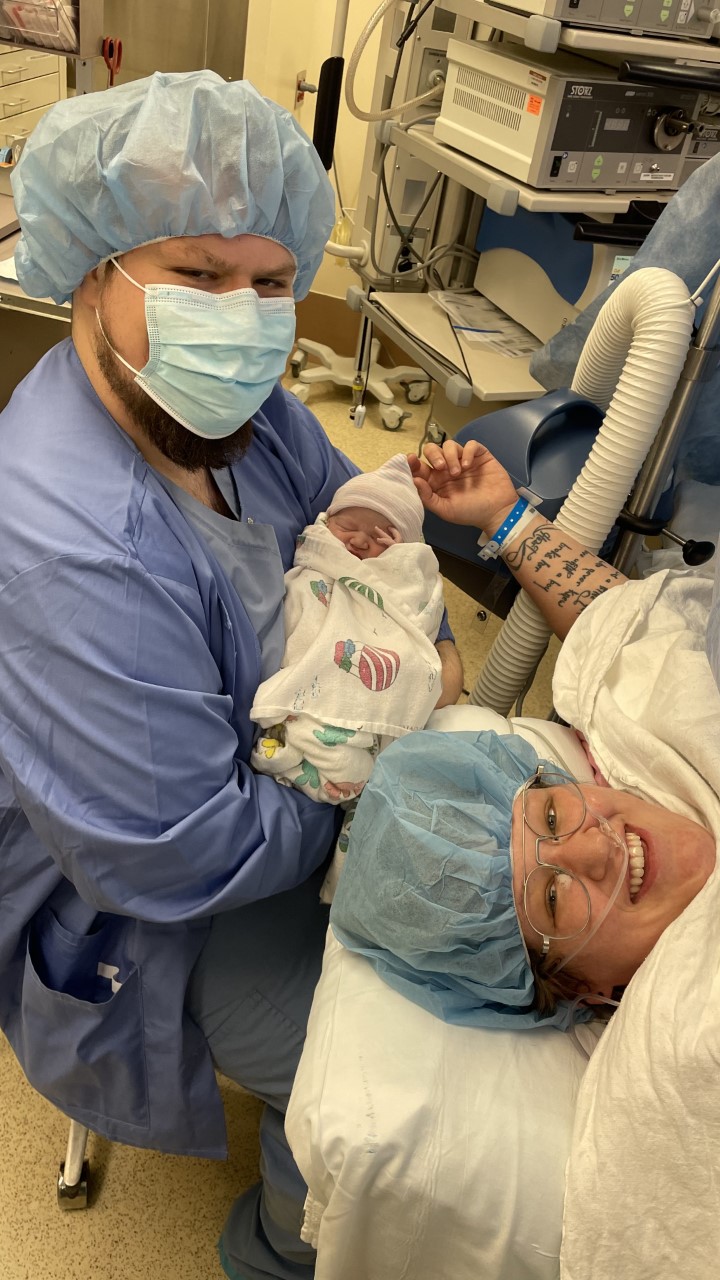 Dr. Melissa Hall, one of Roselyn's physicians at St. Croix Regional Medical Center, performed the thoracentesis by inserting a needle into Roselyn's chest to relieve pressure. The procedure also prevented her lung from collapsing.
"It was very reassuring to have them guide me through the procedure, as it had been 10 months since my last needle thoracentesis," Dr. Hall said. "The [Children's Minnesota provider] was also helpful in confirming antibiotic doses & IV fluid rates. We are thankful that Children's Minnesota was able to help us so quickly!"
After the procedure, baby Roselyn quickly started to breathe easier and was stable once again.
"They all talked about the Children's Minnesota team like they are superheroes," Emily recalled. "We're so thankful, I even remember one of the nurses in St. Croix saying, 'they're wonderful, they're so good at what they do – so advanced compared to what we can offer.'"
"The instant access to the neonatology team at Children's Minnesota increases the comfort level with resuscitation and stabilization of an acutely ill newborn for providers at our partnering hospitals," Dr. Mark Bergeron, founder and lead neonatologist of Children's Minnesota's Neonatal Virtual Care program, said. "The program also allows for a more streamlined transfer process to Children's Minnesota's neonatal intensive care unit, when necessary. We really enjoy the increased collaboration with the local teams that this service has created."
Shortly after Roselyn's thoracentesis, members of Children's Minnesota's neonatal intensive care unit (NICU) transport team arrived to transfer her to our St. Paul NICU. The team inserted a chest tube to prevent the baby's lung from collapsing. They also intubated her ahead of the one-hour ambulance ride to the Twin Cities. The transport team also carefully explained to Roselyn's parents that their baby was going to be placed on a ventilator as a precaution as she began her road to recovery.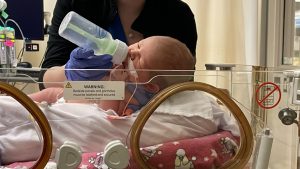 Roselyn's NICU recovery at Children's Minnesota St. Paul
Just like Roselyn, Emily – who was just a day removed from her C-section – transferred to our St. Paul hospital campus at The Mother Baby Center, a partnership between Allina Health and Children's Minnesota. Here, Roselyn's NICU care team worked to help her tiny lung heal.
"I was so impressed with the amount of care we received, I had a phoneline directly to the NICU. I could call anytime; the nurses were great," Emily explained.
Roselyn's family has strong ties to Children's Minnesota's St. Paul hospital campus. Two of her cousins previously spent more than a month in the same NICU. Even Roselyn's dad was cared for at the same hospital decades earlier as a baby.
"That hospital has saved so many of our family members," Emily said.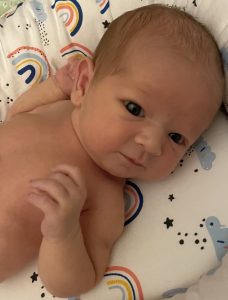 Over the course of only a few days in the NICU, Roselyn's respirator was removed – soon followed by her chest tube. Baby Roselyn's lung then started to fully heal as her NICU care team closely monitored the newborn. She's now home and thriving with her family after receiving potentially life-saving care from providers in two states all at the same time.
About the Neonatal Virtual Care program at Children's Minnesota
Children's Minnesota's Neonatal Virtual Care launched in 2018. The state-of-the-art program provides on-demand care management for newborns, like baby Roselyn, needing immediate acute stabilization and resuscitation. Since its launch, the program has partnered with nine regional and rural hospital birth centers throughout Minnesota and Wisconsin such as St. Croix Regional Medical Center. In 2021, the program provided more than 80 virtual consultations to health care systems across the region. Through May 2022, Children's Minnesota's Neonatal Virtual Care has provided 30 remote consultations this year – and counting.
About Children's Minnesota's Neonatology program
Children's Minnesota's neonatology program is the largest in Minnesota, and one of the largest in the region. Our neonatal team consists of more than 500 doctors, surgeons, neonatal nurse practitioners and pediatric specialists. As a Level IV NICU – the highest level designated by The American Academy of Pediatrics – we have the in-house expertise and experience to care for the most complex and critically ill newborns. With close to 200 neonatal beds in our hospitals and special care nurseries, we welcome more than 3,000 babies every year.