Get more of The Dude with his new podcast
The Dude is beloved by patients at Children's Minnesota as one of the fun-loving hosts on Star Studio, the in-house TV station at the hospitals. Now, when he's not on Star Studio entertaining patients he's doing something new – podcasting. The Dude recently launched Childhood Chatcast, a podcast where he and his co-host and engineer, Jake Beaver, interview some of The Kid Experts at Children's Minnesota about their childhoods.
In every episode The Dude begins with the same question — "What is the earliest memory you have as a kid?" He wants the guests to think about their childhood experiences and remember the significant moments – like the first toy they ever received or when they learned to ride a bike. He wants to bring back fond memories that guests might have forgotten as they've grown up.
"Our lives are so busy that we often forget how much we all have in common. My goal for the podcast is that we learn a little more about each other and hopefully create some empathy for one another," said The Dude.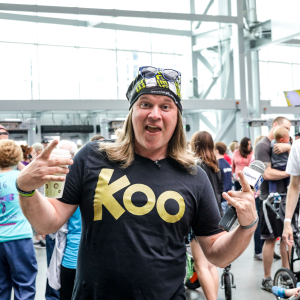 The Dude also uses his questions to learn one special date in everyone's lives. If you want to know what that date is, you'll have to listen! 
Guests on the Childhood Chatcast have included Annie Dressen, volunteer services coordinator, Max Barquero-Salazar, manager of interpreter services, and James Burroughs, senior vice president of government and community relations, chief equity and inclusion officer. 
You can listen to the podcast here.