Children's Minnesota in the News
Children's Minnesota's Community Connect program wins 2022 American Hospital Association Dick Davidson NOVA Award
Children's Minnesota is honored to announce our Community Connect program has been selected as one of five programs to win the 2022 American Hospital Association (AHA) Dick Davidson NOVA Award. The award recognizes the program's contributions to improving community health. Community Connect helps address the health-related social needs of families in our Minneapolis and St. Paul primary care clinics.
Community Connect is a systematized approach that allows Children's Minnesota to be responsive to families' health-related social needs, with particular attention to families of color and Native American families who experience greater disparities in health outcomes. Resource Navigators connect families with existing community resources such as food pantries, housing support and early childhood education programs, leveraging partnerships to increase access to needed services. Jessica Block, who was instrumental in moving Community Connect from the implementation and pilot stage to a fully-integrated, operational program accepted the 2022 NOVA Award on behalf of Children's Minnesota on July 18 during the AHA Leadership Summit in San Diego, California.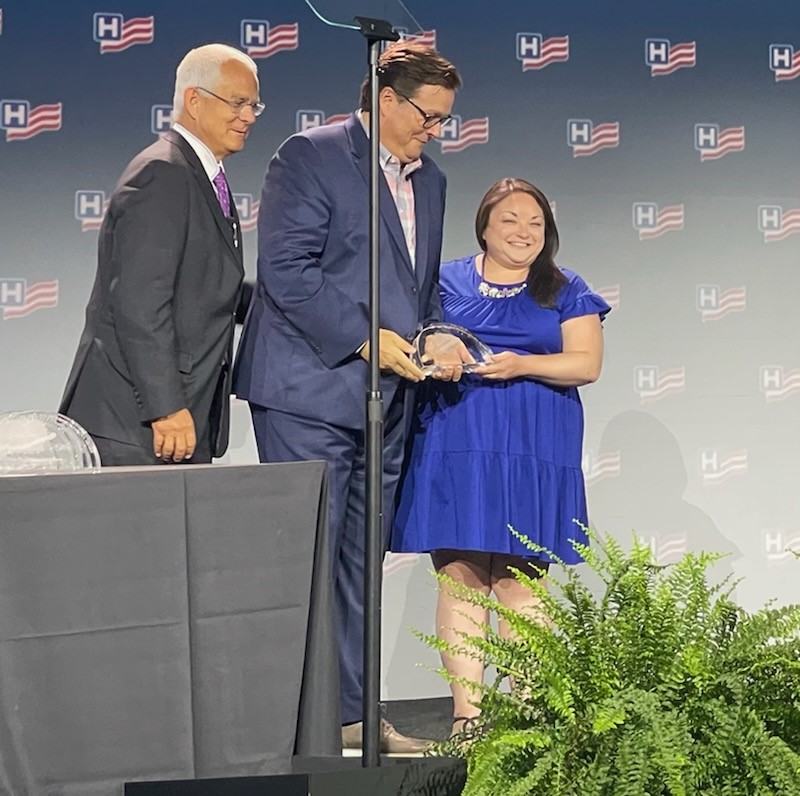 "As the kid experts, Children's Minnesota is honored to receive the 2022 AHA Dick Davidson NOVA Award. This recognition is a testament to our organization's commitment to delivering equitable health care, providing responsive community resources, and addressing unmet health-related social needs within our communities," said Block. "While we're grateful for this award, the true reward is knowing the Community Connect program at Children's Minnesota is making a real difference in the lives of our patients and their families."
"This year's AHA Dick Davidson NOVA award winners are leading with innovative ways to address some of our most pressing health challenges," said Rick Pollack, AHA's president and CEO in a press release announcing this year's winners. "The collaborative efforts between hospitals and community stakeholders create a healthier and sustainable path forward for patients."
Since the Community Connect program at Children's Minnesota launched in 2017 and through May 2022 – more than 8,500 families have enrolled in the program, and nearly 45,000 patients have been screened for health-related social needs.
2022 AHA Dick Davidson NOVA Award winners:
Community Connect – Children's Minnesota
Continuous Care Program – Children's Diagnostic & Treatment Center at Broward Health, Fort Lauderdale, Florida
The Doorway at Cheshire Medical Center – Cheshire Medical Center, Keene, New Hampshire
Monterey County Diabetes Collaborative – Salinas Valley Memorial Health Care System, Salinas, California, and Montage Health, Monterey, California
School Blue Envelope Suicide Prevention Program – Spectrum Health West Michigan, Grand Rapids, Michigan
Video source: American Hospital Association
#JustLead podcast featuring Children's Minnesota
Cole Heath