Health Professional News, Press Releases
Dr. Angela Kade

Goepferd

named 2022 Ellen Perrin Award for Excellence honoree
Children's Minnesota is honored to announce that Dr. Angela Kade Goepferd has been named the 2022 honoree of the Ellen Perrin Award for Excellence in LGBTQ+ Health and Wellness from the American Academy of Pediatrics Section on LGBT Health and Wellness (SOLGBTHW). The honor recognizes the outstanding work Dr. Goepferd has done in advocacy for lesbian, gay, bisexual, transgender, and queer youth and families in Minnesota and the region.
Dr. Goepferd is medical director of the Children's Minnesota Gender Health program, the largest exclusively pediatric program of its kind in the region. The program offers comprehensive care for youth who identify as transgender and gender diverse. Since launching in 2019 with pediatricians, pediatric endocrinologists and social work, the program has expanded to include adolescent health specialists, psychologists and psychiatrists to address the mental health component of gender health in addition to the medical component.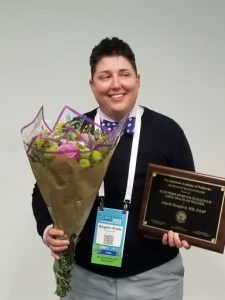 Dr. Goepferd is a steadfast advocate for the health and wellbeing of LGBTQ+ youth and families in the community. In July 2021, they were invited by Minnesota Governor Tim Walz to speak during his signing of an executive order restricting the use of conversion therapy on LGBTQ youth in the state. In their speech, Dr. Goepferd spoke about seeing first-hand in patients the lasting psychological harm such a practice does to both kids and their families. In 2020, they discussed the evolution of gender at the TEDxMinneapolis virtual event Adaptation. Most recently, they wrote Stop terrorizing transgender kids, a blog published on Children's Minnesota's website, to denounce Texas Governor Greg Abbott's directive to the Texas Department of Family and Protective Services and other state agencies to investigate certain gender-affirming services as child abuse.
The Ellen Perrin Award for Excellence in LGBTQ+ Health and Wellness was presented to Dr. Goepferd during the 2022 American Academy of Pediatrics (AAP) National Conference & Exhibition in Anaheim, CA on Monday, October 10, 2022.