Teresa Herriage accepts leadership position with the COG Nursing Discipline
Congratulations to Teresa Herriage, DNP, APRN, CPHON, who has accepted the position of Vice Chair of the Children's Oncology Group (COG) Nursing Discipline! As Vice Chair, Teresa's leadership responsibilities include: assisting in the preparation of the Nursing Discipline section of COG grant and progress reports, identifying resources to support the work of the COG Nursing Discipline and supporting the group's mission and values.
"I am honored to be selected as the role of COG Nursing Discipline Vice Chair. COG truly shapes what we do as pediatric oncology nurses. It sets the standard for the nursing care of children, teens and young adults enrolled in clinical trials and is vital to providing excellence in care for the patients at all of its member institutions," said Teresa.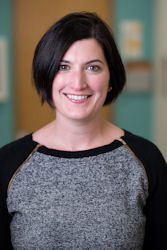 COG is the world's largest organization devoted exclusively to childhood and adolescent cancer research. The nursing discipline within COG is the largest membership group with over 2800 members. Children's Minnesota is among the top 10 hospitals in the COG for numbers of children enrolled with newly diagnosed cancer treated each year. Nearly 90 percent of eligible patients in our Cancer and Blood Disorders program participate in clinical trials.
"This is a huge honor for Teresa that is well deserved. This promotion reflects our program's growing role in leadership positions for pediatric cancer research nationally," said Dr. Susan Kearney, medical director of the Cancer and Blood Disorders program.
Teresa has been a member of the COG for approximately 10 years. She credits her mentor, Casey Hooke, APRN, CNS, for encouraging her to pursue nursing roles within COG. In 2017, she applied for and was awarded a fellowship project to evaluate a new diagnosis education checklist to educate families of children newly diagnosed with cancer. In addition, Teresa helped develop the New Diagnosis Guide Slide Set, which was developed from her fellowship project. The guide is now the standard of care at Children's Minnesota and many COG institutions globally.
Teresa has worked in hematology/oncology nursing for 16 years. The patients, families and team are the most rewarding part of the work for her.
"The patients and families we take care of are truly inspiring and resilient. They have taught me so much! In addition to the patients and families, my colleagues are amazing they are the best mix of compassion, intelligence and fun. The peds hematology/oncology family is truly remarkable."
Nick Petersen