How to become a physical therapist
A physical therapy career path is a smart choice for a long, lucrative, and meaningful working life. The job is not always glamorous, but it is highly rewarding work as you see people make progress and improve the quality of their lives – thanks to your help. 
Physical Therapy Career Path

How to Become a Physical Therapist

Average Physical Therapist Salary

Is a Physical Therapy Career a Good Path?

Requirements to Become a Physical Therapist

Physical Therapy Jobs at Children's Minnesota
This guide will provide all the information you need to know to successfully pursue a career in physical therapy. We will answer pressing questions like – do you need a doctorate to be a physical therapist? Information on physical therapy school requirements, average income, and projected growth rate for the job are vital to determining if a physical therapy career path is right for you. 
Physical Therapy Career Path
A physical therapy career is often difficult but rewarding. If you are new to thinking about a physical therapy career path, you may be wondering, what does a physical therapist do? Physical therapists work on physical medicine and rehabilitation teams in hospitals and health care facilities to help people who have difficulties moving their bodies for various reasons. 
A physical therapy career path may be the right choice for you if you are passionate about physical activity and helping other people feel better. 
Many physical therapists work with sports players to help them heal injuries and get back in the game. Other physical therapists work with veterans or people who just had surgery to help them improve their functioning and mobility.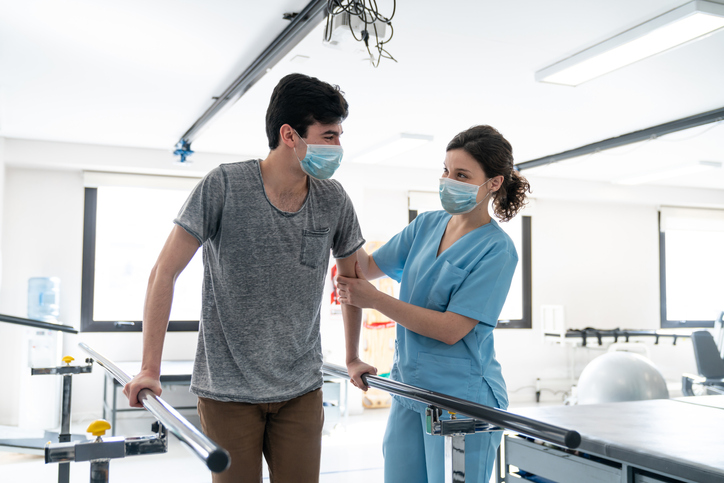 There are several different physical therapy career options:
Orthopedic Physical Therapist:

The most common type of physical therapy which focuses on healing the

musculoskeletal system. 

Neurological Physical Therapist:

Focuses on addressing neurological conditions such as cerebral palsy or strokes in order to improve functioning. 

Geriatric Physical Therapist:

Works with older folks to help them improve their mobility and reduce pain. 
Pediatric Physical Therapist: Works with babies and children to address issues related to genetic conditions, injuries, and disabilities..
How to Become a Physical Therapist
The path to becoming a physical therapist is fairly straightforward. You will need to earn a bachelor's degree and a doctorate in physical therapy. After you complete the physical therapy degree requirements, you can become licensed to practice physical therapy. 
As a physical therapist, you will likely work on a team to help patients practice various rehabilitative exercises. You will need to have a positive attitude to encourage patients and communicate clearly. If you are more interested in diagnosing injuries and creating patient treatment plans, then you may want to earn a specialized certificate to advance your career and become a senior-level physical therapist. 
Are you ready to start your physical therapist career? You can speak to us in person at a Children's Minnesota hiring event to learn more about working as a pediatric PT at our hospital.
Steps to Become a Physical Therapist
To become a physical therapist, you will complete the physical therapy school requirements and then the licensing requirements. The process is long and requires a lot of studious effort. It's not for everyone, but those who complete it will enjoy a stable, rewarding career. The steps below clearly outline how to become a physical therapist. 
Step 1:

Earn a bachelor's degree in a health-related field. 

Step 2:

Earn a Doctor of Physical Therapy (DPT) degree. 

Step 3:

Pass the National Physical Therapy Examination (NPTE).

Step 4:

Complete the state licensing requirements in your area.

Step 5:

Complete a residency program to gain hands-on experience.
How Long Does the Path to Becoming a Physical Therapist Take?
It takes approximately four years of full-time school to complete a bachelor's degree and approximately three years to complete a DPT program. It may take up to a year or more to study for and pass the NPTE. Most physical therapy residencies also last about one year. That means the physical therapist career pathway takes a total of nine years before you start working as a junior physical therapist. 
Average Physical Therapist Salary
Being a physical therapist most likely means working full time for an annual salary. According to the Bureau of Labor Statistics, the median annual salary for physical therapists in 2021 was $95,620. However, there are several states where the average pay is more than that. 
National salaries: 
Median:

$95,620 per year

Top 10%:

$127,110 per year

Bottom 10%:

$61,930 per year
The states with the highest average pay for physical therapists are Nevada, California, Connecticut, Delaware, and New Jersey. The average annual salary for physical therapists in Minnesota is $86,370. 
Is a Physical Therapy Career a Good Path?
The path to physical therapist leads to a bright future. The field is growing quickly which means there is a high likelihood of getting a quality job after you finish school. It's also a lucrative job. The average salary for a physical therapist in 2021 was $92,920. 
If you are looking to maximize your earning potential in your physical therapy career, look for job openings at home health care services, outpatient care centers, and child daycare services. They are the highest paying industries for physical therapists. 
Estimate of jobs available:

239,200

Rate of projected job growth:

21%

New jobs to be added in the next 10-years:

49,100

Fastest growing states for jobs

: California, New York, Texas, Florida, Pennsylvania
Why should I become a physical therapist at Children's Minnesota?
Children's Minnesota puts children first. If you are interested in being a pediatric physical therapist, there is no better place to work. We aim to make physical therapy an enjoyable experience for children and our employees. 
Knowing exactly what they can expect from a PT appointment can help families adequately prepare their children. And we know that making the experience fun and inviting is essential in working with young patients. That's why what we do at Children's Minnesota is unique.  
Children's Minesota offers a generous benefits package to promote a healthy work/life balance including fitness reimbursements and support with child care. 
How to Become a Physical Therapist in Minnesota
Minnesota has a lot of options for you to complete all or part of your physical therapist career path without leaving the state. After you earn your undergraduate degree, consider applying for a physical therapy doctorate program in Minnesota. 
Physical therapy programs In Minnesota
University of Minnesota:

Earn your

Doctor of Physical Therapy from the University of Minnesota

medical school located in Minneapolis. It is one of the oldest physical therapy schools in the country. 

Mayo Clinic College of Medicine and Science:

The

Physical Therapy Doctoral Program at the Mayo Clinic

in Rochester is focused on providing quality clinical experience in a hospital setting. The program boasts a 100% graduate rate in 2019 and 2020.

St. Catherine University:

Nicknamed "St. Kate's", this university has a competitive

Doctor of Physical Therapy

program. They use a holistic approach that focuses on the application of PT skills in clinical settings, specifically those serving disinvested communities. 
Looking for more information? Children's Minnesota provides numerous resources on pediatric physical therapy and other types of physical and rehabilitation medicine in Minnesota.
Requirements to Become a Physical Therapist
Are you wondering what degree you need to be a physical therapist? The education required to be a physical therapist is a doctorate. Before being accepted into a Doctor of Physical Therapy program, you must earn a bachelor's degree. We recommend choosing a science major such as biology or kinesiology. Some universities may even have a pre-med path for undergraduate students. 
Many DPT programs have additional requirements such as recommendation letters and a GRE test. After you complete the doctorate program, you will need to take and pass the NPTE exam. Then, you will complete the licensing requirements for your state. Finally, you will be ready to look for a job. Consider working at Children's Minnesota as a pediatric physical therapist to make a difference in the lives of young people every day. 
Physical Therapy School Requirements
While there is no official undergraduate major for students on the path to physical therapist, we recommend something in a science field. The path to a physical therapy degree requires a strong foundation in biology. Other courses needed include:
human anatomy

physiology

physics

chemistry

statistics

psychology
Many of these courses will require labs in addition to class time. A degree in physical therapy is likely a good fit for you if you enjoy hands-on learning.
Do You Need a Doctorate to be a Physical Therapist
In order to become a licensed physical therapist in the U.S., you need a doctorate in physical therapy (DPT). The DPT career path requires a bachelor's first, then a doctorate, before becoming licensed to practice physical therapy. The requirement for a DPT for all physical therapists started in 2016. 
Physical Therapist Qualifications: Skills and Experience
You can follow all the steps to become a physical therapist, but there are additional skills that are necessary to be successful in the career. Answering the question of how do you become a physical therapist is more than just checking off boxes. There are a variety of non-technical skills that are essential to being a physical therapist.
Good communication skills 

Ability to motivate others 

Ability to teach people of different abilities 

Physical strength to assist patients 
Do Physical Therapists Need a License?
Getting licensed is a mandatory step to becoming a physical therapist in the U.S. Each state has a slightly different licensing process, so make sure to check the requirements in your state. 
First, you need to pass the National Physical Therapy Exam (NPTE). To get a PT license, you must send proof of the required education for a physical therapist including transcripts to the PT licensing agency in your state. In Minnesota, that agency is the MN Board of Physical Therapy. 
You will also need at least two recommendation letters from currently licensed physical therapists. These could be from your residency or internship supervisors and/or your previous physical therapy professors.
Additional Physical Therapist Certifications
Adding additional certifications to your resume can help you move up the physical therapy professional ladder. Certificates also allow you to focus in on a specialized area of physical therapy such as orthopedics or neurology. These certificates are provided through the American Board of Physical Therapy Specialities (ABPTS) and are valid for 10 years.
Cardiovascular & Pulmonary Clinical Specialist
These physical therapists focus on rehabilitation related to the heart and lungs. They may work with patients who have COPD or those who recently suffered a heart attack. Proof of research and patient care experience in this specialty area are required to apply for this certificate.
Pediatric Clinical Specialist
Earning a certificate in pediatric physical therapy allows you to keep up-to-date on innovative PT methods such as constraint-induced movement therapy. If you want to focus on working with children, getting a pediatrics certification can increase your earning power and help you make the jump from junior PT to the next level at your place of employment. 
Clinical Electrophysiologic Clinical Specialist 
Clinical electrophysiologic specialists are trained in how to use various electronic devices to monitor and evaluate human functioning. They even use electronic devices to treat some injuries and disorders. This certification requires very specialized knowledge. 
Physical Therapy Jobs at Children's Minnesota
Children's Minnesota has two main locations – Minneapolis and St. Paul. Both locations employ pediatric PTs to health children with a range of diagnoses including autism and hemophilia. 
This is a specialized form of physical therapy that can be done with people of all ages. However, Children's Minnesota focuses on using aquatic therapy with children and young adults. PTs must be competent in aquatic therapy techniques for this position. 
Maria Hernandez-Chaire