A

family fights cancer twice – in

honor of Jake and in memory of Erika
Sam and Erika Rodriguez had 2-year-old twin sons, Jake and Ben, when they found out Erika had acute myeloid leukemia (AML). Sadly, Erika later got pneumonia and passed away from acute respiratory distress. And now, Jake is fighting for his life too – he was diagnosed with T-cell lymphoblastic lymphoma when he was in third grade, at just 9 years old. But with the help of the kid experts at Children's Minnesota, Jake's in remission and getting back to all the sports he loves: wrestling, baseball and jujitsu. 
The
Rodriguez
family grows
Sam met Katie, his wife now, through the Leukemia & Lymphoma Society and they got married in 2016. They expanded their family and have another son named Cole. 
Jake's diagnosis
Jake was was playing his first year of tackle football. At the end of the season, he started not feeling well. He struggled keeping up with his friends on Halloween, and in November, when he was supposed to go hunting with his dad, he woke up and his entire body was swollen. 
His parents brought him to a clinic in Maple Grove where they found a mass in his chest that looked like it was pushing on his heart. "They told us to get to Children's Minnesota," Katie said.
His care team ran some tests and four days later they found out Jake had cancer.
Jake's treatment
While most of Jake's treatment was outpatient, he picked up several infections during this time so he spent a lot of time at Children's Minnesota. Jake loved Star Studio – our in-house TV station – and became best friends with The Dude, the host of the show. 
"I don't think I've ran into a single provider or employee that wasn't amazing," said Katie of their time at Children's Minnesota. 
An infection that almost took Jake's life
While they thought Jake might be closer to being in the clear, in July of 2019, he developed a bad infection. His care team couldn't quite figure out what was wrong. But they finally figured out he had two types of fungus growing in his eyes, muscles and joints. After 30 days in the hospital, the infection went to Jake's heart and he almost died. 
Thankfully, with their care at Children's Minnesota, Jake recovered from that infection. He spent another 30 days in the hospital going to rehab and growing stronger and stronger every day.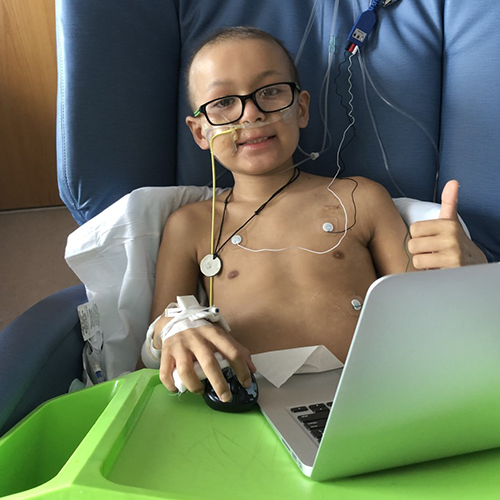 Jake went on to finish up his maintenance chemotherapy in March 2021! Every three months, he needs to get blood work done to make sure everything still looks as it should. "We take it day-by-day, you just never know," said Katie of their lives now. 
Jake is 12, going on 13, years old and back to playing with his twin brother, fishing in the river in their backyard, playing baseball, football, wrestling and video games. 
The Rodriguez family has spent this time together fighting through two cancer diagnoses but staying strong. They love to get out on the lake in the summer, spend time with their friends, watch movies or four-wheel.
And, they'll always be grateful for Children's Minnesota. "It's truly every parent's nightmare to have their child diagnosed with cancer," Katie said. "But it's so reassuring to know that Children's Minnesota has amazing care, providers and facilities for when or if this ever happens." 
Give to Kids Day is on Thursday, Sept. 22!
Kids from across the region are fighting cancer and blood disorders at Children's Minnesota right now. With your support, they can soon return to what they do best – being kids. On Thursday, Sept. 22, on Give to Kids Day, your donations will be doubled up to more than $35,000 thanks to our generous sponsors!
Alexandra Rothstein