Marielena's vision for her future strengthens her determination to overcome leukemia
Marielena will never forget the day she found out she had leukemia. It was May 23, 2019 – she was 15 years old and about to finish her sophomore year of high school. The years that followed have been full of adversity – long stays in the pediatric intensive care unit (PICU), cancer treatments, a coma, learning to walk again, COVID, missing out on high school and now dealing with the unexpected side effects of treatment. But through it all Marielena found strength in knowing she had a great future ahead of her and that she had to be OK.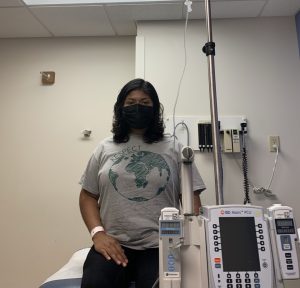 From simple test to a stay at the hospital
Before Marielena received her diagnosis, friends and family had said she was looking pale. When she went to the doctor to get checked, they thought it could be anemia, a condition where the number of red blood cells gets too low. The doctor recommended she take iron supplements for a week, then come back for further testing. But it wasn't even a week before the doctor asked her to come back to re-test. The results showed her iron levels were still dropping. The doctor told her she needed to go to the emergency department (ED) immediately.
In the ED, Marielena underwent more tests before being transferred to the 7th floor – the inpatient cancer unit – where her care team explained to her that she had leukemia.
"I came in for a simple iron check and then ended up staying in the hospital. I was scared because I didn't know what the [next] few years were going to look like. You don't really know what cancer means until you have it," said Marielena.
The next few days included additional tests, blood transfusions and surgery to have a port implanted. The tests revealed Marielena had B-cell acute lymphoblastic leukemia (ALL). The port was implanted to provide her with her cancer treatment.
Battling leukemia was tough enough on its own. But Marielena has also faced multiple setbacks during her journey – including learning how to walk again after a weekslong stay in the PICU at the beginning of 2020. She had severe pneumonia and needed to be put in an induced coma in order to survive. When she woke up 12 days later, she could hardly move or talk.
"One of the hardest things I've had to face physically and emotionally was going through the intensive rehab – learning how to swallow again, get my voice back and learn to move my arms, fingers and legs," described Marielena.
Marielena finished cancer treatment in September 2021 and her leukemia is in remission.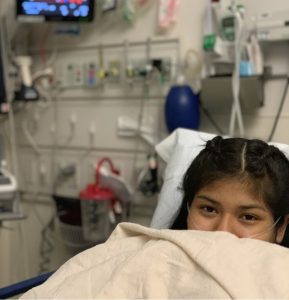 Marielena is grateful for all of the people who've been involved with her care. Among those that stand out is Patty Santos. Patty is the limited English proficiency (LEP) patient family advocate at Children's Minnesota's cancer and blood disorders program. In the role, Patty is part of the care team, advocating on behalf of Spanish-speaking patients and their families and helping them understand the diagnosis as well as navigate the various aspects of their care.
"Patient family advocates play an important role in reducing health disparities and improving outcomes for patients, particularly for underserved families. We're walking with them as they go through their care journey," described Patty.
Marielena first met Patty when she came into her room with her care team. Patty explained to Marielena and her mom what was going to happen with her medical care. The leukemia treatment was very challenging, but having Patty to lean on during those times helped.
"I think treatment would have been 100 times harder without Patty. It's really hard to advocate for yourself when you don't know what's going on, but Patty goes in and advocates for you, taking some of the stress away," said Marielena.
"The AYA program was a really big help because it allowed me to see teens get through diagnosis and treatment. It was also good to talk to other teens my age about our journeys," remembered Marielena.
Marielena also appreciated the wraparound services offered at Children's Minnesota, including music therapy, massage therapy, parking passes and food vouchers for family members.
Marielena was determined to not let leukemia, her treatment or any setbacks stop her from graduating high school. Treatment meant she missed her entire junior year. She spent the summer before her senior year working hard to make up credits while also continuing to go through treatment. Because of the COVID-19 pandemic, her senior year was virtual, meaning she couldn't share in the excitement with her classmates. Despite everything, Marielena excelled and graduated in the class of 2021!
Going through treatment also didn't give Marielena any time to prepare for college. However, now at 19 years old she is beginning her sophomore year at Dougherty Family College at the University of St. Thomas. Once she receives the college's two-year associate's degree her goal is to pursue a bachelor's degree. Her goal is to take her experience to give back and advocate for other patients.
About Shine Bright for Kids
Shine Bright for Kids is a fundraiser for Children's Minnesota, home to the largest pediatric cancer and blood disorders program in the Upper Midwest. Whether you donate online or shop with a participating business, you'll help kids and teens like Marielena keep fighting. Your gift supports everything from special therapies to life-saving research to mortgage and rent relief. Donate now at https://www.childrensmn.org/shinebrightforkids/.