Patient access specialist

shares

h

er

experience

working

at Children's Minnesota
At Children's Minnesota, we believe children always come first. They are awesomely resilient. Eternally optimistic. Totally fearless. They are what we want to be when we grow up. 
Leslie Avalos, patient access specialist, is sharing a few of her favorite things about her career and working at Children's Minnesota.   
Tell us why you like your job and position.
"What I like about this position is the challenges we encounter and how there is always something new to learn and teach."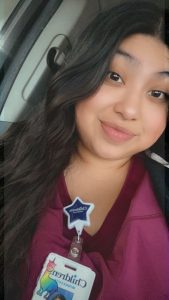 What do you like about working in this field/department?
"Coming from no previous medical field experience, it's been rewarding for me to see the partnership with how my colleagues are always willing to lend a hand and the impact we make as a team." 
Why do you like working at Children's Minnesota?
"The thing I like most about working for Children's Minnesota is the big impact we make on all different kinds of families and patients. Our main goal is to serve and provide for what matters the most, our children." 
Join the team!
Children's Minnesota is seeking qualified candidates to join our team! Patient access specialists promote positive patient and family experience as the first impression of the hospital.  
View our open positions:
Mai Songsawatwong