Security dispatcher

shares

his

experience at Children's Minnesota
At Children's Minnesota, we believe children always come first. They are awesomely resilient. Eternally optimistic. Totally fearless. They are what we want to be when we grow up. 
And, we mean all kids – regardless of how they identify or who they love. Tristan is a security dispatcher at Children's Minnesota and a trans man. He is originally from Texas and spent some time in Arizona but decided it was too hot and he wanted to move north where the seasons were more his style. After exploring some jobs in Minnesota, he landed at Children's Minnesota because he heard great things about our Employee Resource Groups (ERGs). 
The importance of Children's Minnesota's Employee Resource Groups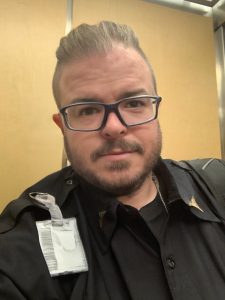 ERGs at Children's Minnesota are organizationally supported employee groups drawn together by common interests, shared characteristic or life experiences centered on a primary dimension of diversity, such as race, ethnicity, gender, gender identity, age, religion, national origin or sexual orientation. 
They are focused on encouraging an exchange of knowledge, strengthening multicultural competence, promoting a greater sense of belonging and enhancing professional and personal development of employees. 
When Tristan started at Children's Minnesota, he joined the People Respecting Individual Differences Equally (PRIDE) ERG. "The Pride Employee Resource Group has been a fantastic resource for me. It's nice to have the support of fellow LGBTQIA+ folks," said Tristan. 
Get to know Tristian
Tristan has been a security dispatcher for one year, below he's describing his career at Children's Minnesota. 
Tell us why you like your job and position.
"I get to be the brains of the operation when I'm in dispatch and I get the unique ability to help come up with creative solutions to complex issues. I was previously a paramedic and a 9-1-1 dispatcher, and this has added a new dimension to the experience that my career has given me. We're not average hospital security; kids are always watching and listening, and we're trained to be in tune with that." 
What do you like about working in this field/department?
"At Children's Minnesota, we're focused on a very specific portion of society – the most vulnerable among us, our kids. I like the fact that my leadership understands how vulnerable that population is and how traumatized they sometimes are by the uniform we wear. We work to strike a balance between being quiet protectors and being visible to those who would exploit both the children and our staff. I like being able to tell people that we're here to help without judgment. For example, there are people who may open up more to an officer if they know they're LGBTQIA+. I've certainly met kids who will be more open to an officer who is like them." 
Why do you like working at Children's Minnesota?
"We're a unique and hard-working organization full of folks from all walks of life. I'm from Texas. I've met people here from all over the world, whether they're patients, family or staff. Every interaction has taught me something. I'm currently looking at moving over into either emergency management or nursing, and Children's Minnesota has a Gender Health clinic – a specialty that I'd really like to get into. I can go anywhere and do anything here." 
Join the team!
Children's Minnesota is seeking qualified candidates to join our team! Our security team provide a safe environment for our patients, families, visitors and staff; allowing our patients and families to focus on their child's health and well-being.  
View our open positions:
Mai Songsawatwong