Health Professional News, Mighty Blog
Children's Minnesota providers honored by March of Dimes as Heroes in Action
Congratulations to the kid experts from Children's Minnesota who were honored at the March of Dimes 2022 Minnesota Heroes in Action awards ceremony held Thursday, Oct. 27 in Minneapolis. Heroes in Action recognizes excellence in the healthcare profession and honors the tireless work of nurses and maternal and infant health providers throughout the community.
Over the course of several weeks, health care providers are nominated by colleagues, supervisors or the families they have served. March of Dimes received more than 400 nominations that were narrowed down to 59 finalists by a selection committee. The process culminated at the awards ceremony where the March of Dimes recognized 14 of the most outstanding nurses and maternal and infant health providers.
Nicole Hart, BSN, RN, CPHON, nurse case manager in the hematology/oncology clinic, won in the Innovative and Non-traditional Nursing category. The award honors nurses who practice in non-traditional settings such as: informatics, holistic/integrative healing, quality improvement, legal nurse consultants, entrepreneurial nursing and global/humanitarian nursing. After learning of the disparities in hemophilia outcomes and treatment access between developed and developing nations, Nicole began researching The World Federation of Hemophilia's "twinning program." Through this program, a developed clinic works to improve access to care, resources and education for a developing clinic. Nicole spearheaded Children's Minnesota's partnership with Tikur Anbessa Specialized Hospital in Ethiopia. The partnership has since won the Twins of the Year award from the World Federation of Hemophilia, garnering recognition for facilitating bleeding disorders education and implementing the only coagulation analyzer in the country.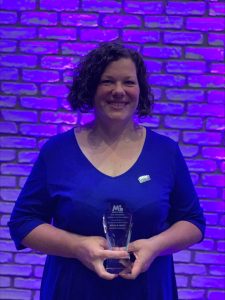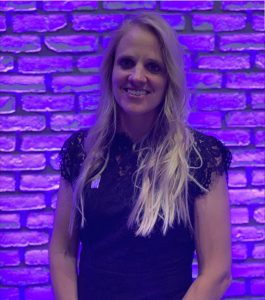 Nicole Ostertag, BSN, RN, Minneapolis Med-Surg Float team was a finalist in the Excellence in Maternal Child Health (MCH) category for using her experience, exceptional clinical skill and great bedside manner to establish trusting relationships with her patients and their families. Nicole also won the March of Dimes' ambassador drawing and raised more funds than any other ambassador! In addition to caring for her patients, she shares her wealth of experience as a preceptor – someone who teaches and supervises nursing students and current nurses looking for more experience. She is often recognized for her dedication to ensuring they receive the best possible learning experience. Nicole has also been an active participant in Children's Minnesota's Observer Program, which gives people aspiring to be nurses, often high school or college students, the opportunity to observe Nicole throughout her workday to learn more about the career.
Andy Berndt, MSN, RN, NE-BC, vice president of critical care and neonatal services, was surprised during the ceremony with the Exceptional Partner award. The honor was presented by Andy and Jenny Brown who fundraise for the March of Dimes neonatal intensive care unit (NICU) Family Support Coordinator positions at Children's Minnesota. Andy received the surprise award after posing with a novelty check representing the Brown family's fundraising efforts in support of Children's Minnesota.