June's journey: Children's Minnesota's Neurosurgery Program helps stop a little girl's seizures
'It was terrifying'
May 2012 will always be remembered by Meghan and Joe Murray as the time when they counted down until they could welcome their first child into the world. The Murrays didn't know then if they were having a boy or a girl as they patiently waited for their baby's May 18th due date. When that day finally came, mom-to-be Meghan recalled how her excitement quickly turned to grave concern.
"On my due date, she – we didn't know she was a she yet – wasn't moving very much. I told the midwives, they gave me two cups of juice and she still didn't move," Meghan explained.
That's when the Murray family's midwives sent Meghan to a different health care system in downtown Minneapolis for a stress test.
"That did not go well," Meghan recalled.
Meghan's care team induced her and performed other interventions to help her deliver. After breaking Meghan's water, clinicians discovered meconium – a unborn baby's fecal matter – in the water. This is a warning sign that the baby is in distress, and can be life-threatening if the baby inhales meconium while inside the womb.
"I was rushed in for an emergency cesarean section procedure," Meghan explained. "I thought she was going to die and my husband thought we were both going to die. It was terrifying."
11 days in intensive care
Just moments after discovering their new baby was a girl, the Murrays also learned their newborn was facing several complications – including concerns with her oxygen levels. She was rushed to the neonatal intensive care unit (NICU) at the hospital where she was born.
Baby June spent 11 days in that NICU. There, she had an echocardiogram, spinal tap, brain scan, and other tests. June's brain scan detected something that an MRI would need to examine closer. The family anxiously waited for their MRI appointment at home. During that time, the Murrays started noticing something concerning.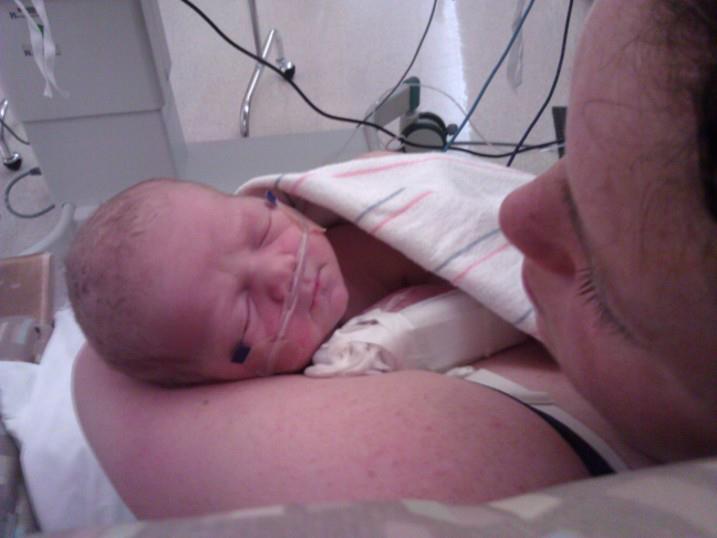 Searching for answers
As the Murray family counted down to their MRI appointment, June's parents observed how the infant was having involuntary eye movement episodes.
"These movements started having involuntary muscle tightening in her arms and legs, and all the symptoms became more frequent and worse as time went on," Meghan said.
The family tried to find answers with their providers at a different health care system as they waited for June's MRI. They would get them when June had her MRI appointment when she was six weeks old.
"As we were in the room with the doctor we told him we thought she was having seizures," Meghan said. "As my husband pulled out his phone to show him the video he had taken, she had one. Immediately the doctor said, 'that is a seizure.'"
Little June went into the MRI, and before her parents even saw her again she was diagnosed with cortical dysplasia. Cortical dysplasia is caused by a group of abnormally formed cells in the brain, it is one of the most common causes of epilepsy.
"I had no idea what the extent of this condition would be," Meghan explained. "I knew she had epilepsy, but I didn't know how it would affect her until she got older."
'Her seizures were getting so bad'
Early in June's childhood, the Murray family learned she had an intellectual disability presumably caused by her cortical dysplasia. With this diagnosis, June's parents enrolled her in a special education program.
The Murray family also brought June to the Minnesota Epilepsy Group (MEG) and our Level 4 Epilepsy Center – a partnership between Children's Minnesota and MEG. The center is the only pediatric facility in the state with a Level 4 designation, and offers the highest level of diagnosis and treatment options for children with epilepsy. Here, the MEG care team started to manage June's seizures with medication. Over the years the family weighed different options to help control June's seizures permanently. As June got older, medications decreased her seizures significantly – but not completely.
"Her seizures were getting so bad," Meghan said. "At the start of COVID she started having drop seizures. It was so scary, she hit her head on the nightstand, walls when they got in her way, and anywhere and everywhere throughout the house. You could never predict when she would have one."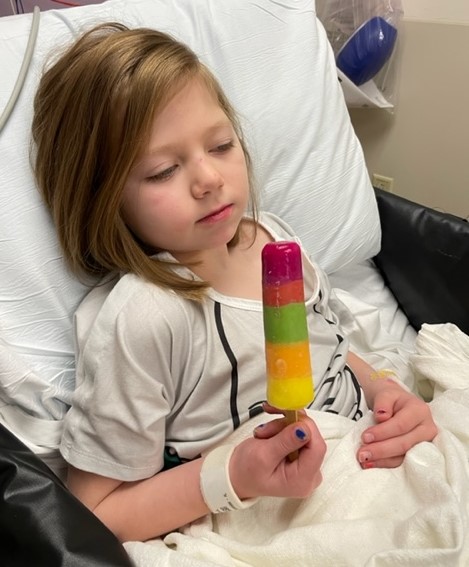 Throughout her young life, June's epilepsy specialists tried different medications and dosage levels to control her seizures. She experienced side effects throughout that process. She also underwent multiple rounds of a test called an electroencephalogram (EEG) to learn more about her condition. Just one of her EEGs revealed she likely had 15 seizures during that test alone. A few months after that EEG, June and her family would learn about another deeply concerning discovery.
A scary discovery and quick action
An MRI in 2021 revealed what looked like a tumor in the left temporal lobe of June's brain. This area of the brain processes speech, language, hearing and memory. The cortical dysplasia in her parietal lobe also "lit up" with the MRI contrast which had not happened in any of the previous imaging throughout the years. This was a second suspected tumor underneath the structural abnormality. This spot was more alarming to the doctors because the area was changing.
"It was devastating," Meghan said. "Life has been a rollercoaster since she was born trying to manage June's complex medical issues."
June and her family worked closely with Dr. Meysam Kebriaei, medical director of neurosurgery at Children's Minnesota, our pediatric epilepsy team, and our neurooncology team. On December 28, 2021, Dr. Kebriaei performed a craniotomy on June. He was able to remove a portion of her skull to create a temporary opening to remove the lesion. An MRI the day following surgery confirmed that the brain surgeon performed what's called a successful "complete resection" of the potential tumor. After an examination by pathologists, the lesion was determined to be only cortical dysplasia and scar tissue – not cancer.
"I was preparing myself for the worst because I thought that it was going to be bad, but it turned out to be amazing," Meghan explained.
Since the surgery – June hasn't had a single seizure, and will continue routine follow-up care at Minnesota Epilepsy Group.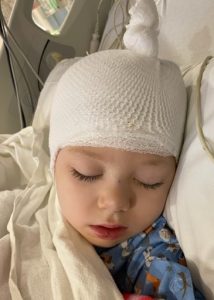 June spent four nights recovering from her craniotomy at Children's Minnesota's St. Paul campus. Here, June's journey with her diagnosis came full circle as Dr. Andrew Kiragu, critical care physician at Children's Minnesota, served as her attending physician. Dr. Kiragu was the critical care physician who cared for June when she was first diagnosed with cortical dysplasia and epilepsy at a different hospital when she was just two months old.
It's now been a decade since June came into the world. She loves playing with her brother and enjoying what each Minnesota season has to offer. In 2022, she turned ten years old just a few days before the calendar changed to June – the month that kicked-off the first seizure-free summer of June Murray's young life.
"She's doing so well, she doesn't have any seizures," Meghan said while holding back tears. "After having the surgery, it's like she was sleeping and now she is awake – just there, bright and sassy – she's like a different kid."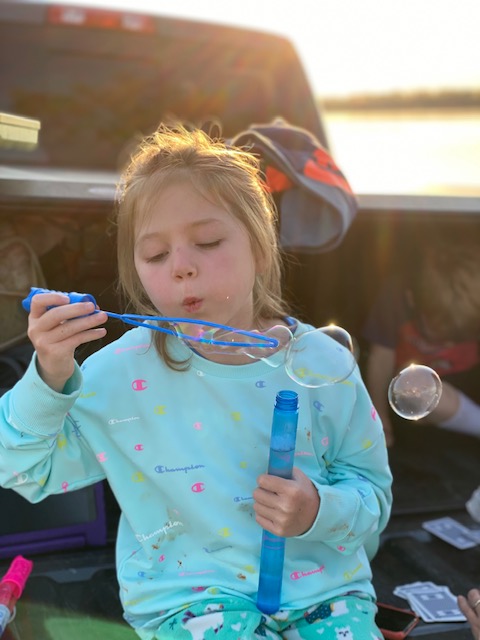 Cole Heath