Helping Hudson: from rare diagnosis to life-changing brain surgery
At 1.5 years old, Hudson loved playing around his house and would take a tumble from time to time, just like other kids. But, one day, Hudson took a tumble and hit his head on a coffee table. Little did his family know, this fall would change their lives forever.
The fall that led them to Children's Minnesota
After Hudson hit his head on the coffee table, his head started to swell and the center of the bump was spongey and soft, known as boggy. His parents, Melissa and Jeff Kroll, immediately brought him to Children's Minnesota's emergency department where a head CT scan was taken.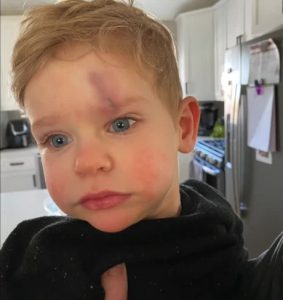 Hudson's care team recommended a stay overnight as they had found a brain bleed. But, that's not all. The care team also found a large mass in Hudson's brain that would need further testing to figure out what it was.
After receiving the results, Dr. Meysam Kebriaei, pediatric neurosurgeon at Children's Minnesota, told the Krolls that he found two things. Hudson had something called Chiari 1 malformation, which means part of his brain pushed through the natural hole in the bottom of the skull. And they were told Hudson had a rare genetic disease called tuberous sclerosis complex, or TSC.
Living with TSC
TSC causes benign, noncancerous tumors, also called tubers, to grow in vital organs and is not curable. While not cancerous, it can cause seizures, developmental delays, and problems for the kidney, heart, lungs, eyes and skin. That day, they found a tuber in Hudson's brain.
On March 20, 2022, Hudson had his first seizure. Hudson's care team – which included the kid experts at Children's Minnesota's Neurosurgery Program, and Dr. Douglas Smith from the Minnesota Epilepsy Group – wanted to get him started on seizure medication right away.
Together, Children's Minnesota and Minnesota Epilepsy Group are designated a Level 4 epilepsy center, which means it offers the highest level of diagnosis and treatment options for children with epilepsy. The facility is also one of the largest pediatric epilepsy centers in the country. Minnesota Epilepsy Group is a recognized TSC Center of Excellence – the only one in the state of Minnesota. Hudson was in the ideal place to receive world-class expertise in treating TSC and his seizures.
It was a long road to find the right medicine that helped reduce Hudson's seizures that also had the fewest side effects. Melissa and Jeff tried three different medications and it just wasn't working.
Hudson underwent a series of specialized MRIs to better study where his seizures were coming from. After a thorough discussion, his epilepsy team recommended surgical removal of his tuber. The epilepsy team felt this would give him a high probability of being seizure free. The Krolls had a big decision to make, and after much discussion they wanted to try and remove the tuber in Hudson's brain causing his seizures. "We met with Dr. Kebriaei and he eased our fears," Melissa described. "Especially, when he said there is a high percent chance Hudson could be seizure-free."
Hudson's brain surgery
On Sept. 16, 2022, Hudson had open brain surgery to remove the tuber. The surgery, called an open resection craniotomy, was successful! The day after the surgery Melissa and Jeff noticed a change in Hudson right away. "Hudson was pointing at me and saying 'mama," Melissa said. "A word he used to say but then stopped saying when his brain was active with seizures."
Hudson is now seizure-free and seeing the world differently. "It's like he is coming out of this fog he was in when his brain was constantly trying to go into a seizure or recover from a seizure," said Melissa. "Which made learning and development impossible."
But Hudson's parents were dedicated to getting him back to being a regular kid. "My goal as a parent was to be the best advocate for him in such a critical time of his life," Melissa said. "To help get him back on track to being a normal 2-year-old kid."
Hudson gets back to being a kid
Today, Hudson is an energetic 2-year-old. "After surgery, we're seeing huge improvements," Melissa said. To catch him up on his development, Hudson has physical therapy, speech therapy and occupational therapy with a different health care system three days a week.
"Hudson has gone through more in the past year than most people do in a lifetime," said Melissa. So, now he's focused on getting back to being a kid. He loves to play with his toy cars and interact with his little sister, Harper. The Kroll family is excited to continue their active lifestyle traveling to different states watching Jeff run marathons and spending time with family.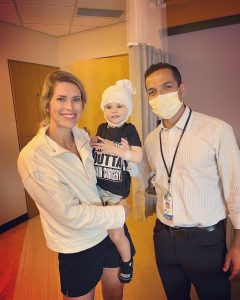 Alexandra Rothstein