Identical twins with identical heart defects, now thriving in college
As identical twins, Jacob and Josh share some common interests like video games, playing baseball and being outdoors. But there's one other rare thing the 18-year-olds share: They were born with same rare form of congenital heart disease (CHD). Their care journeys, however, took different paths.
Julie Johnson gave birth to Jacob and Josh in January 2004, one month earlier than expected. While in the hospital, doctors heard heart murmurs and referred them to Children's Minnesota where the boys had echocardiograms, or echos.
The results showed that both boys had a bicuspid aortic valve, a form of CHD where the aortic valve only has two leaflets, instead of three. A bicuspid aortic valve is rare – occurring in 1-2% of people.
Jacob's CHD happened to be more severe than Josh's. He had his first heart surgery to repair the valve when he was 2 years old. He had regular checkups at the Children's Heart Clinic and then in August 2019 had to undergo a Ross procedure to replace the aortic valve. After a week recovering in the hospital, he was back home and in school. But it wouldn't be his last surgery.
In June 2020, as Jacob was getting ready to spend time with friends at a cabin, he checked the pulse oximeter on his Apple Watch – it showed his heart rate was 37, which is dangerously low.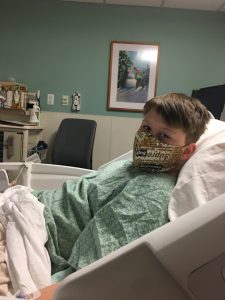 "We called the heart clinic and they said to come in. They did an EKG [electrocardiogram] and it showed he was in heart block," remembered Julie.
The care team advised the family that Jacob would need a pacemaker. A few days later, Dr. Chris Carter, medical director of electrophysiology at Children's Minnesota, implanted a transvenous pacemaker. Shortley thereafter, Jacob's heart rate improved.
A few days after surgery, Jacob was back home ready to enjoy the rest of summer vacation. Coincidentally, he grew 5-6 inches taller within a year after getting the pacemaker! His doctors say the growth spurt was not related to the pacemaker.
"The Johnsons have faced many challenges over the years and they've been resilient throughout. It's great to see how far Jacob and Josh have come," said Dr. David Overman, chief of cardiovascular surgery and part of the team that's cared for the twins since they arrived at Children's Minnesota.
Though Josh's bicuspid aortic valve was not as severe as his brother's and he didn't undergo any surgeries early in his childhood, the condition still put limitations on how active he could be in sports.
"He would say to me, 'Mom, I don't think anything's wrong with me. I don't have a scar like Jacob,'" said Julie.
But in the summer of 2022, Josh's condition reached the stage where he needed surgery. After finishing up his senior year in high school and the baseball season, he had his first open-heart surgery for a valve replacement.
"This was my first heart surgery, but knowing that Jacob had already been through it and came out feeling better helped me a lot," recalled Josh.
Only a few weeks after surgery, both Jacob and Josh, started college at Anoka Ramsey Community College, with plans to transfer to Minnesota State University, Mankato.
Josh and Jacob will continue to have regular visits with their current cardiologist, Dr. Brad Chu, and may need other medical interventions in the future. However, with the help from their entire care team, they are leading the lives of typical young adults.
"We have seen most of the cardiologists, surgeons, nurses and staff in the cardiology program at some point while in for Josh and Jacob's surgeries and procedures over the last 18 years. We are so fortunate for the care they provide!" said Julie.
Our care team has loved seeing them grow up, too. "Seeing Josh and Jacob thrive in the face of their heart conditions has been incredible and rewarding. I look forward to seeing where they go in life," said Dr. Chu.