Defying the odds: Gwen's fight through brain cancer
Growing up playing sports with her three older brothers means Gwen has no shortage of motivation. After being diagnosed with brain cancer at only 19 years old, Gwen plans to still finish college a semester early, works part-time, goes to the gym every day and even plans on competing in her first powerlifting tournament in July! 
The Kelly family lives in Lakeville, Minnesota, but Gwen's parents both grew up in New York. Gwen was born the youngest child with three older brothers; she spent her younger years being scrappy, strong and quick-witted in order to get by as the youngest and only daughter. But she gives her dry sense of humor and upbringing credit for helping her fight through her cancer journey.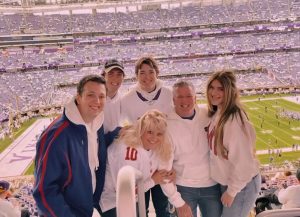 Finding out something was wrong
Gwen was recruited to play Division II tennis at Molloy University in New York. Since her parents grew up there and her family visited many times, she was familiar with the state and signed her contract to start college in the fall of 2020. 
It was in her second year of college when she started noticing she was having back pain after sitting for longer than an hour. It started to affect her tennis playing, so she saw some doctors but they couldn't figure out why she was having pain. It was when she was on her way to watch a college baseball game with her friends that everything changed. 
They stopped to take a photo on their way to the game and when she started getting back into the car, Gwen noticed that her left leg couldn't move. She tried picking her leg up to get in the car, but her condition quickly worsened. It was then she knew she was about to have a seizure. Although Gwen had never had a seizure before, she has people close to her with epilepsy so she knew what to do – turn on your side and try to gently fall somewhere safe. 
She was immediately taken to a hospital in New York where they found a tumor in her brain. "I had no history of seizures so I wasn't surprised when I found out I had a tumor in my brain. There had to be some reason for my seizure," Gwen said.
Gwen's cancer diagnosis
Gwen underwent brain surgery in New York to have her tumor removed. As she was recovering from surgery back home in Minnesota, she got a call from her care team: the tumor they removed was because she had stage 4 astrocytoma – a type of cancer that forms in the brain. 
That's when she found a care team near her parents' home in Minnesota at Children's Minnesota. The first act of business recommended to her was to was freeze her eggs. "I was thinking about things like graduation, not about having kids and a family," Gwen said when this topic was brought up. After going the process of successfully collecting and freezing her eggs, the next step was radiation.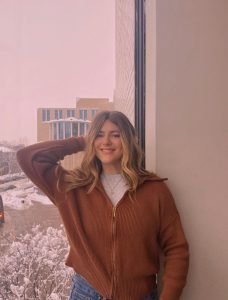 Radiation was a long road; it was a 30-minute session every day for 30 days. Because she already had half of her head shaved for her brain surgery, the hair that started to fall out from radiation was all short hairs. "Before my brain tumor, I had really long hair, I loved it," said Gwen. "I was losing a bunch of the short hairs. I just think no one prepares you for that. There's no roadmap." 
After radiation, Gwen had to go right into chemotherapy. She was able to do it in pill-form so she didn't have a port inserted. She took pills five days per month for the entire year. In January 2023, she's eight months through her chemo treatment with four months left. 
Her fight
As a 20-year-old, Gwen tried to avoid internet-searching her diagnosis, but at some point, she couldn't help it. "The stats said I had a 4% chance of survival, even after they regraded her diagnosis from stage 4 to stage 3." 
But Gwen didn't let any of this keep her spirits down for long. "I don't want to follow the stereotypes of a cancer patient where my life is on pause until after treatment," said Gwen. "I'm not going to give up and let it consume my life, I'm going to defy the odds." 
Even through the exhausting radiation, Gwen wanted to finish college from home. "I wanted to get out of bed every day," Gwen said. "I'm not going to let cancer define me." She is in her senior year and is still on track to graduate a semester early in the fall of 2023!
Gwen also worked part-time for her dad's business for 20 hours a week. If that wasn't enough, she also still goes to the gym every day. "I found hacks," Gwen said. "The more I'm in the gym, the more active I am, the more I lift, the more tolerable the treatment is. My body reacts best by working out and staying active." 
She was even encouraged to participate in powerlifting competitions by those around her in her gym. "Life brings you to weird places," Gwen described. "I'd never imagined doing that, but now I am." Gwen plans to partake in her first powerlifting tournament in July 2023. 
Gwen is embracing the change this diagnosis has brought her. "For me, there's no solution to make it all OK, you have to mourn the life you used to have," said Gwen. "Your life will never be the same, but that doesn't mean in a negative way. This builds resilience, it makes you tougher and stronger." 
Gwen today
Gwen has endured a lot in her 20 years of life. Through it all, she's especially thankful for her supportive family. "All of this has made me have a stronger relationship with my family. There's nothing I'd rather do than be home with them." 
Gwen's story could inspire anyone. When asked what she'd tell other patients going through a similar situation, Gwen said: "Going through this puts everything into perspective. Make sure to have goals, this is only a chapter of time. There are days that are challenging and you just want to sit on the bathroom floor and cry. But remember to pick yourself up and get after it." 
And most importantly, Gwen said, "Take in the simple victories. It'll get better. There is no simple path, it's all about your mindset. Have a positive attitude, keep yourself pushing forward." 
Alexandra Rothstein