Cardiovascular team training

clinicians

in India
Cardiac anomalies like congenital heart disease are the most common of all birth defects – and 70% of them are surgically correctable to allow these kids to live full and healthy lives. However, the vast majority of children born with a heart defect live in regions of the world without access to health care, let alone pediatric cardiac care. To help improve the lives of many children around the world, physicians and nurses from Children's Minnesota's cardiovascular program have teamed up with other organizations to grow pediatric cardiac programs in regions with the greatest populations.  
A key partner in this work is Children's HeartLink, a Twin Cities-based nonprofit organization founded in 1969 to develop partnerships with hospitals in highly populated countries like Bangladesh, Brazil, China, Malaysia, Vietnam and India. The "boots on the ground" for Children's HeartLink are pediatric cardiac specialists from some of the most prominent children's hospitals and teaching institutions in the United States. A team from Children's Minnesota was first a Children's Heartlink program partner at Hospital de Criança e Maternidade (HCM) in Brazil in 2009. Today HCM has one of the best pediatric cardiac programs in Brazil.  
India has a population of 1.25 billion people but only approximately 120 pediatric cardiologists in the entire country. So, for almost two decades, Children's HeartLink and teams of pediatric heart specialists have been working in India to improve the pediatric cardiac care infrastructure there. Currently, there are six partner hospitals in India. 
In 2015, a cardiovascular team from Children's Minnesota launched the sixth partnership with Rabindranath Tagore International Institute of Cardiac Sciences (RTIICS) in Kolkata. In 2019, a second partner site in greater Kolkata, Narayana Superspeciality Hospital, Howrah was added to the work the team from Children's Minnesota did with each trip. Dr. David Overman, Children's Minnesota chief of cardiovascular surgery and medical director at Children's HeartLink, and several others from Children's Minnesota's cardiovascular program lead this partnership and most recently traveled to Kolkata in November 2022.
The work of the partnerships focuses on supporting pediatric medical teams in developing countries, teaching them advanced surgical skills needed to treat kids with heart anomalies, and guiding them as they grow and expand their pediatric cardiac programs. The capacity-building model of the partnership seeks to "train the trainer" as the fastest way to treat the most kids. 
In addition to the Children's Minnesota team traveling to Kolkata, the Kolkata team then spent a week of observational training at Children's Heart Clinic in Minneapolis. "Infection control can be a big problem with congenital heart disease, so training with the nursing team is also a primary focus of our work," said Dr. Overman. 
The COVID-19 pandemic and challenging international relations have prevented the Kolkata team coming to Minnesota for nearly five years, so training has continued virtually with regular meetings and consultations. The metrics show improvements in overall outcomes, growth in case volumes and an increase in the complexity of cases.
"It's fantastic when you see their programmatic growth and maturation because now you can see how they're going to be able to care for so many more kids," said Dr. Overman. "It's their work and they're doing it; we're just helping facilitate their success. The payoff is seeing the local team experience success and be proud of it." 
Two other partner hospitals in India have been deemed "Centers of Excellence," which means they consistently deliver high-quality, complex care and are committed to training other pediatric cardiac specialists. Children's HeartLink has a goal to develop nine Centers of Excellence in India by 2030. Its investment in India, direct and in-kind, has surpassed $4 million to date. 
Minnesota organization making global impact
Children's HeartLink is regarded globally as the most important NGO (non-governmental organization) working on improving the lives of all children with heart disease. In addition to the direct training and outreach work, Children's HeartLink is also engaged in policy and advocacy initiatives, authoring guidelines for congenital heart centers in the developing world, working with regional and national governments in partner countries, and participating in conferences at the United Nations and with other international health organizations.
Read more about Children's HeartLink here.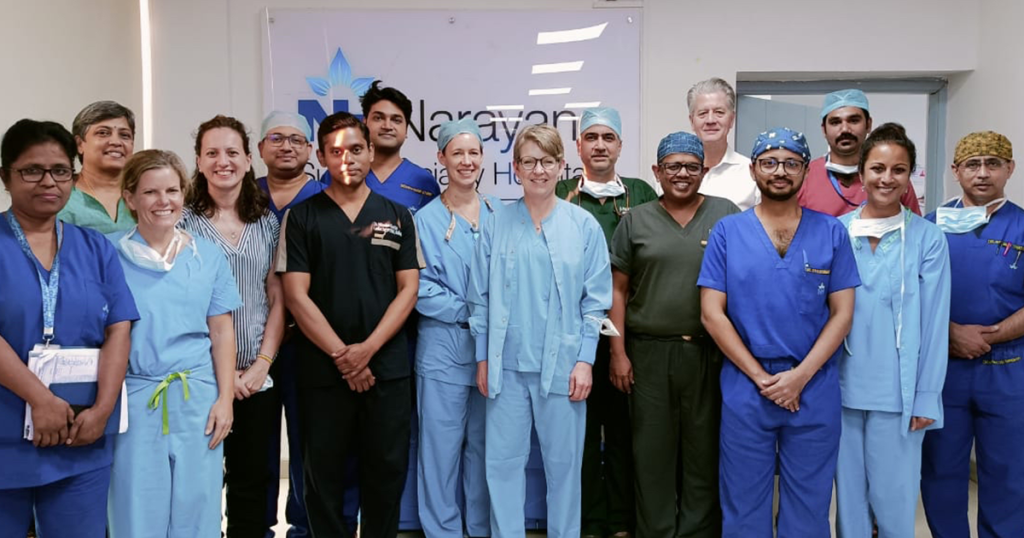 Alexandra Rothstein