Building toward recovery: Henry's passion for Lego inspires his path back from brain surgery
'It felt like something was pushing my brain'
Lego® bricks can build spaceships, castles, pirate ships and nearly anything in someone's imagination. Henry's lifelong passion for creating with these plastic bricks helped build his personal story. It started when he got his hands on his dad's childhood Lego collection.
"It's something I've always loved," Henry recalled.
In 2015, Lego would begin to play a new role when Henry was 10-years-old and started having powerful headaches.
"It felt like something was pushing my brain to the front of my skull," Henry explained.
'That was the first time I saw both my parents cry'
Henry's parents, Kate and Matt, took their son to the pediatrician as the headaches continued. The family's doctor referred them to a neurologist, and Henry had an MRI scan. The first scan didn't show signs that anything was wrong, so his care team did a second scan using a special injectable dye to pinpoint areas of concern.
"That freaked me out," Henry said.
"As a parent, I just tried not to react because he was nervous about getting the IV with the dye," Kate recalled.
The MRI revealed a tumor in Henry's brain. Kate and Matt immediately regrouped with their neurologist while shielding their son from the concerning results.
"The neurologist had already contacted Children's Minnesota and said 'they're waiting for you,'" Kate explained.
"That was the first time I saw both my parents cry," Henry recalled. "And that's when 10-year-old me started thinking something was wrong."
Henry's family drove to the emergency department at Children's Minnesota in Minneapolis where pediatric neurosurgeon, Dr. Mahmoud Nagib, reviewed the MRI.
"Dr. Nagib told us he saw the tumor, it looked benign and needed to be removed because it was creating a buildup of cerebral spinal fluid causing the pressure and headaches," Kate said. "He told us it was in a spot of Henry's brain where they could remove the entire tumor."
Henry immediately started a prescribed steroid to remove the pressure and stop the headaches. A few days later, Henry returned to Children's Minnesota for a procedure to drain excess spinal fluid. After several more days, Dr. Nagib performed a craniotomy procedure and removed a portion of Henry's skull to create a temporary opening to remove the brain tumor. During the procedure, Henry's neurosurgery team carefully moved him mid-procedure to a different MRI facility for a scan. This is common practice so specialists can confirm if the tumor is already completely removed. For Henry, it was.
"Dr. Nagib came to the waiting area and said 'we got it all and Henry did well,'" Kate said. "I felt incredibly relieved."
A test confirmed the brain tumor, called Cerebellar Juvenile Pilocytic Astrocytoma (JPA), was a type of low-grade tumor. Henry's headaches immediately stopped for good.
A new era for Children's Minnesota's neurosurgery program
In 2023, Children's Minnesota will become the first health system in North America with a pediatric hybrid intraoperative MRI (iMRI) neurosurgery suite equipped with both moving-scanner and moving-patient MRI technology in the same surgical space. Children's Minnesota's neurosciences program and radiology department will use the facility to perform both brain and total spine scans mid-procedure directly at the point of care. This will allow the team to make updated clinical decisions in real-time without having to move a patient to a different part of a hospital for an MRI. The neurosurgery facility is called the Richard M. Schulze Family Foundation iMRI Surgical Suite. It shares the same name as the philanthropic foundation that generously committed a $5.5 million lead gift to the iMRI suite.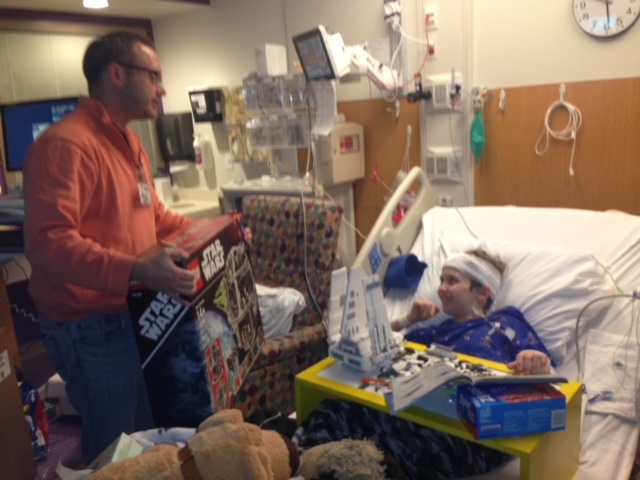 Lego has played a key role in motivating Henry throughout his recovery – especially when his dad got him a massive 3,800-piece Star Wars™ set.
"Lego is what distracted me," Henry said.
After seven years of follow-up care with Dr. Skrypek and her team, Henry had his last MRI in August 2022 – the scan showed no signs of a tumor.
"I'm just relieved everything is over, I got through this," Henry said.
Henry gives back to Children's Minnesota in his own way
Henry estimates he's built around 1,150 Lego sets since preschool. He's now 18 and recently built a custom Lego model of an MRI scanner. He gave it to Dr. Skrypek to display in the neuro-oncology program's Minneapolis office.
"I thought it would be a cool way to give back and help make kids less scared of getting an MRI," Henry said. "Children's Minnesota has done so much for me, it feels like it's the least I could do."
An opportunity to support the iMRI suite and Children's Minnesota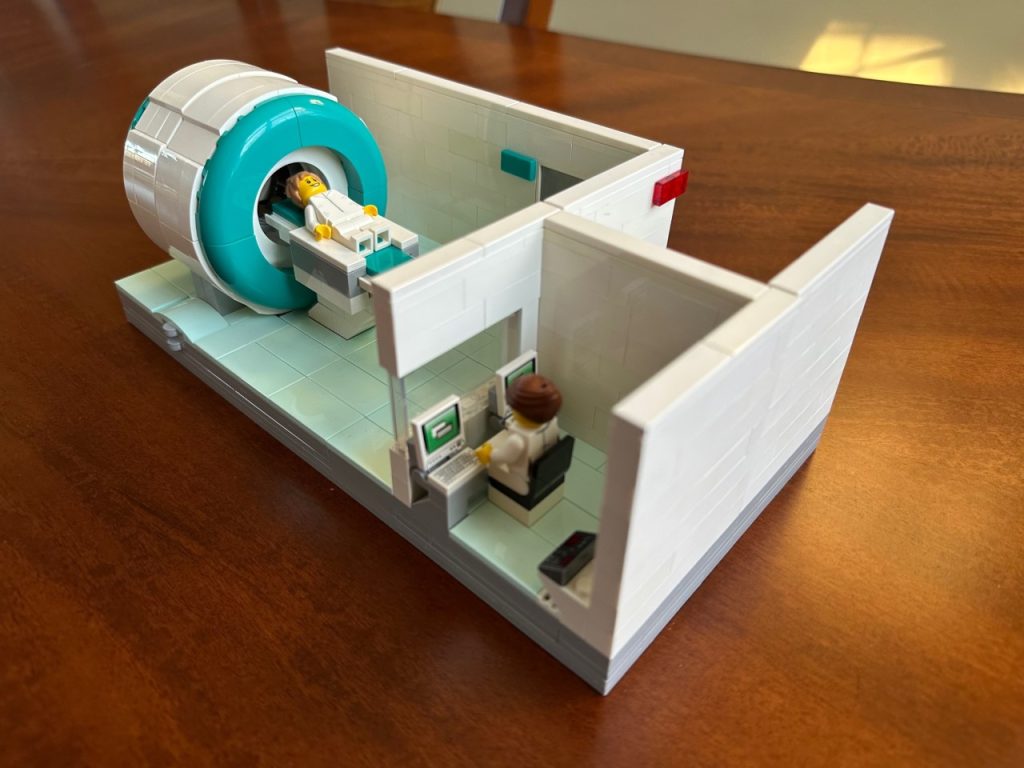 Having already made a $4 million lead gift, the Richard M. Schulze Family Foundation committed an additional $1.5 million as a matching challenge to further support the new iMRI suite and the neurosciences program at Children's Minnesota. The challenge is happening from Jan. 1 through Dec. 31, 2023. If the community gives $1.5 million through donations to Children's Minnesota Foundation exclusively to this challenge, the Richard M. Schulze Family Foundation will match the amount. You can give here.
Henry shared his inspiring story with WCCO and KSTP in the Twin Cities.  Watch the WCCO story here, or click on the video below to watch KSTP's story.