Children's Minnesota and Project SEARCH
Children's Minnesota is proud to be a partner of Project SEARCH, a program that helps prepare individuals with special needs for employment. In 2022, Children's Minnesota celebrated the 10th anniversary of our partnership. Children's Minnesota was one of the first two Project SEARCH programs in Minnesota.
What is Project SEARCH?
According to their website, Project SEARCH was developed at Cincinnati Children's Hospital Medical Center, a research environment that fosters visionary thinking and innovation. Since its inception, Project SEARCH has grown from a single program site at Cincinnati Children's to a large and continuously expanding international network of sites. Project SEARCH's primary objective is to secure competitive employment for people with disabilities.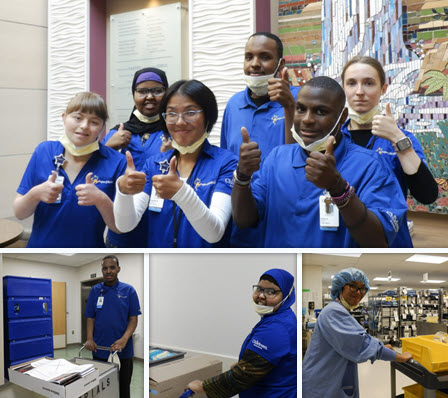 How does Project SEARCH work at Children's Minnesota?
Project SEARCH began at Children's Minnesota in 2011. Each year, Children's Minnesota hosts 8-10 interns through this program. These interns spend 10 weeks rotating through different jobs throughout the hospital, and receive support with accommodations, adaptations and one-on-one job coaching throughout their experience.
They have the opportunity to try jobs in different departments, filling roles like food preparation, housekeeping, bedside cart sanitizing and stocking, data entry and more. This program is beneficial because interns get on-the-job training and experience in a variety of departments and gain transferable job skills.
For the last four years, Children's Minnesota has won the Employment Outcomes award from the national Project SEARCH program for achieving high rates of competitive employment for interns after completion of the program. In fact, 80% of the interns who go through the Project SEARCH program at Children's Minnesota have secured competitive employment after graduating from the program.
Michael shares his Project SEARCH experience
Michael, Project SEARCH intern at Children's Minnesota, shares his experience with the program.
Learn more about Project SEARCH
If you are interested in learning more about Project SEARCH, you can contact Ann Rada-Johnson, Project SEARCH instructor, Project SEARCH business liaison and senior talent acquisition consultant at Children's Minnesota, at 952-992-5323.
Alexandra Rothstein