Children's Minnesota in the News
Caroline Njau among honorees at Celebrating the Sistas ceremony
Congratulations to Caroline Njau, senior vice president of patient care services and chief nursing officer at Children's Minnesota, for being among the honorees at the Celebrating the Sistas Awards Ceremony held Saturday, March 18, in Minneapolis.
The 16th annual event, held during Women's History Month, recognized the outstanding achievements of 15 Black women in the Twin Cities. The honorees were selected based on their track record of exceptional leadership and impact. In addition to Caroline, the honorees also included Simone Hardeman-Jones, executive director of the Green Light Fund and Children's Minnesota Foundation Board of Directors member.
You can see the full list of honorees at the Celebrating the Sistas website.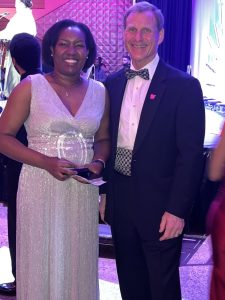 Nick Petersen