Shining a light on our volunteers for Volunteer Appreciation Week 2023
In 2023, April 16-22 is National Volunteer Appreciation Week! Please join us in thanking all of our outstanding volunteers for the time, energy and talent they bring to Children's Minnesota. 
In the past year, 374 volunteers at Minneapolis, St. Paul and multiple rehab clinics gave over 20,164 hours to Children's Minnesota. From supporting normal growth and development by playing games or rocking babies, to providing families with basic necessities through our amenities cart, our volunteers go the extra mile to make hospitalizations a more positive experience for our patients and families. 
In order to continue meeting the growing needs of our hospitals and clinics, new volunteer program opportunities are always being explored, developed, piloted and implemented. In the last couple of years, we have introduced four new hospital volunteer roles:  
Activities cart in St. Paul.

 

Musical playground in Minneapolis and St. Paul.

 

Resource ambassador in Minneapolis and St. Paul.

 

Emergency department in Minneapolis and St. Paul.

 
Get to know our volunteers
Here from some of our volunteers and their thoughts on their roles!
I have the really cool opportunity to bring crafts, activities and small toys to the kids on the inpatient units who are unable to leave their rooms. I also get to spend time with the kids and sometimes do the crafts or activities with them, or play games with them. This is without a doubt my favorite way to destress from college life and I truly look forward to coming in each week knowing how happy the activities cart makes these kids! 
Something unique about my role is that I get to interact with kids of all ages on the units, so I get to do a wide variety of activities that are developmentally fit for each child. Also, the arts program here is amazing and always stocks the activities cart with really fun items each week. I love seeing all of the adorable crafts and watching how excited it makes the kids. Most of all, I think it is so special that I get to bring these activities to the kids who can't really leave their room, so I get to watch how something as simple as art can make such a positive impact on their day. 
My favorite part about my role is my interaction with each of the kids. I love being able to form connections with each of these amazing kids, it's so hard to think of just one favorite memory. However, one memory that sticks out to me was being able to bring stuffed animals to each of the kids on all of the inpatient units during the holidays and watching how excited and special they felt in that moment. There was one young kid in particular that was about to have surgery, and I was able to visit them right before. The distraction I was able to provide helped to calm them down, and I was able to be a part of making such a hard day a little bit more tolerable. Overall, my favorite memory would be watching how excited and thankful each of the kids are, their sweet reactions make it so clear how much they appreciate my presence and I feel so lucky to have this opportunity to brighten up their day.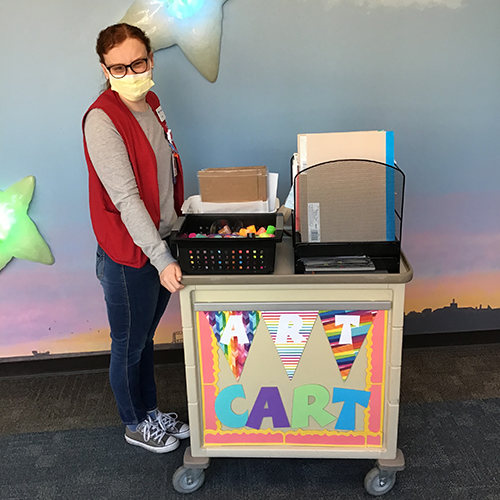 I volunteer with musical playground. I have the opportunity of playing musical shows created by the musical therapists for infants and helping them interact with instruments the music. 
Something unique about musical playground is you have the opportunity to see how each kid interacts with music and instruments differently. One kid might use the lollipop drumstick only for the lollipop drum, while another kid will just use that drumstick and tap everything they see in sight.
My favorite part of musical playground is being able to include the family. My favorite memory is when one of the patient's older siblings joined and not only did I get the chance to see the patient enjoy the musical show, but I was able to see how the siblings bonded through their love for this music.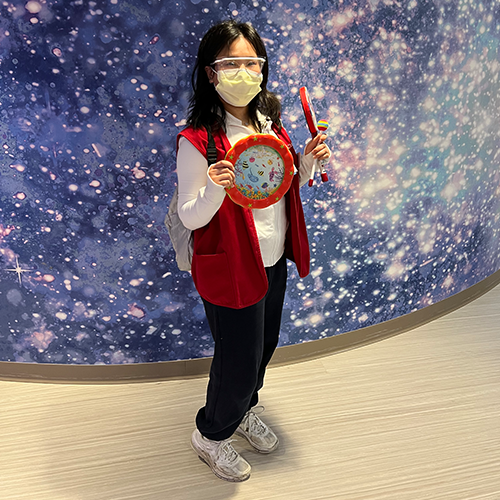 In my role as resource ambassador, I get to round on recently admitted patient families and talk to them about all the resources we have available at Children's Minnesota. I carry a small basket of basic toiletries/personal care items with me to get the conversation started and then I seek to find needs that the resources at Children's Minnesota can help address. This can vary widely from something like getting shampoo/conditioner or a change of clothes, to talking about the Family Resource Center/Ronald McDonald House, or even just being there as someone the families can talk to about the challenges they are facing.
Something very unique about my role is how open–ended my interactions with patient families are and how much they can vary. I enter the room simply offering free personal care items they may not have had the time to bring if their admission was unexpected. I get to meet the families where they are, attempting to find resources that they could utilize to make their stay better. Talking with families helps me piece together their current needs and communicate resources that could be helpful such as the Sibling Play Area, the free laundry machines and even our awesome volunteers!
My favorite part of this role is when I can tell I have made a difference even in some small way. I still remember how thankful one mother was when I simply offered her a hair tie and she thanked me so profusely, telling me that I made her day. I did not understand why she was so grateful until she pulled out an ear loop she had torn off of a mask out of her hair and put the new hair tie in. Sometimes it is the little things that can make such a huge difference and I am so happy that every time I perform this role, I am able to change these small things for the better.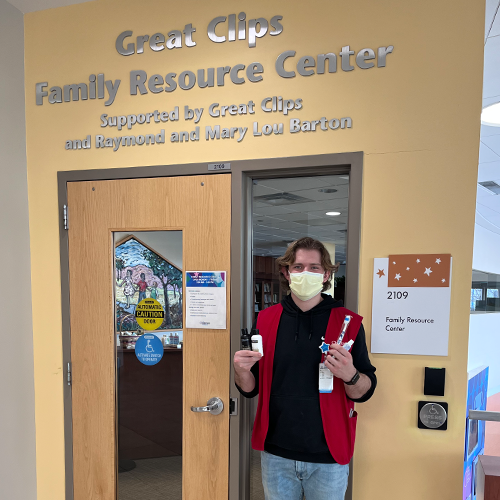 Emergency department: Sylvia
I would describe my role as a one that was made for the purpose of being a more comfortable resource for families in the emergency department. A person standing at the concierge desk in a bright red vest, "Moana" stickers and a bag with crayon doodles comes off as someone who will only receive warmly. I think my role is to be a non-intimidating resource that isn't constantly busy with constant input of time–sensitive duties.
Something unique about my role is that I "experience" the wait time with the families in the waiting area but have resources that can help make their wait a little less stressful for the kids. Especially in an emergency department, families come with high stress about the immediate well-being of their child, and looking out for ways I can make kids "distracted" from the stress really teaches me to be more empathetic and attentive to others' needs.
The favorite part of my role is interacting with the kids. I always keep my ears peeled for crying or voices of frustration so that I can swoop in with stickers, frogs and books! The happier the kids, the happier the guardians, and it makes me happy that I am given the opportunity to do this.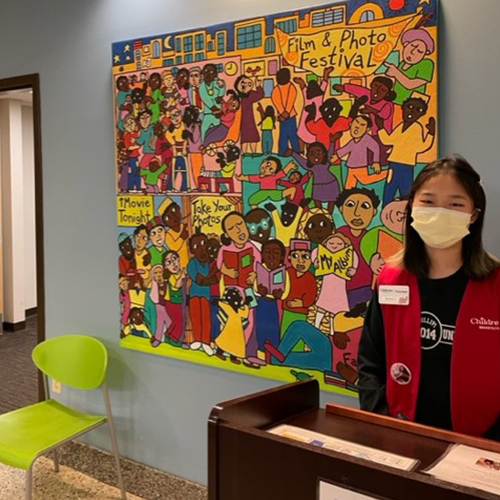 Thank you to all of our incredible volunteers!
Alexandra Rothstein